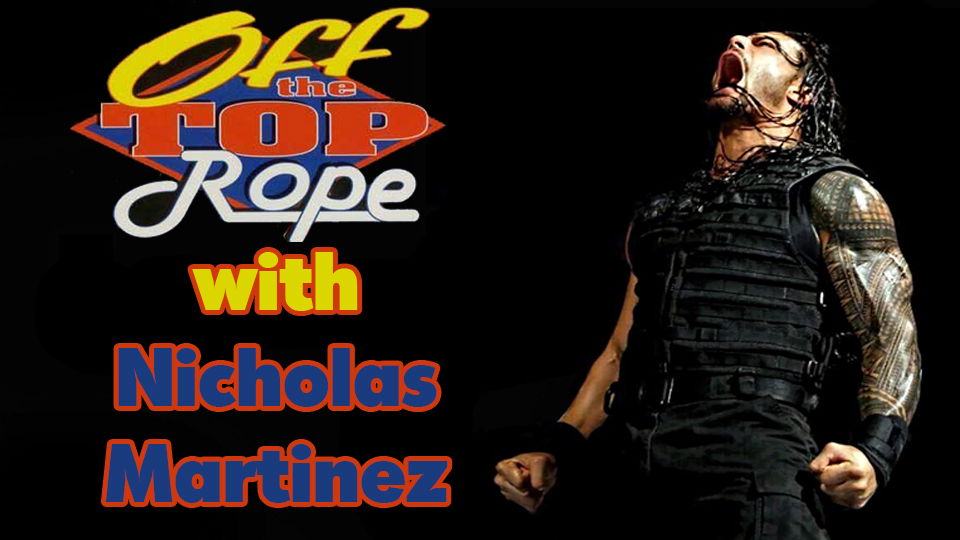 When wrestling fans hear the name Roman Reigns, they react in either one of two ways: they cheer like excited children receiving extra scoops of ice cream for dessert or turn feral like salivating dogs waiting to tear apart pieces of raw meat.  And as WrestleMania 34 approaches, an event that could see Reigns defeat Brock Lesnar and become the next WWE Universal Champion, the 'WWE Universe' is more polarized in their love — or hate — for Reigns than ever before.
However, when I look at Roman Reigns, I see something different: behind his black tactical gear and stalwart demeanor, I see a good man in an impossible situation.
The real reason why Roman Reigns is such a galvanizing character has less to do with Reigns the individual and more to do with a 4-year pattern of minor but collectively erroneous creative steps taken in establishing him as a viable top-tier championship contender. Ultimately, his forced rise to the main event title picture is a unique character study in how the WWE can effectively take a sure-fire singles superstar and cause a massive failure to launch.
When the super-stable The Shield split back in June 2014, many people wondered what would happen with Reigns and Dean Ambrose after Seth Rollins shocked the world and betrayed his "brothers" to join the Authority.
Eventually, Ambrose evolved into the "Lunatic Fringe," getting a new look, theme song and a even more pronounced kamikaze-like fighting style.  He would eventually establish himself as a natural foil for the corporate-sponsored Rollins, so much so he feuded with Rollins several weeks after the break-up until Ambrose was eventually "injured" on Raw's August 18th, 2014 episode.
Since that rivalry and others with Rollins, Ambrose was a regular challenger for the Intercontinental Championship and would eventually get a WWE Championship win over his former Shield brother after cashing in the Money in the Bank contract he won that same night at the pay-per-view of the same name in 2015.
Rollins also got a re-vamp of sorts, consisting of new entrance music (Ooooh, Kingslayer) and character evolution into 'The Architect,' a cowardly heel that needed the help of the Authority to remain at the top of the mountain.  He won multiple singles and tag championships and has become one of the most entertaining (if not the most durable) superstars on the current roster.
But Reigns, arguably the most lauded of the group by WWE executives, especially Vince McMahon and Triple H, just continued on as the BDU-wearing Samoan juggernaut that believed the WWE was his yard and we all needed to get off his lawn.  And while that's a good angle for an active member of the Shield to shoot, it made the newly solo Reigns look like a jilted lover who couldn't get over his last serious relationship, living in the past hoping beyond hope that the fireless relationship would be rekindled.
Basically, within the narrative, everyone in the Shield moved on but Reigns.  Everyone evolved and dealt with the emotional fallout that the split caused on the trio. Reigns, though, clung to the past and seemingly never moved past the break-up: he kept the same gear style familiar to the Shield, retained the same music that belonged to the stable (while even walking through the crowd like the Hounds used to do) and did little to learn and grow from the moment when Rollins betrayed him and Ambrose.
Though, he was inserted into main event feud literally weeks after The Shield dissolved, with little build or story development…
Add in his WWE Championship Fatal 4-Way title match at Battleground a month later, along with head-scratching feuds with Randy Orton and The Big Show and his 2015 Royal Rumble win — which granted him another title shot, this time against Brock Lesnar at WrestleMania 31 — one could wonder at the time if he would ever get a revenge angle for being backstabbed (or chair-stabbed if that's a thing) by his former running mate Rollins.
By then it was too late: the fans turned on Reigns, ultimately becoming jaded to his upper tier status and management allegedly labeling him unofficially as the chosen successor to John Cena.
If this was any other dramatic medium (as we are told weekly WWE programming is on par with), such a pivotal event in the history of any character would cause a major shift in their beliefs and attitude. Did the tragic death of his parents not fuel Bruce Wayne's crusade against crime as Batman? Did the violent murder of his Uncle Ben not cause Peter Parker to re-examine his focus for being Spider-Man? When Luke Skywalker found out that Darth Vader was his father, did it not change his perspective on being a Jedi, the Force and his desire to save Vader from the Dark Side?
So why didn't the downfall of the Shield cause Roman Reigns to evolve and become something more three dimensional than what he was, and is now?
Even though fans and pundits alike believed The Shield would get back together eventually (after all, WWE wouldn't let a lucrative moneymaker sit on the sidelines for long), there was no reason within the storyline to believe that they would.  Everyone had moved on and achieved amazing feats as singles wrestlers — and many thought it would take a monumental reconciliation effort to rebuild such a demolition job.
Or it could simply take the overwhelming menace that is The Miztourage to get them back together.  Either or.
Nevertheless, keeping Reigns in developmental neutral was not an attempt at tethering him to the past with the hopes of revisiting The Shield in the future. It was simply a stark example of poor writing and poor character growth, and what seems to be a massive disservice to Reigns the wrestler, the performer and the professional.
If Reigns was given the same sort of treatment as Rollins and Ambrose, if 'The Big Dog' would have received a big change to his look, his music (i.e. don't just take off the military letter role call and keep the familiar Shield walk-out music) and was given an organically developed post-Shield storyline, things might be different now for the WWE Universal Championship contender. The 'WWE Universe' could have embraced him as he tried to find his way out of the rubble left of the Shield — after all, they are good about getting behind underdog superstars that are larger than life both in and outside of the ring, as we have seen in the case of Daniel Bryan, Brawn Strowman and AJ Styles. They could have stood behind him as he figured out who we was as a wrestler and a man after having his whole world shattered before him.
They could have supported Reigns as he worked his way up the mid-card and won singles titles like the United States and the Intercontinental Championships, all the while taking the time to figure out what caused the Shield to implode so brilliantly. And after time, the Universe could have cheered as Reigns discovered a new level of his superstardom when he came to grips with the end of the Shield and turned focus at the one man who deserved his ire — Seth Rollins. They could have applauded Reigns' heroic efforts to overcome the Authority's attempts at preventing him from getting within striking distance of Rollins — both figuratively and literally — as Rollins (the Authority's Chosen One) dethroned then WWE Champion Brock Lesnar.
And when the narrative build eventually reached Rollins' doorstep, and when Reigns finally went face to face with the man that derailed his career and destroyed their sacred brotherhood, 'The Big Dog's' road to redemption could have culminated with obtaining revenge against Rollins for the wrongs he committed. By then, Rollins could have been WWE Champion, giving Reigns the opportunity to challenge for (and eventually take) something precious from him, just as Rollins did Reigns years earlier. It would have been the climax in a story-arch rivaling that of network dramas, one that would have made sense both creatively and dramatically.
But instead, the hectic rush to make Reigns a main event star destroyed his credibility in the eyes of the overall viewing public, causing him to either be massively beloved by those naturally sympathetic….
Or vehemently hated by those wanting something more from him or the company…
Mind you, Reigns did win multiple championships in WWE since his branching off from The Shield.  According to reports, he is a locker room leader and is respected by his peers. And, love or hate him, his work ethic is beyond praiseworthy.
But, on the cusp of WrestleMania 34, in an atmosphere where a current Universal Champion (who hardly defends his title) is set to lose to a full-time workhorse that is both loved by management and his contemporaries alike, the WWE Universe — the most important group in this equation out of them all — is adverse to the shift in narrative direction simply because it is Roman Reigns and not someone else.
And that reaction has a lot to due with the WWE's creative team dropping the ball on Roman Reigns's post-Shield character development and not with the man we see on WWE television going above and beyond in the ring to entertain us week in and week out.
Believe that.