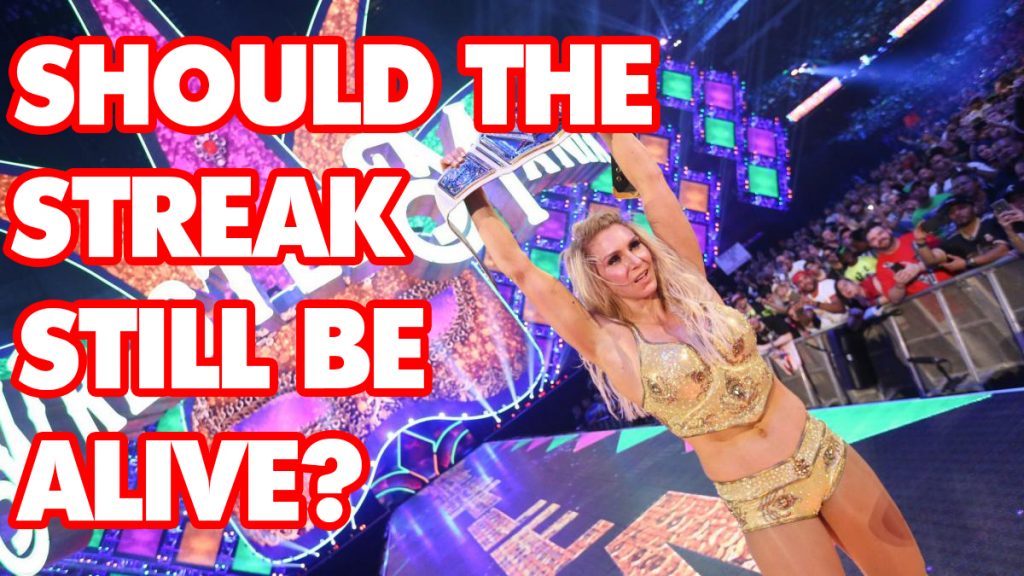 Last night, on the 'Grandest Stage of Them All', Asuka's 267-match, two and a half-year undefeated streak in WWE was broken by Charlotte Flair in an incredible bout for the WWE SmackDown Women's Championship. Now, I have rewatched this match since and I'm still struggling to answer the simple question; should Charlotte have broken Asuka's streak?
I'll start off by giving you some context of my situation. I went to watch WrestleMania 34 at a bar in the UK with some friends and the channel showing the event stopped working immediately, never to come back on. We all had, unfortunately, bought a large number of drinks so stayed to finish them, watching the event on our phones via the WWE Network – it's free for new subscribers if you didn't know, it definitely wasn't mentioned every three minutes during the show.
To add to the misery, the place decided to put music on incredibly loud in lieu of no event to show, clearly not realizing that everyone had simply started watching it on their phones while they finished up their drinks and now couldn't hear what was happening.
WHAT. JUST. HAPPENED?!#WrestleMania @WWEAsuka pic.twitter.com/3RTHmBoKIC

— WWE (@WWE) April 8, 2018
So we sat and watched, unable to fully get into the match without sound, as Asuka tapped out to the Figure-Eight (well, more like a Figure-Seven) thus ending her streak. I was furious, who thought this was a good idea? It just felt like Vince McMahon throwing away something Triple H had spent years building in NXT to prove that he's still in charge, "dammit!" It actually tainted the entire rest of the show for me. I couldn't get annoyed about Jinder Mahal pinning Rusev, I couldn't be happy for Daniel Bryan's in-ring return, and I couldn't be in awe of AJ Styles and Shinsuke Nakamura.
I'm not going to touch on the whole thing being overshadowed by the Cena/Undertaker angle. Why can't they just let Asuka have a moment where she doesn't get interrupted? Why, WWE?
Knowing I was going to be writing this, I re-watched the match and, honestly, I absolutely loved it. It was brilliantly performed, the story was well told and that Spanish Fly – despite being done by the cruiserweights on the Kickoff show – was superb. During the post-match angle, I actually teared up when Asuka said "Congratulations" to Charlotte, like a veteran on her way out, and embraced the 'Queen'.
"CHARLOTTE WAS READY FOR ASUKA!" – @WWEAsuka congratulates @MsCharlotteWWE after TAPPING OUT to the #Figure8 at #WrestleMania! pic.twitter.com/0o5ybxs1t2

— WWE (@WWE) April 8, 2018
In the back of my mind, however, I couldn't help but sit here and think the same thing I've been thinking since Asuka got the call-up; this would have been so much better at WrestleMania 35 with Ember Moon – Asuka's long-time NXT rival – finally overcoming a still-undefeated Asuka for the WWE Women's Championship.
Now, I understand the thought process behind this decision, they're building Charlotte as the greatest female wrestler in the business so that when she faces Ronda Rousey at WrestleMania 35 in a year's time, as the rumors suggest, it will be believable to have her win. I have also heard the argument that if someone was going to break the streak, it should be done by the best, ala Charlotte Flair. That's just it though isn't it, she is the best so she didn't need to prove herself by beating Asuka.
These two should have been like Daniel Bryan and CM Punk. Everyone knows they are both "the best", so they should have been kept as far away from each other as possible forever – or at least until Asuka's streak had already been broken. Charlotte didn't need to be 'made'… she already was. Why not just have her fight in a competitive match against someone like Becky Lynch – you know, that really good wrestler, talker, and all-around talent that has been treated like dirt because Kevin Dunn doesn't like her accent (allegedly) – and pick up a hard-fought win. She could've kept the title until next WrestleMania and people would very happily believe she can take on and even overcome Rousey.
I know that a lot of people take umbrage with Asuka's streak because they say it "makes her matches predictable and therefore boring." The problem is that Asuka winning doesn't stop them being incredible matches, she is more than good enough to get you invested like she did against Sasha Banks on an episode of Raw not too long ago, to name just one example of many. I very happily sit through Asuka matches with a smile on my face, and my heart still stops every time the referee's hand lowers for the third time just before she gets a shoulder up even though I know she will.
Another issue I have with this is that she tapped out. She wasn't pinned, she didn't pass out, she opted to quit. Sure, this makes Charlotte and her finisher look great but I never thought I would see the 'Empress of Tomorrow' tap-out and I truly wish I still hadn't. As much as I disagree with the result, at least pin her or have her pass out. Having her actively giving up weakens the character that she has spent years molding. There is a reason people chant "Asuka's gonna kill you", she is a terrifying and unstoppable force and they don't give up.
Why couldn't Asuka have an extremely dominating year-long stint with the belt, culminating in her making a new force in the women's division by taking an Eclipse from Ember Moon and lying down for the "one, two, three"?
https://www.youtube.com/watch?v=tczPaVy-jQg
After seeing long-term storytelling done so right through Johnny Gargano and Tommaso Ciampa on NXT TakeOver: New Orleans, seeing the potential for something even better thrown out the window just 24 hours later was simply crushing.
In my opinion, despite how much I enjoyed the match (admittedly upon a second viewing), Charlotte should not have broken Asuka's streak and she should have never been the one to break it in the future.
Were you enraged by this outcome or were you happy to see Asuka's streak broken? Where does the 'Empress of Tomorrow' go from here? Let us know in the comments below or on Twitter here.