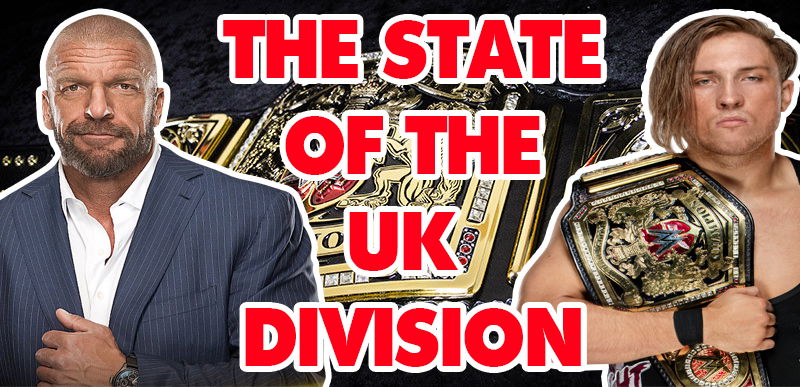 Pete Dunne defeated Adam Cole by DQ on NXT TV last night, adding yet another title defense to his résumé. 'The Bruiserweight' was one of 2017's standout performers, he was the star of the WWE UK Championship Tournament, he had the NXT match of the year against Tyler Bate, and he made his debut on Raw in November. While Dunne has stood out, the same cannot be said of the UK division as a whole.
When the WWE UK tournament was announced, Triple H said that he wanted to, "develop another brand", for the WWE Network. As of today, however, there has been little progress seen in the development of a weekly TV show. The WWE UK championship now exists as a makeshift mid-card title for NXT, and without proper storylines the UK championship has started to be defended against North American stars like Adam Cole, Roderick Strong and Johnny Gargano. This itself is not a bad thing , but illustrates the lack of star power in the UK division outside of Dunne.
Aside from Dunne, there have been rare standout moments from other UK talent since the tournament in January 2017. Tyler Bate looked to be the figurehead for the division coming out of the event but has reportedly fallen out of favour with management and has been featured nowhere near as prominently as he once was.
Mark Andrews has made appearances on 205 live, but with no real character work for audiences to get invested in. Meanwhile talents like Trent Seven and Wolfgang have only made minor appearances on NXT, whilst others like James Drake and Joseph Conners have hardly been seen since the tournament in Blackpool.
The UK division has become top-heavy. Pete Dunne carries the championship brilliantly but no other UK star looks capable of beating him. Attention has been directly focused on Dunne, but at the expense of a UK division that lacks real depth. Now, a US superstar looks much more likely in dethroning the champion than any UK star, far from ideal given the championship was supposed to put British wrestling in the spotlight.
As a huge fan of the UK independent scene, I know the division does not have to be this way. Pete Dunne has showed himself a ruthless heel already, but weekly TV could make stars out of those who have not be displayed as prominently. For instance Mark Andrews could be a huge star as a plucky underdog with the right storyline, the charisma that Trent Seven shows at PROGRESS could be seen by thousands more people and the talents of those like Joseph Conners could finally get the spotlight they deserve.
WWE have untapped potential in their UK division. With the UK scene getting an increasing amount of attention, WWE would be wise to go all in with the weekly content that they hinted about in their initial announcement of the UK tournament. While plans for weekly TV seem to have been placed on hold for the moment, it is surely a matter of time before WWE realize the potential of their UK division.