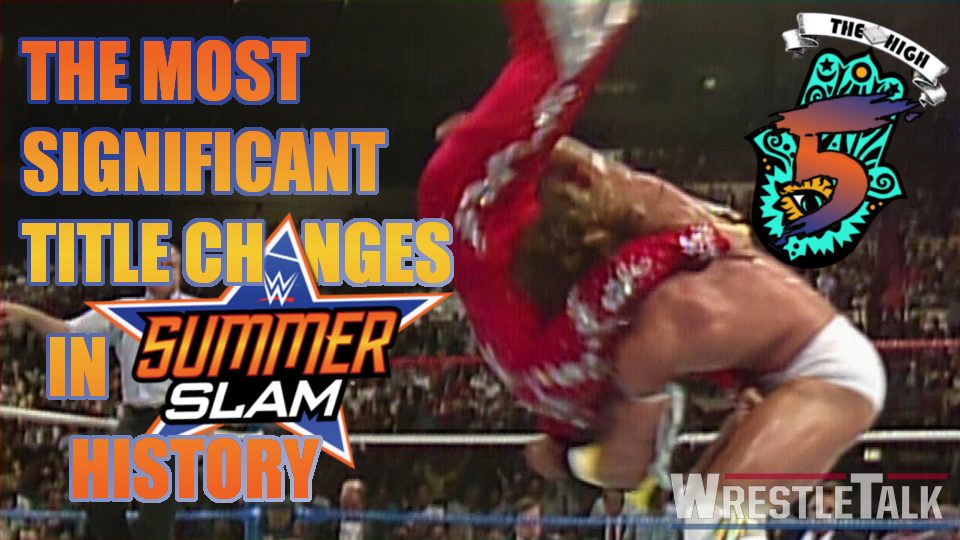 Welcome to the second High 5 SummerSlam special! With one of the big four only moments away where anticipating some big moments that we can discuss for years to come. It's what keeps us in business really. And what's bigger than a title changing hands on the second biggest stage of the year? Nothing. That's what. So, lets relax and explore the most significant title changes in SummerSlam history as we gear up for the big event tonight.
5. Brock Lesnar defeated The Rock for the WWE Undisputed Championship
Brock Lesnar came into the WWE in 2003 like whirlwind. From his debut in March, he was already challenging the most electrifying man in sports entertainment by August of that same year. That's only six months between OVW and being the most dominating force the WWE has ever seen.  Lesnar tore through people like Quagmire's Kleenex and ended up winning the King of the Ring tournament in June.
The victory in the tournament guaranteed the 'next big thing' a shot at the Rock's WWE Undisputed Championship at SummerSlam. Because it was the Rock and Brock didn't have the leverage he does now, the match went a bit longer than most of the 'Beast's' matches do these days at a staggering 15 minutes. The results were the same, though, with Lesnar defeating the 'People Champ' and solidifying his place at the top of the company for years to come.
This night was the crowning of Brock Lesnar and it didn't take years and a bunch of failed re-boots. He came, he saw, he conquered, and he hasn't stopped in 16 years. This victory also made him the youngest WWE champion ever until…