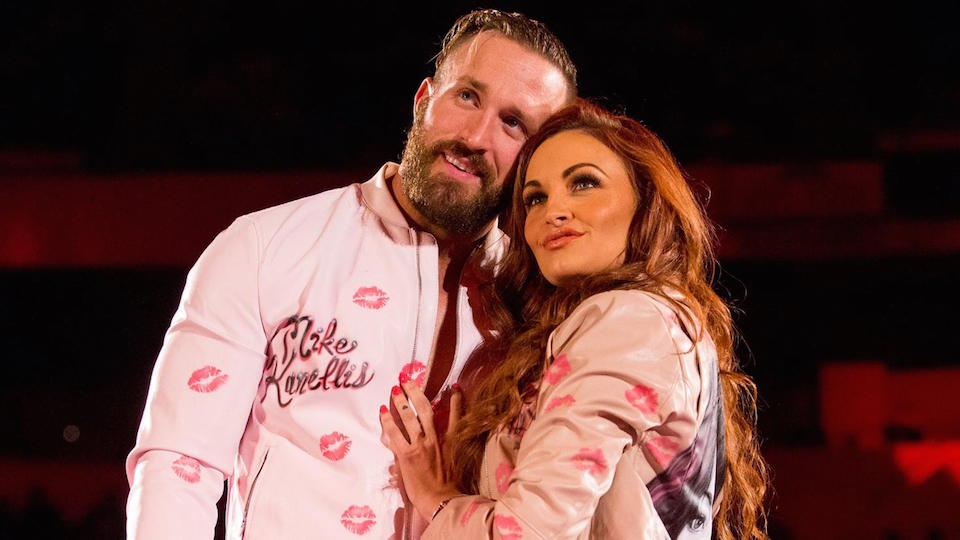 Here at WrestleTalk we strive to bring our readers up-to-the-minute breaking news, as quickly and accurately as possible. We also, on occasion, produce a preposterous list of the men (and woman) most likely to have impregnated Maria Kanellis. It's a delicate give and take. But one totally worth doing.
Yes, you heard that right. A month-long investigation by WrestleTalk has revealed that Maria Kanellis is, indeed, pregnant.
It all started on the July 1st edition of Raw, when Maria rocked the wrestling world by announcing that she was expecting her second child. Naturally, the news came as a welcome surprise for fans. But it was an absolute bombshell to her husband, Mike Kanellis.
Upon hearing the news, the flabbergasted Mike was only able to ask his wife "how are you pregnant?" Assuming that he wasn't talking about the actual mechanics behind it, the only logical conclusion is that Mike and Maria haven't been… intimate… in a little while. Long enough, at least, for Mike to be left dumbfounded by the prospect of another child.
OH BABY! #247Title #247Champion @MariaLKanellis pic.twitter.com/rk15aqEiLd

— WWE (@WWE) August 3, 2019
But all of this begs the obvious question: if Kanellis isn't the father, then who is? In what follows, we list all of the potential candidates, along with the likelihood of them being responsible for the deed.
---
Mike Kanellis
Admittedly, as Maria's husband, this is perhaps the least inspired candidate. (An evaluation his wife is likely to agree with.)
There have, however, been several notable – albeit subtle – clues that Mike Kanellis may not have fathered the little human growing inside his wife's belly. Clues such as Maria threatening to kick Mike "in [his] vagina". Or when she claimed that Mike wasn't "man enough to get [her] pregnant". Like I said, very subtle.
With that said though, would it really surprise anyone if WWE were to suddenly reverse course on a controversial storyline and find an easy resolution? Remember the teased lesbian angles between Bayley and Sasha Banks, or Mandy Rose and Sonya Deville? Or Shane's mysterious lock box containing information which could possibly ruin Vince McMahon?
Yeah, as anticlimactic as the outcome would be, it could definitely happen.
Likelihood: 6/10
---
Becky Lynch
As much as we'd love to see 'Becky Two Belts' become 'Becky Two Babies', there's really only one incredibly tenuous reason to even list this as a possibility.
And that is it being raised by Maria herself when she first announced her pregnancy. Casting our minds back to the July 1st episode of Raw, Maria callously suggested that Lynch was more of a man than her husband and openly pondered having 'The Man' to impregnate her next time. That sentiment was again expressed in an interview conducted later that same night.
So admittedly we're on shaky ground here, both narratively and biologically, but we'd be remiss not to at least mention it. Regardless, I think it's safe to assume that Becky hasn't fathered any kids.
Likelihood: 0/10
---
Buddy Murphy
It's easy to forget, but Buddy Murphy was in fact moved to SmackDown Live amid much fanfare during April's Superstar Shakeup.
Ever since, fans have been left to rampantly speculate as to how the former, long-time Cruiserweight Champion would be introduced to the main roster. With anticipation running high, many dream scenarios have been proposed. Most recently, the prevailing hope is that he masterminded the backstage attack on Roman Reigns.
If only because he has the right equipment, Murphy ranks as a marginal favourite above Becky Lynch. But surely not even WWE would attempt something as insane as debuting one of their most promising young stars in this fashion.
Likelihood: 1/10
---
Hornswoggle
WWE has a history of using Hornswoggle as a bit of a narrative crutch. A ubiquitous "catch-all", whom they can call upon when a storyline has spiralled so far out of control that no logical way of wrapping it up exists.
The revelation that he was Vince McMahon's illegitimate son (as long as that lasted), as well as his reveal as the Anonymous Raw GM in 2012, loom as pertinent examples.
However, with WWE ideally looking to build a more mature, coherent product in 2019 and Hornswoggle no longer employed by the company on a full-time basis, his fatherhood seems an unlikely prospect.
Likelihood: 1/10
---
Braun Strowman
Big, bad Braun Strowman wasn't even on the radar as a potential culprit until his awkward backstage encounter with Maria on Raw.
Kanellis was doing a victory lap with her newly-won 24/7 Championship, when she suddenly came face-to-face with 'The Monster Among Men'. During the standoff that ensued, Maria – speaking of men generally – charged that "you enjoy making the baby, but not actually the process of taking care of the baby." Hmmm.
Then, as silence fell between the pair, Braun huffed, and he puffed, and he blew life into the speculation that he may be responsible for Maria's maternal state.
There seems to be little reason for these two to have crossed paths in this manner, if not to get the rumour mill spinning. Don't believe me? I said that the pair shared an awkward stare-down after their backstage run-in. But I could just as easily have called it a… pregnant… pause.
If that isn't conclusive proof, I don't know what is.
Likelihood: 6/10
---
R-Truth
The 24/7 Title picture comprises a fairly contained, exclusive selection of talent. Sitting atop that pyramid of comedy under-carders is one R-Truth, whose record tenth reign was ended this past week on Raw.
The person to unseat him? None other than Mike Kanellis.
In any other world that may mean nothing. But in the perennially convoluted, often contrived world of WWE, that's a virtually unbreakable link directly to Maria. Despite that, however, it wouldn't be entirely consistent with R-Truth's happy-go-lucky, somewhat kooky babyface character to commit adultery.
Likelihood: 2/10
---
Drake Maverick
If there's one thing we know about Drake Maverick, it's that he truly loves the 24/7 Championship. If there are two things, it's that he hasn't yet consummated his marriage to Renee Michelle.
Combine those two motivations and it's possible that the 205 Live General Manager has cast a lustful eye towards another woman in the division. Someone who just so happens to also be wearing the belt he covets.
It's a possibility that even his wife appears all too aware of.
Oh! So you'll get on top of a pregnant woman for 3 seconds – BUT NOT YOUR WIFE?? https://t.co/nYaHqrjGQu

— Renee Michelle ? (@1ReneeMichelle) August 1, 2019
Just imagine how upset Renee will be when she finds out that Drake actually pinned her thirteen weeks ago.
Adding another layer of complexity, we've also seen an explosive feud develop between Maverick and Mike Kanellis on 205 Live, which culminated in an Unsanctioned Match at the end of July. So we know the professional rivalry is there… but could it turn personal?
Likelihood: 9/10
---
Baron Corbin
With reports surfacing that Baron Corbin is an absolute hunk irresistible to women everywhere, what better way to demonstrate that point than by positioning him as a marriage-wrecking seducer?
That, in essence, is all there is to this theory, as Corbin and Maria have (as far as we know) never crossed paths in WWE.
But that shouldn't preclude the former 'Constable' from suspicion. After all, would it come as any surprise if Maria had fallen victim to his undeniable charm? Just look at that smile. Or his entirely unnecessary waistcoat. What a man.
Likelihood: 3/10
---
Otis
Starting with his introduction to the main roster – in which he gyrated in the direction of a visibly uncomfortable Alexa Bliss – Otis' gimmick has quickly shifted to "sex-crazed hobgoblin".
Since that decidedly creepy first night, Otis has gone on to periodically harass other women on the roster, including Mandy Rose and Sonya Deville. It's entirely plausible then that the 'Master of the Caterpillar' has wriggled suggestively at Maria at some point.
Otis' mantra of "Steaks and Weights" is also worth mentioning. With Maria regularly questioning her husband's manhood, she perhaps couldn't find anyone embodying raw machismo more than the beefy man who values cooked meat and heavy objects above all else.
Likelihood: 4/10
---
Angelo Dawkins
Another candidate who emerged out of left field in recent weeks is one half of the NXT tag team champions, the Street Profits.
Barely on the radar when the mystery first arose, Angelo Dawkins became a prime suspect on a recent episode of Raw. While addressing Maria's situation, Dawkins' eyes glazed over, his voice trailed off and it became clear that he was infatuated with the mom-to-be.
The signs didn't go unnoticed either. Dawkins' tag partner, Montez Ford, picked up on the cue – going so far as to suggest that his buddy may be responsible for the bun in Maria's oven.
Dawkins, naturally, vehemently denied the allegation. But, ask yourself, isn't that exactly what a guilty person would say? Although, by the same token, isn't that also exactly what an innocent person would say?
It's the perfect crime.
Likelihood: 5/10
---
Vince McMahon
Although he's simmered down in recent vintage, there was a time when Vincent K. McMahon was synonymous with sexual deviance. And that's putting it lightly.
From making women bark like dogs for his own gratification to fondling them while his vegetative wife looked on, the Vince McMahon of 20 years ago would be a prime suspect in the case of "who fertilised Maria's eggs?" But in 2019, the now 73-year-old Chairman seems unlikely to have either the stamina or willpower to have committed the deed.
He also seems set on reducing his on-screen presence, particularly with the advent of the XFL early next year. For those reasons, Mr. McMahon presents an improbable – albeit not entirely impossible – candidate.
Likelihood: 2/10
Give WrestleTalk a follow on Twitter to always stay up-to-date with the latest wrestling news (and occasional fun list), and join our Discord to have a chat with the entire community.