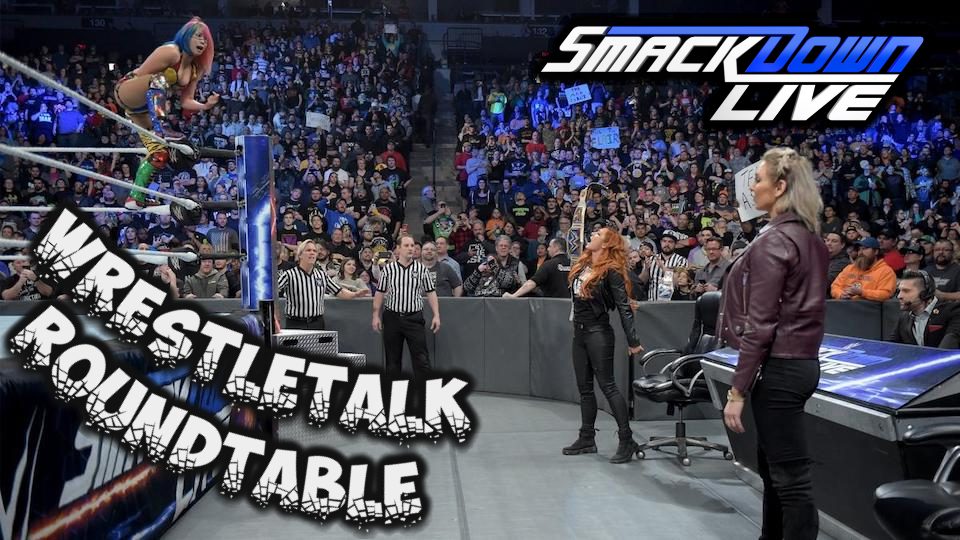 Thank goodness for SmackDown Live. After the the unmitigated abomination that was Raw on Monday night, we were all in desperate need of a pick-me-up. Mercifully, that reprieve came curtesy of WWE's blue brand.
We've been fairly critical of the company's showing over the last couple of weeks, and justifiably so. It's been terrible, awful, no good and very, very bad. But it's important to remember that we genuinely want WWE to be good. We're all passionate wrestling fans who devote five to ten hours of our our lives each week to the brand's various offerings. Nobody wants to spend that much time on garbage wrestling.
When it does disappoint however, we're right to call it out. By the same token though, when a show like last night's SmackDown rolls around, we'll gladly celebrate it. We'll be the front lines singing its praises, like a Humanities major at Burning Man.
I've got two contenders at TLC. One earned her way to The Champ, the other something, something, WOOO, daddy, something entitled. pic.twitter.com/yNtkkgCNMD

— The Man (@BeckyLynchWWE) November 28, 2018
That said, in the words of today's youths, I'm hella confused. The kids do still say that, right? …I'm so old.
Almost without fail, Raw outperforms its blue counterpart in the ratings each week. This despite the general consensus that SmackDown is the better show of the two. Assuming that WWE has a defined core audience, the diehard fanbase who sit through both shows each week, that means the difference is attributable solely to the casual fan. The man or woman who has no particular affinity for WWE programming but who, with nothing else going on, will tune in to watch three hours of Baron Corbin beating up Finn Bálor on a Monday night.
My question is: doesn't this surprise anyone else? By every conceivable metric, SmackDown is the superior product. Want to see the most talked about star in wrestling at the moment? Here's Becky Lynch. Looking for a quick wrestling fix without the monumental time investment? Tuesday nights. Hoping to see the best grappler in the world go at it for a bit? Shane McMahon was on the show last night. Coherent storylines? A more established midcard? Greater devotion to women's wrestling? Recognisable faces from the mid-2000s? SmackDown delivers all that in spades and does a much better job than Raw.
Absent any other explanation, the difference in viewership must come down to name recognition alone. Raw has built up a greater reputation over the years and remains WWE's flagship show (which we were reminded of at Survivor Series – never forget).
https://www.instagram.com/p/BqtKnT_lr2x/?utm_source=ig_web_button_share_sheet
It doesn't mean it's not a disappointing trend though. Not least of all because Raw is unlikely to capture a new audience. Imagine being a casual fan, someone considering being swept up in the world of wrestling, and your first exposure is seeing Drake Maverick relieve himself onto a nylon jacket? Would you feel compelled to keep watching? Is that likely to make someone want to tune in again next week?
WWE is doing it all backwards. SmackDown should be presented as the primary show. It should be positioned as the gateway to Raw, NXT and Ride Along. Okay, forget Ride Along. The first thing a prospective viewer should see when tuning in to the world's foremost wrestling promotion is Becky Lynch, Asuka, Rusev, the Miz and the Usos. That's more likely to get them hooked. Not Bobby Lashley pointing to his (admittedly) well-defined glutes.
So, if there's one thing we could be doing to make the world a better place over the festive period, it's introducing one friend or family member to SmackDown. Then, when they're in too deep to get out again – maybe after a year or two – pop on a bit of Raw. That'll show you whether they're a true friend or not.
In case it wasn't already clear, I really enjoyed this edition of SmackDown Live. But what did the rest of the WrestleTalk crew make of the show? Well, I asked them to share their best and worst segments from last night's broadcast, which have being meticulously reproduced in what follows. Read on to find out their views and don't forget to let us know what you thought of the show.