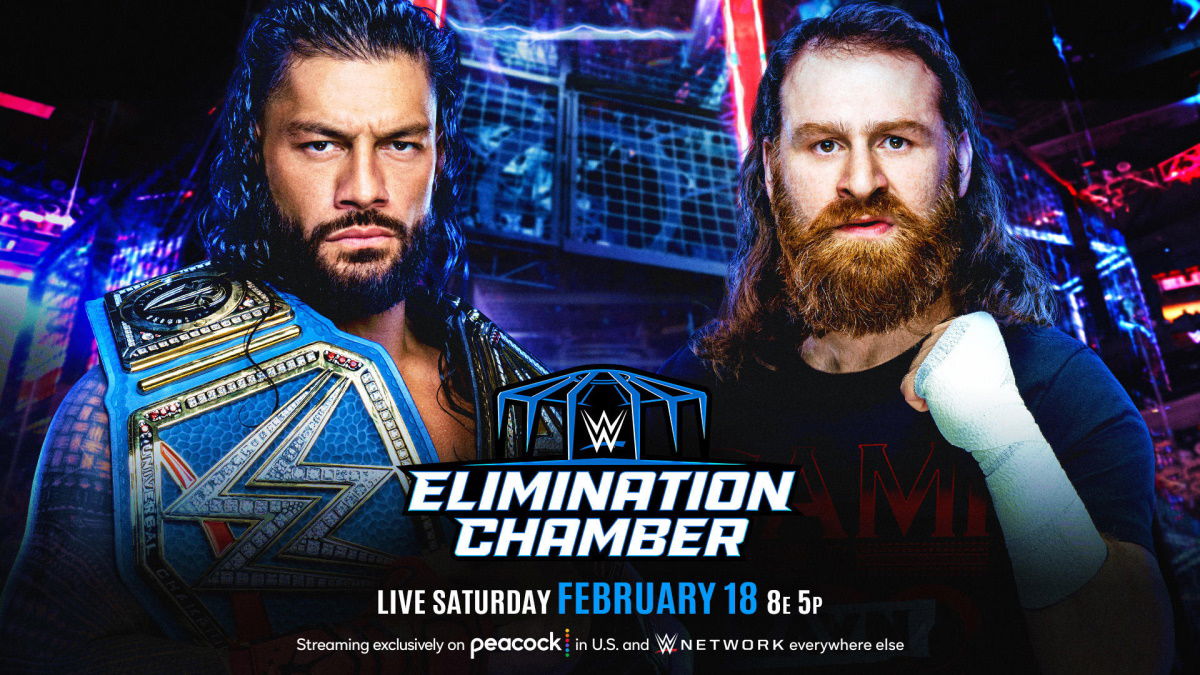 FIND THE UPDATED VERSION OF THIS ARTICLE AT THIS LINK.
A look at some spoilers for WWE Elimination Chamber 2023, which is the last major show on the road to WrestleMania 39.
Elimination Chamber in Montreal is fast approaching on Saturday, February 18, so let's take a look…
We'll take things match-by-match and have a look who's likely to come out each one the winner.
Raw Women's Championship #1 Contender Elimination Chamber Match
The six women in the women's Elimination Chamber match this year are Carmella, Nikki Cross, Raquel Rodriguez, Asuka, Liv Morgan and Natalya, and the winner will face Bianca Belair for the Raw Women's Championship at WrestleMania.
It would be a shock if Asuka doesn't win this one.
She returned at Royal Rumble with a new version of the more vicious persona she had in Japan before joining WWE, destroyed poor Chelsea Green on Raw this past Monday, and it would be a waste of the whole thing if she doesn't win here and go onto a title match at WrestleMania.
Liv Morgan and Raquel Rodriguez are both somewhat pushed, and Carmella gets pushed on-and-off but only just returned after a miscarriage, and she wasn't exactly presented as a major star despite winning her qualifying match.
So they'd be the picks if it wasn't for Asuka, but Asuka really does look nailed on here.
Beth Phoenix & Edge vs. Rhea Ripley & Finn Balor
This one isn't quite as nailed on, but there's some logic to apply which makes for a fairly clear favorite.
That logic would be that it would seem like we're heading to Edge and Balor in a singles match at WrestleMania, probably with a big stipulation – they were supposed to have a Hell in a Cell match at Royal Rumble but Edge was unavailable.
If that's going to happen, you would think the best bet would be for the heels to win here, and then Edge is on a mission to give Balor his comeuppance.
There's also the fact that Ripley will be challenging Charlotte Flair for the SmackDown Women's Championship at WrestleMania, so she shouldn't be losing before that happens.
However, it's not a 100% thing as it may not be set in stone that we'll get Edge vs Balor at Mania, and Balor did win the last match between them back at Extreme Rules.
United States Championship Elimination Chamber Match
This one seems hard to call but there is something that's emerged that we could call a potential spoiler.
Austin Theory recently did some filming for a TV show that will air in March, and during that filming he had the United States Championship belt.
That doesn't necessarily confirm he'll retain here, but it could mean something in the sense that if WWE knew someone else would be United States Champion in March, he could have done it without the belt.
Especially since there'll probably be a lot of eyes on him as he's gonna be in a pretty high-profile position heading into WrestleMania as he's planned for a match against John Cena.
On the flip side, as an argument that Theory might not win the Chamber, the aforementioned Cena match definitely doesn't need the US Title because it's a John Cena match and it sells itself.
However, there is some poetry to it in that Cena is legitimately Theory's childhood hero, and Cena's first ever WrestleMania match was where he won the very same championship from Big Show in 2004.
It isn't Theory's first Mania (it's actually his third – you may have forgotten he and Angel Garza challenged the Street Profits for the Raw Tag Team Title at 2020's WrestleMania 36 in the empty Performance Center), but there's perhaps still some poetry there because of what I just explained.
The TV filming stuff probably makes Theory the favorite but it could really be anyone's game here as there isn't an obvious US Title direction for WrestleMania yet.
Previously before the Theory TV thing came out, I'd predicted Damian Priest just because everyone else in Judgment Day has something to do at WrestleMania individually, so his individual thing could be defending the US Title so he isn't the odd one left out.
Bobby Lashley vs. Brock Lesnar
As of writing, this match isn't "officially official" as there's a contract signing segment set for the February 13 episode of Raw, but it looks a certainty that it'll happen.
That contract signing might result in some kind of stipulation being added, but for now, let's just assume a regular one-on-one match.
Lashley and Lesnar are tied 1-1 after two matches in the past 13 months, and everyone assumed they were heading for the big decider at WrestleMania.
What people didn't assume was they'd have a match against each other at Elimination Chamber, so that's thrown things off a bit.
The safest bet right now, as there isn't an obvious different opponent for either one of them at Mania at this point, was that this match will end in some kind of shenanigans, and then the 'deciding' match at Mania will still be happening.
The winner in this one could very well be… no-one. There isn't really anything that points to either one of them being the favorite above the other, and a draw so they're still level in their series would make sense.
Roman Reigns (c) vs. Sami Zayn – Undisputed WWE Universal Champion
The biggest match on the card, and also the one with the most obvious result.
It seems like WWE is dead set on Roman Reigns vs Cody Rhodes at WrestleMania, and Sami Zayn likely teaming with Kevin Owens against the Usos for the Undisputed Tag Team Championship.
As much as people would LOVE Zayn to win here, unfortunately this is likely just going to be a way to set up the tag match, and Reigns getting another win before the WrestleMania main event.
Anything can happen in the World Wrestling Federation pal, but an upset does not seem to be on the cards at all here.
Think you're a wrestling mastermind? Well you can prove it by taking quizzes in our brand new quiz section! Don't forget to tweet us your results!