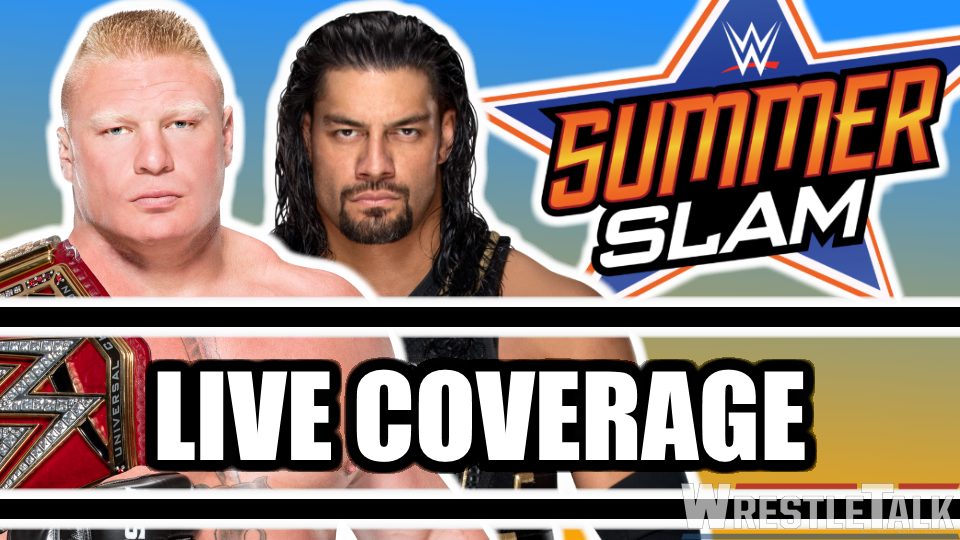 04:07am
And that's it. Apparently Strowman's dead.
Roman Reigns is the Universal Champion.
Oh.
I think the simultaneous "erm what?"s from everyone watching that finish sums up that show really.
It was good. But also very weird.
Thanks for joining me for the last six hours and following WrestleTalk's SummerSlam live coverage.
Now I'm going to bed.
Feel free to follow me on Twitter @LiamTheShebang if six hours just wasn't enough.
04:01am
Just as Lesnar gets back into the ring after dealing with Strowman, Roman hits a Spear OUTTA NOWHERE for the win and is the NEW Universal Champion.
04:00am
Roman inadvertently hits Strowman with a suicide dive, before Lesnar hits the 'Monster' with an F5 and a chair, and chucks the briefcase back up the stage.
03:53am
Strowman's here!
He's cashing in his contract on whoever wins this!
03:50am
Absolutely zero reaction whatsoever for Lesnar there.
03:41am
Natalya and the Bella Twins run into the ring to hug Ronda for some reason.
Up next, it's the main event. Brock Lesnar vs. Roman Reigns for the Universal Championship.
03:37am
Rousey absolutely steamrollers her way to victory in minutes.
We have a new Raw Women's Champion!
03:30am
Up next, Alexa Bliss defends the Raw Women's Championship against Ronda Rousey.
Natalya is also there for some reason.
03:23am
Hardy hits a Swanton Bomb, Nakamura just about manages to get a finger on the rope to break the count.
Jeff then attempts another Swanton Bomb but lands horribly on the apron, leading to a Kinshasa shortly thereafter and Shinsuke retains.
Then Randy Orton comes out, walks to the ring, and walks away again.
Oh.
03:05am
Up next is the United States Title match, as Jeff Hardy challenges Shinsuke Nakamura.
Will Randy Orton influence proceedings? Will his penis be involved?
03:01am
Bálor won after hitting all of his big moves in about three minutes.
Hopefully this gets him back on track now.
02:56am
It's the Demon King! That adds a little bit of extra spice to this one.
But means that Bálor is 100% winning.
02:54am
Up next is Finn Bálor vs. Constable Corbin.
02:48am
After a very good match, possibly the best of the night, Miz picked up the win after Maryse handed him a set of knuckle dusters and he struck Bryan right in the face.
02:39am
After a period of dominance from Bryan, Miz counters the Yes! Kicks into a DDT and the It Kicks.
Bryan channels his inner Hulk Hogan though, and after a big kick to the head, goes for the Running Knee.
But Miz manages to counter and lands the Skull Crushing Finale, but the 'American Dragon' manages to kick out at two.
02:30am
Miz has largely been in charge of this one, using a lot of Bryan's own offense against him
02:23am
I hate that this is just a really elaborate advert for Total Bellas and Miz & Mrs.
02:16am
Miz encounters the B-Team backstage but they say that the B stands for "Daniel Bryan."
We are set for a match eight years in the making, as Miz takes on Daniel Bryan.
02:14am
Elias' guitar broke and then he threw his stool.
That was it.
02:10am
Elias is here.
Get in there.
02:06am
After Joe makes the promise that he will be Wendy Styles' "new daddy," AJ loses it and attacks Joe with a steel chair, before being restrained by officials and Wendy.
Joe wins via DQ, but Styles retains the title.
01:58am
Joe just kicked out of a Styles Clash, as AJ has taken the upper hand.
More TNA chants.
01:54am
Things are beginning to heat up in this one.
Joe has the upper hand after landing what I can only describe as some sort of top rope Rough Ryder.
01:42am
TNA chants reverberating around the Barclays Center as this one gets underway.
01:33am
Up next, it's the WWE Title match, as AJ Styles defends against Samoa Joe.
Why?
01:30am
Becky attacks Charlotte after the match!
After a hug to congratulate Flair, Lynch snaps and we finally get something satisfying on this show.
01:28am
In a match that exceeded expectations and went a surprisingly long time, the SmackDown Women's Title has changed hands!
To Charlotte Flair.
Another disappointing finish.
01:05am
I am now 0-6 in my predictions. Amazing.
Also the SmackDown Women's Title match is up next.
01:02am
Braun won in about three minutes after a Chokeslam to the outside, followed up by a Running Powerslam for the 1-2-3.
How deflating.
00:54am
Up next, Braun Strowman defends the MitB contract against Kevin Owens!
Remember, if Strowman gets DQ'd or counted out, KO wins the briefcase.
Getting it out the way early… a cash-in later tonight?
00:51am
After a pretty chaotic affair (SAnitY not present), Rowan got his big hammer out and smashed New Day up with it.
New Day win, but the Beardy Boys retain.
Harper appears to have injured his left arm though. Hopefully he's alright.
00:45am
The story of this one so far has been pretty simple.
Woods being worked over, Big E hot tag, and a Bayley to Belly on Harper, he should have gone for the pin, really. It is the most devastating move in sports entertainment after all.
00:38am
Up next, the Bludgeon Brothers defend the SmackDown Tag Team Championships against the New Day!
00:34am
Rollins wins a fantastic opener to become the new Intercontinental Champion.
Ambrose paid dividends on the outside, as he hit Drew with a Dirty Deeds, allowing Seth to strike Dolph with a Superkick and a Curb Stomp for the victory.
No Ambrose heel turn either.
00:17am
The story of this one so far has been that every time big Drew looks to get involved, convict Dean walks over with a slightly concerned look on his face.
And rest holds.
00:11am
I'm a big fan of the IC Title on Ziggler's tights.
00:01am
We are seconds away from SummerSlam 2018, and to kick things off, we've got Intercontinental Championship action, as Dolph Ziggler, with Drew McIntyre in his corner, defends against Seth Rollins, who has a newly returned Dean Ambrose in his.
11:38am
Revival dominate, B-Team win with a lucky roll-up to retain.
11:29am
Up next, it's the final pre-show bout, as Raw Tag Champions the B-Team defend against the Revival.
Odds on a roll-up?
11:17pm
The story of that one was basically Gulak trying to lock in the Gu-Lock, and Alexander evading via flippy means.
Eventually, Cedric won with a roll-up.
Two matches.
Two roll-ups.
Seven hours.
Top banter.
11:06pm
Another split-screen advert.
This was genuinely the match I was looking forward to most coming into tonight.
11:02pm
Up next, it's the Cruiserweight Title match, as Cedric Alexander defends against the Philadelphian submission specialist, Drew Gulak.
11:00pm
All the GMs and Baron Corbin are backstage because of course they are.
Rockstar Spud's jacket is what I aspire to.
10:50pm
Zelina won with a roll-up with her feet on the ropes.
The only thing remotely entertaining about that match was Vega being so short she nearly couldn't reach the rope.
No idea what the point of that was. Does nothing for anyone involved.
10:44pm
There's already a commercial for Lesnar v Reigns.
Never mind. Wasn't looking forward to this match anyway.
10:38pm
First match is about to begin!
Almas and Vega vs. Rusev and Lana, and the Bulgarian just ordered Aiden English to stay in the back.
10:35pm
Sorry for the lack of updates, but literally nothing has happened.
10:02pm
The pre-show is underway, as we join Renee Young and her guests on the panel, Booker T, Sam Roberts and David O-useless for two hours of probably awful banter.
09:30pm
Welcome to WrestleTalk's live coverage of the 2018 edition of the 'Biggest Party of the Summer,' WWE SummerSlam!
The card is looking… long. Very long. Here's the full set of matches:
Pre-Show
The B-Team (c) vs. The Revival – WWE Raw Tag Team Championships
Rusev and Lana vs. Andrade Almas and Zelina Vega
Cedric Alexander (c) vs. Drew Gulak – WWE Cruiserweight Championship
Main Show
The Bludgeon Brothers (c) vs. New Day – WWE SmackDown Tag Team Championships
Finn Bálor vs. Constable Baron Corbin
Shinsuke Nakamura (c) vs. Jeff Hardy – WWE United States Championship
Daniel Bryan vs. The Miz
Carmella (c) vs. Becky Lynch vs. Charlotte Flair – WWE SmackDown Women's Championship
Dolph Ziggler (c) vs. Seth Rollins – WWE Intercontinental Championship
Braun Strowman (c) vs. Kevin Owens – Money in the Bank Contract
Alexa Bliss (c) vs. Ronda Rousey – WWE Raw Women's Championship
AJ Styles (c) vs. Samoa Joe – WWE Championship
Brock Lesnar (c) vs. Roman Reigns – WWE Universal Championship
I hope you have your energy drinks ready.
You can join the discussion with fellow SWAFT Nation members by joining our Discord server or by following us on Twitter. What are your predictions? Let us know!