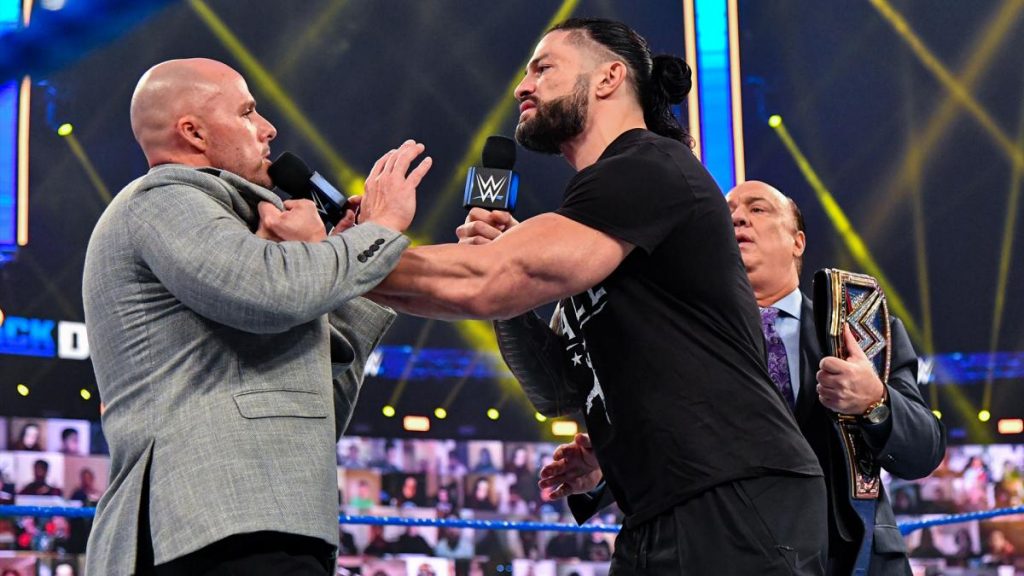 WWE on-screen official Adam Pearce has recalled the origins of his Roman Reigns feud, and discussed a potential match with the Tribal Chief.
In the lead-up to Royal Rumble 2021, Adam Pearce was announced as the #1 contender to the Universal Championship. Because "card subject to change", Kevin Owens went on to battle Roman Reigns for the title at the pay-per-view event.
Pearce has noted that there is no way he'd turn down the opportunity to face Reigns. Speaking with GIVEMESPORT, Pearce pointed out that he and Roman had great chemistry.
Recalling events, Pearce said:
"Well I think it goes to show with anything that happens in WWE, there is one voice that makes things happen (Vince McMahon).

"I was happy to be a part of it. Roman and I have certain chemistry on camera, he's really taken to this mob boss mentality and does it so well. You can't teach on-screen chemistry, I think he and I have enough of a personal relationship that the conversations always felt real. It was naturally fun and really easy to play off him and Paul Heyman. It took on a life of its own… I was getting ready man, getting my boots polished you know, getting ready to go."

"If you come to me tomorrow and say 'Hey, let's rewind to the Royal Rumble'. If that match was actually going to happen, there is no chance I'd turn that down. That would have been incredible. But it's not something I ever pushed for or ever expected to happen. It's not something I aspire to."
Pearce last competed in March, teaming with Braun Strowman to challenge for the Raw Tag Team Championship. Strowman was unfortunately one of the names released from WWE yesterday.
WWE Hall of Famer Mick Foley has stated that Strowman would be a great acquisition for AEW. As per PWInsider, we won't see any of the recently released stars appear at All Out in September.
What are your thoughts on the above story? Let us know in the comments on Twitter or Facebook.