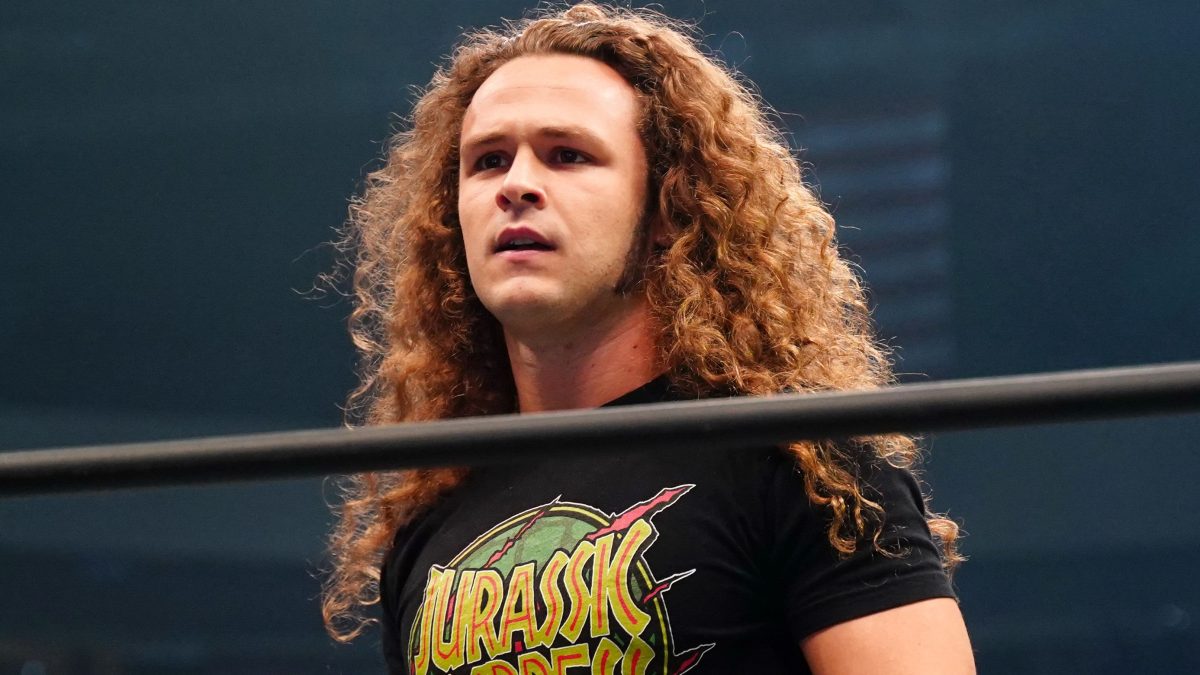 AEW star Jungle Boy has opened up about one of the weaknesses in his game that many people have pointed out – his promos.
There's no doubt that the 24-year-old is a special talent and he's already had plenty of amazing matches, but fans have noticed his promos are a little bit behind his in-ring work.
This is something he's aware of though, and he spoke openly about it during his appearance on Renee Paquette's Oral Sessions.
Jungle Boy said:
"I hate (doing promos). It's something that I never wanted to do, and I made a point not to do it, and somehow I got by without it, and now when I have to do it, when they tell me I have to do it, I wanna run away and hide somewhere. It's just so not my style. It's not the way I… I don't know, it's just not my thing. But I think it's getting the point where, at some point, I've gotta buckle down and get to it. At some point coming soon I guess I'll get on that.

"It's cool because right now Christian (Cage) has kind of taken that over. And I've just gotta sit there and look pretty and let him do it. As much as I hate it and I really don't like it, I know that once I get it, it'll feel good to have overcome that and done it. I guess I'm looking forward to that part.

"For me in the beginning, I made a point to really not do them because I wanted people to focus only on what I was doing in the ring. I feel like coming up, I wanted to really stay separate from my dad pretty much, and that whole thing. And I didn't want people knowing about that. People would ask me to say things about him, and I was just like, 'I just want you to watch what I'm doing'. I really like Jungle Boy, let me not talk, and just wrestle. And I was like, just watch that, because that's what I wanna do.

"For me, it's also just, I guess I'm soft spoken in a lot of ways, a lot of wrestling promo stuff kinda like embarasses me. The way it's so over-the-top and over-acting. When I see that I'm like, 'Oh my God, I couldn't do that if you paid me money', which they do, I just can't. So I feel like I go the other way and try to just be quiet, but I feel like that comes across a lot of the time like I don't really care, I'm not into it. Which is not the case, it's just, I don't feel comfortable doing it.

"I've been talking to Tony (Khan) and I think we're coming up with some ways that I'm gonna ease into it a little bit, so we'll see. I don't know.

"Not to kiss up or whatever, but Jon (Moxley) for example, I really like the way when he does it, he's just talking. He fires it up here and there, but it's not a big over-the-top performance. He's just being how he is. Taz for example, who's a bit more upbeat, but that's just the way he is. And for me, it's cool, it's like, 'You know what, that's real. That's how Taz is'.

"So I think I've gotta just… I don't know. I've cut less than like 10 promos in my life, and most of them have been on TV in some form or another, so I'm like freaking out all the time. But I feel like, as I get more comfortable with it, it'll become easier."

If you use this transcription or any portion of it please credit WrestleTalk.com and link to this page
Also on Oral Sessions, Jungle Boy spoke in more detail about his partnership with Christian Cage, his real-life romance with Anna Jay, and which released NXT star he wants to face in AEW.
Jungle Boy and Luchasaurus challenge the Young Bucks for the AEW World Tag Team Championship on Dynamite next week.
To make sure you stay updated with all the latest wrestling news, add WrestleTalk.com to your Google Discover feed and follow us on Twitter!