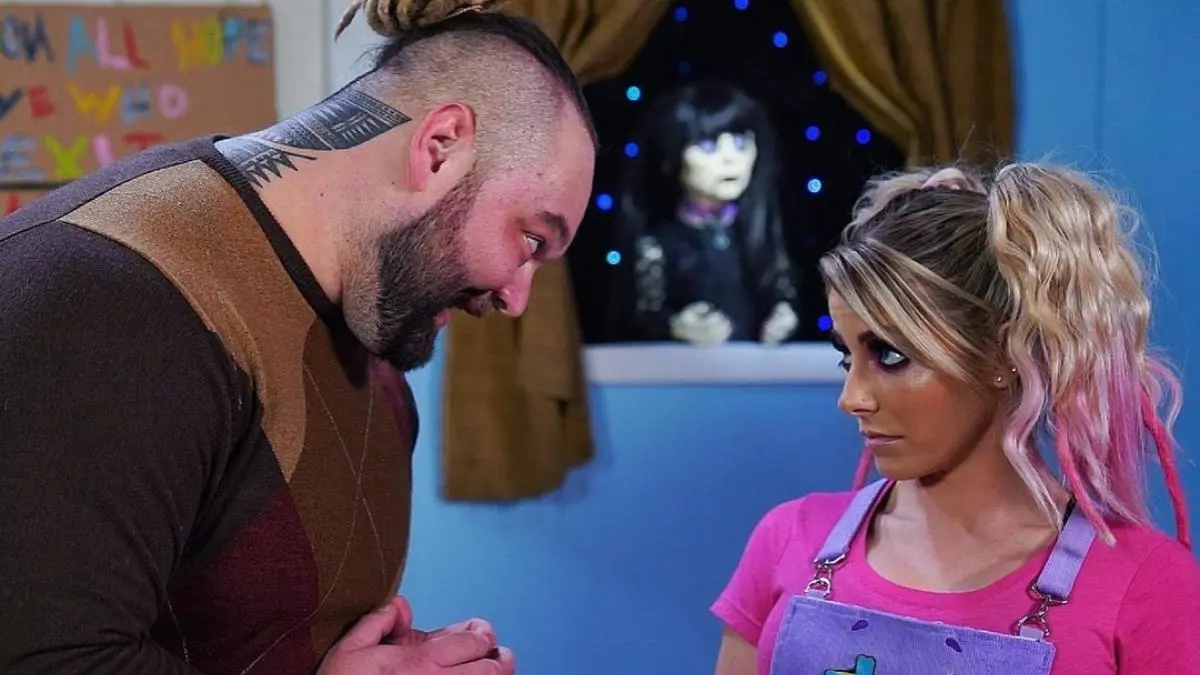 Alexa Bliss has opened up about her time working with 'The Fiend' Bray Wyatt (Windham Rotunda), prior to his WWE departure.
Bliss joined forces with Rotunda in 2020 during the ThunderDome era of WWE TV. She played a key role in The Fiend's rivalry with Randy Orton in the build to WrestleMania 37 in April 2021. She was separated from Rotunda after the event, and Rotunda was released from his WWE contract that July.
Speaking on Out of Character with Ryan Satin, Bliss noted that she studied cult documentaries and horror films when paired with Rotunda for inspiration for her character.
Noting that working with Rotunda was definitely a career highlight, Bliss said:
"Working with The Fiend, with Windham (Bray Wyatt), was the most fun I've ever had in my entire WWE career. He is so brilliant with his creativity and he puts so much effort into his character and so much research. It made me want to step my game up, 100%, being like, 'He put this much thought into his character, I need to put twice as much thought into mine.'

"When you step into someone else's kind of gimmick, you don't want to bring it down, you only want to elevate it. I put so much effort into that and protecting the character and protecting when we did the Firefly Fun House and it was so fun. It's very sad that we don't work together anymore because it was so much fun and I think the WWE Universe saw how much fun we were having."

"I jumped fully in. The amount of cult documentaries and different scary movies and things I would watch. For me, I wanted to have my character have an identity crisis. With that, that's why I reverted to a child's mentality because for me, personally, when I had my eating disorders, it was a traumatic thing for me and my brain went back to a child-like defense mechanism.

"I kind of took part of that into my character. I remember thinking, 'what do I like watching as a child? I like watching The Big Comfy Couch.' I got the concept of Lilly from the girl from the Comfy Couch, her doll Molly.

"I took a lot of childhood things that I loved and brought that into the character and also took part of the movie Orphan where the girl is 30 posing as a child and took that into the character as well. There are a lot of things of my real interests and real things as a child that I actually brought into the dark Alexa character."
Opening up about her struggles with her character after leaving Rotunda, Bliss said:
"When The Fiend and I got separated, it was, 'How do I transition this character to make it different than what it was with The Fiend?' I don't know if that came across as well, but I really tried to make it different while also protecting what The Fiend and I had built with our dynamic.

"For me, it was a lot of research and working with my acting coach, especially for the therapy, it was a lot of working with things in my past that caused me trauma and bringing that out in therapy sessions, that's why when they bring out Lilly, I looked at Lilly like it was my pig Larry and remember thinking, I had to watch Larry pass, so when the therapist brought out Lilly, I envisioned Larry and if Larry came back to life, what would I say to him? That was a lot of research and effort and things that go into the character that people may or may not realize or understand that we put so much work into"
Bliss recently stated that she had pitched for a darker character when making her WWE return earlier this year, which you can read more about right here.
The former Women's Champion's win/loss record for this year is currently 6-5 on WWE TV. Stay up to date with WWE win/loss records for 2022 using our tracker at this link.
Transcription via Fightful. 
To make sure you stay updated with all the latest wrestling news, add WrestleTalk.com to your Google Discover feed and follow us on Twitter!