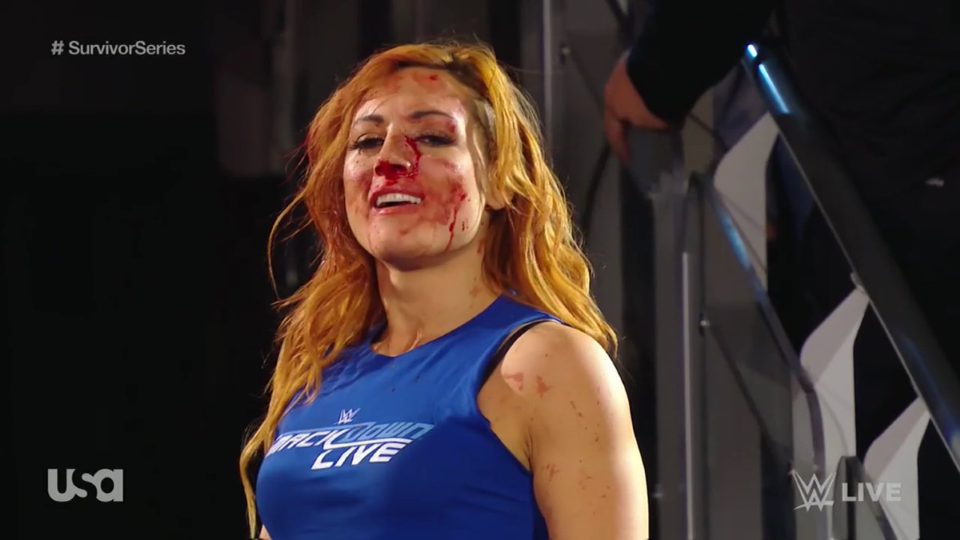 WWE finally seem to be getting it. How do you make Raw better? Well, just put Becky Lynch on it.
I am in no way biased, but she is the single greatest human on the face of the earth and she once again proved it last night.
Leading a SmackDown Live invasion of Raw by first locking Raw Women's champion and her opponent at Survivor Series Ronda Rousey in a Disarm-Her, and then brawling in the ring, Becky proved why she's the hottest thing in WWE.
However, unless the Riott Squad changed their condiment preferences from mustard to ketchup and threw it in Becky's face, she didn't come away unhurt.
At some point during the brawl, it seems that Becky Lynch was caught square in the face by an unknown bodypart, and she may well have broken her nose.
Becky on the other hand had a different explanation:
Irish war paint. pic.twitter.com/AmW4ufsbUW

— The Man (@BeckyLynchWWE) November 13, 2018
What a legend.
If she has broken her nose, it shouldn't stop her from competing at Survivor Series. According to a doctor that I just made up, if you're going to break a bone, it may as well be your nose.
They'll just need to protect her face slightly during the match on Sunday, which shouldn't be too tricky, unless they add a face-related stipulation.