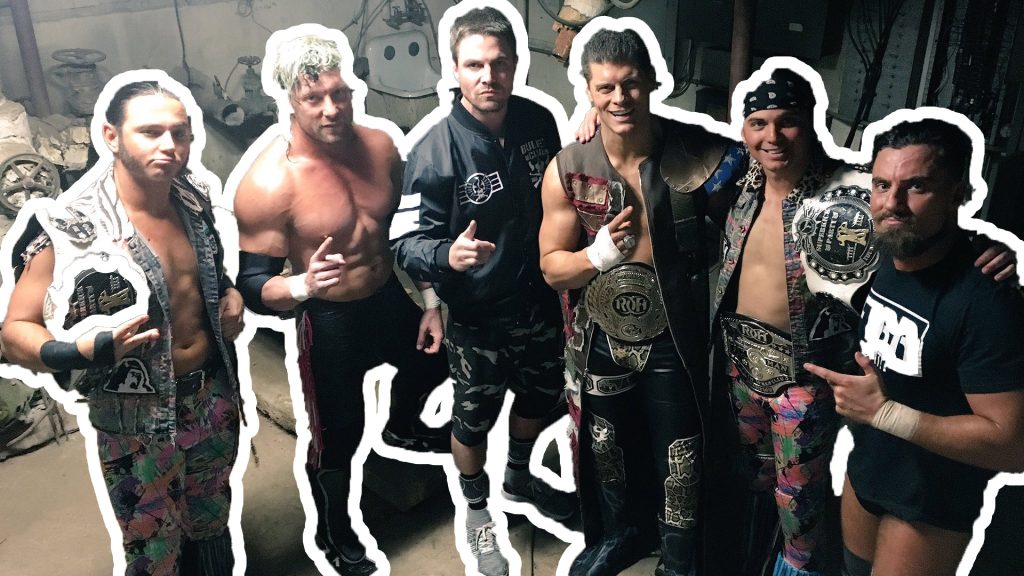 The Bullet Club have been often been referred to as the modern day New World Order, the popular WCW faction of Hulk Hogan, Kevin Nash and Scott Hall that slowly gathered more and more and more and more members. They're both renegade groups, the use the same colours and – before the infamous cease and desist at least – used the same catchphrases and hand signals. The nWo were insanely popular in the late 1990s, and some might argue that The Bullet Club have exceeded their popularity. Their merchandise constantly sell out in Hot Topic stores, Being The Elite is watched by thousands of wrestling fans, and you can't go to a live wrestling event nowadays without seeing Bullet Club shirts surrounding the building. The group has become so popular that some of its core members – Cody and The Young Bucks – are self-financing a 10,000 seat arena show called All In later this year.
And if the ending of New Japan's New Beginning in Sapparo is anything to go by, we're going to see The Bullet Club emulate another popular angle from the New World Order.
After the main event of New Beginning's second night – where Kenny Omega lost his IWGP United States Championship to Switchblade Jay White – Kenny stopped fellow Bullet Club member Hangman Page from challenging White. This brought out other Bullet Club members Cody, Matt Jackson and Marty Scurll, which led to an argument between the group. Kenny accidentally pushed the injured Matt Jackson down, and purposely started a pushing match with Cody. All seemed fine when the two bumped fists, but Cody then hit Omega with the Cross Rhodes. Marty didn't quite know what to do, but Hangman was quite happy to hold up Omega for Cody, before Kota Ibushi ran in for the save for a heartwarming climax to the show.
This angle has led a lot of people to believe we're going to see a split in the Bullet Club – similar to the nWo Black and White and nWo Wolfpack in WCW in 1998 – with Cody leading one group and Omega leading another. Or has Omega been kicked out completely, and will instead align himself with Ibushi once again as the Golden Lovers? One person who seems to sit around in fires and pretend everything is fine however is Cody himself – who retweeted the implosion from New Beginning saying, "Bullet club is fine." Something Ring of Honor commentator Ian Riccaboni disagreed with.
Bullet club is fine https://t.co/joGX0hpySY

— Cody Rhodes (@CodyRhodes) January 28, 2018
Really? pic.twitter.com/PYCzm2tQzs

— Ian Riccaboni (@IanRiccaboni) January 28, 2018
Damn, that was the same joke I used. I'm watching you Riccaboni.
Some of these questions may have been answered in the latest episode of Being The Elite, which opened with a very awkward dinner after the events of New Beginning, and also an awkward conversation in the girl's bathroom between Omega and Matt Jackson, where Matt accidentally inferred that Kenny was a weak leader compared to AJ Styles and Fergal Devitt – better known now as Finn Balor. The episode ends however with Omega and Ibushi being welcomed into The Young Bucks' hotel room. Such powerful drama.