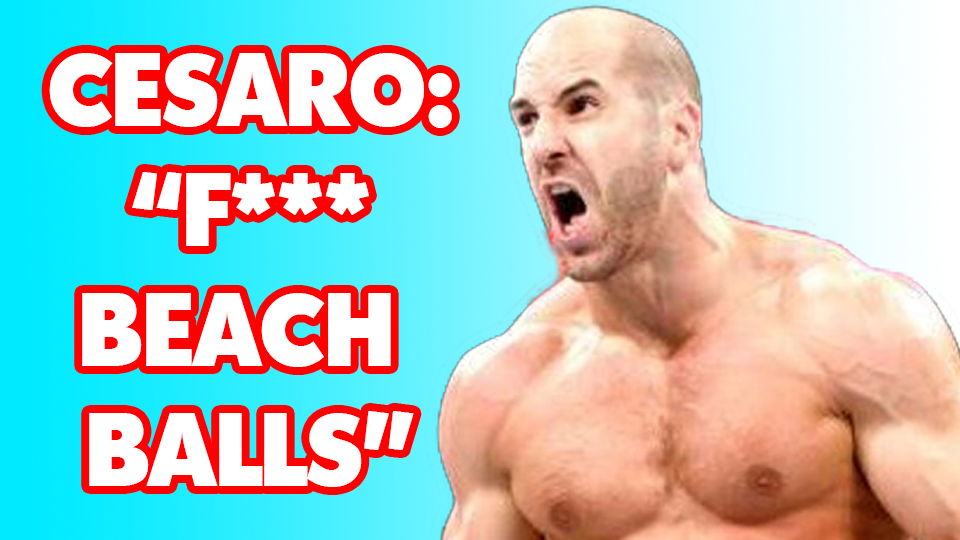 WWE is in Minneapolis, Minnesota, preparing for a WWE Live Road to WrestleMania show this Friday. Ahead of the show, Twin Cities' online newspaper CityPages caught up with the 'Swiss Cyborg' Cesaro to talk about his tag-team partner Sheamus, the indies with Kassius Ohno, and yes – his mortal enemy – the dreaded beach ball.
#SwissCyborg @WWECesaro is not amused, @WWEUniverse… #SummerSlam pic.twitter.com/MjOYs4wjtU

— WWE (@WWE) August 21, 2017
Cesaro passionately expressed to City Pages how "absolutely disrespectful" it is when fans bring beach balls:
"Excuse my language, but fudge beach balls. Seriously. That's absolutely disrespectful. We were wrestling for the Tag Team Championships, and you want to play with a beach ball? Get the hell out of here. Go. Leave the arena, and don't come back. I think every person that brings a beach ball into a WWE arena should get ejected for life."
(Author of the article Jerard Fageberg highlighted that Cesaro was well behaved and said the word "fudge" and not the un-PG version, so don't you worry WWE)
Of course the WWE Universe has a knack for being contrarians. So there's probably gonna be more beach balls coming his way. Sorry Cesaro.
Then again, if WWE could make a Vince McMahon vs. God (feat. Shawn Michaels) match, surely they can make a Cesaro vs. Beach Ball feat. someone? No Way Jose perhaps?
On a sincere note, I do empathize with Cesaro. He has been in WWE for six years, and is one of the most consistent wrestlers on the roster, being one of the best tag team specialist in the business. Yes he doesn't have the same mic skills and charisma as someone like John Cena, but you can bet that if Cesaro is in the ring it's gonna be entertaining and you won't need those beach balls.