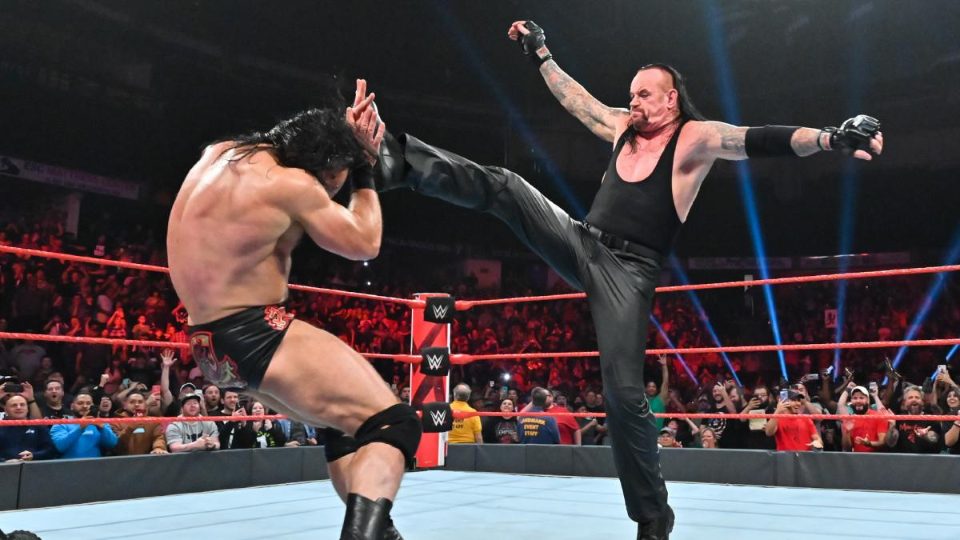 At Extreme Rules 2019, Drew McIntyre tagged with Shane McMahon to take on the team of Roman Reigns and The Undertaker. The match took place after 'Taker infamous match in Saudi Arabia with Goldberg, and it was reported that "The Deadman" requested to work with Drew following that match.
While a singles match between McIntyre and Undertaker has not materialised since, it has emerged that WWE actually wanted Drew to face The Undertaker at WrestleMania 26 in 2010. Instead, Taker ended up working with Shawn Michaels, with HBK originally set to work with The Miz.
Yesterday, WrestleTalk's Louis Dangoor was invited to take part in a media call with the WWE Champion. During the call, Drew answered a question by Kenny McIntosh of Inside the Ropes about his desire to one day work a match with The Undertaker:
"I'm all about moments these days rather than just necessarily the moves in there and the moves are cool. It's good to have a good match but it's all about the story, those moments. And I suggested to Taker, I don't know if you remember the one point we come face to face in the match and he was cool with that and I could hear the crowd rumbling and then at the very end, for the finish, we did the throat slash, and I appeared up behind them. And that was a couple of cool moments… And I may have dropped in the conversation, it was a certain match we were hoping to have about 10 years ago.  And, you know, kind of what I'm capable of these days. You know how I think these days. And I think he seems pretty keen that we could do something down the line and fingers crossed that match happens because I really think we'll do something special."
Drew also spoke about wanting to face a SmackDown and NXT star in the near future, pushing for a UK pay-per-view, potentially working a feud with Jinder Mahal at WrestleMania 37 and more. You can check out the full call below:
Would you be interested in seeing Drew McIntyre go one-on-one with The Undertaker at some stage in the future? Let us know on Twitter.