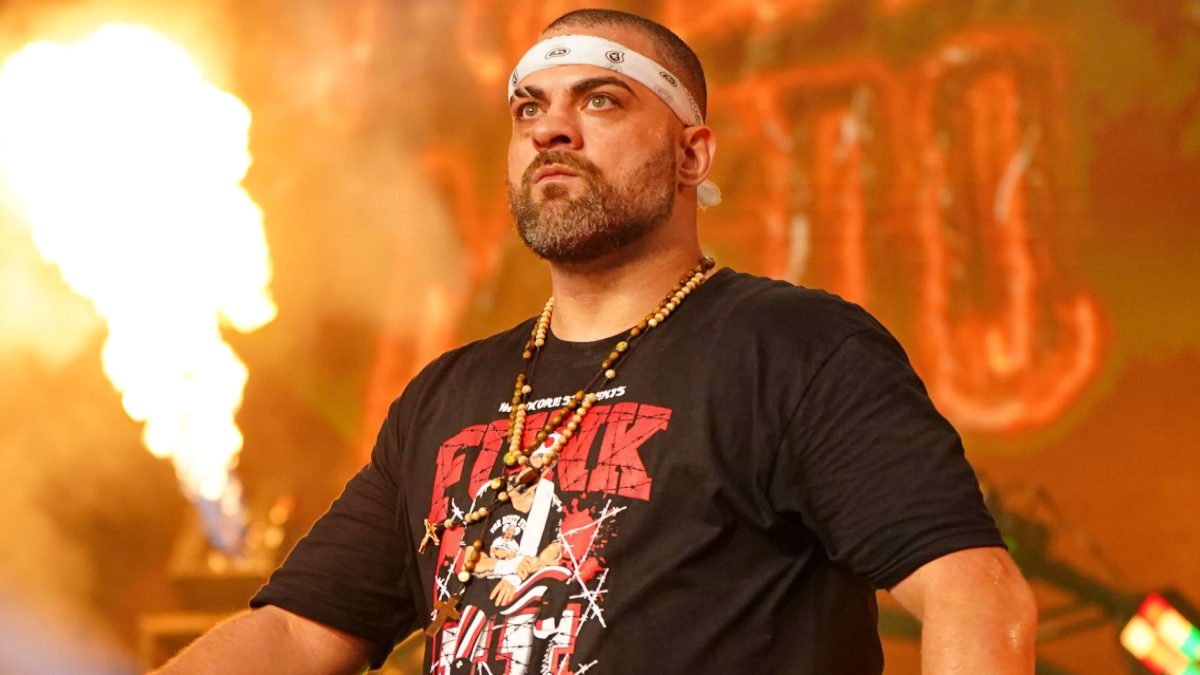 Eddie Kingston has opened up about his pro-wrestling journey so far, as well as his struggles with his mental health, in an article for The Player's Tribune.
In the letter, Kingston recalled an old-school Memphis wrestling tape inspiring him to pursue professional wrestling:
I popped in this random tape and after the static and the tracking and all the fuzz and everything, these three words flashed up on the screen.

MEMPHIS' BLOODIEST BRAWLS

From the minute I saw that tape, I was obsessed. It was like something beaming in from another planet. Another crazy-ass dimension. This tape had everything. It had the infamous Tupelo, Mississippi, concession stand brawl from '79. If you don't know what I'm talking about, YouTube it. It's a normal tag team match that starts in the ring. Then the guys fight their way through the crowd all the way back to the concession stand area, and they start smashing each other with popcorn machines and pots and pans and hot dogs. And the whole time the lady working the concession stand is screaming, "Stop! Stop! Stop! Security!!!!!!!"

It blew my mind. Picture it. I'm this half-Irish, half–Puerto Rican little maniac sitting on the couch in the Bronx eating wonton soup, watching old school Memphis wrestling, looking at my mother like, Are you seeing this? Can you believe this??? 

This tape had everything. It had Eddie Gilbert running over Jerry Lawler with his car in the parking lot outside the arena. It had guys getting busted open, bleeding out onto the mat. I barely even understood what wrestling was, but I knew at that moment what I wanted to grow up to be.

I didn't want to hit a home run at Yankee Stadium.

I didn't want to throw a touchdown pass at the Super Bowl.

I didn't wanna be a f**king astronaut.

I wanted to be a professional wrestler.
The AEW star emotionally recalled his battles with depression and alcoholism, writing:
"To be honest with you, the only thing that kept me from getting depressed was wrestling. I either had to be fighting in the neighborhood, or sitting at home watching a match. Otherwise, I'd fall into a depression. Back then, I didn't even have the words for it. I was trying to be such a hard-ass that I didn't want to hear about no mental health, no therapists, no feelings.

'Depression? The f*ck is a depression?'

"Christ, did I drink. I became a bouncer just so I could drink more. On the weekends I'd start drinking at 1 p.m. on Saturday, bounce at the bar until 7, go and wrestle somewhere, then come back to the bar after and drink til 7 in the morning. Then I'd wake up the next day and it was football Sunday, so I'd drink from noon till 2 a.m.

"I woke up one afternoon and there were just beer bottles smashed everywhere in my apartment. For some reason, I checked my mailbox, probably looking for a miracle check or something, and I had a letter. I'm like, 'A letter? The last person that ever wrote me a letter was my grandma.'

"I opened this letter, and it was from my friend Alex Whybrow, aka Larry Sweeney. Longtime indie wrestler, amazing dude. He wrote me a letter as a last resort. He said everyone was really worried about me and he begged me to reach out. And I'll never forget, this one line at the end, it said….

'I feel like I've lost my best friend. Please call me.'

"For some reason, that woke me up. I called Alex and I crawled up out of my hole. I just always felt like nobody ever cared about me. I felt like a failure, a loser, a bad friend. It's something that's been with me since I was a kid. If Alex hadn't sent me that letter, I don't think I would be here today. I probably would have drank myself to death. He saved my life."
Kingston elaborated further on his journey to AEW, discussing experiences with the likes of Jon Moxley, Cody Rhodes and Brodie Lee. You can read the full article here.
Since sharing the article, Kingston has taken to Twitter to urge everybody to remember to move forward in life, stating:
"Please take away from the article that yes mistakes are made and things get dark mentally and emotionally but please move forward please. I know I will make more mistakes because life is life but I will move forward. So just move forward."
if you're struggling with your mental health, information on where you can find support is available at this link.
To make sure you stay updated with all the latest wrestling news, add WrestleTalk.com to your Google Discover feed and follow us on Twitter!