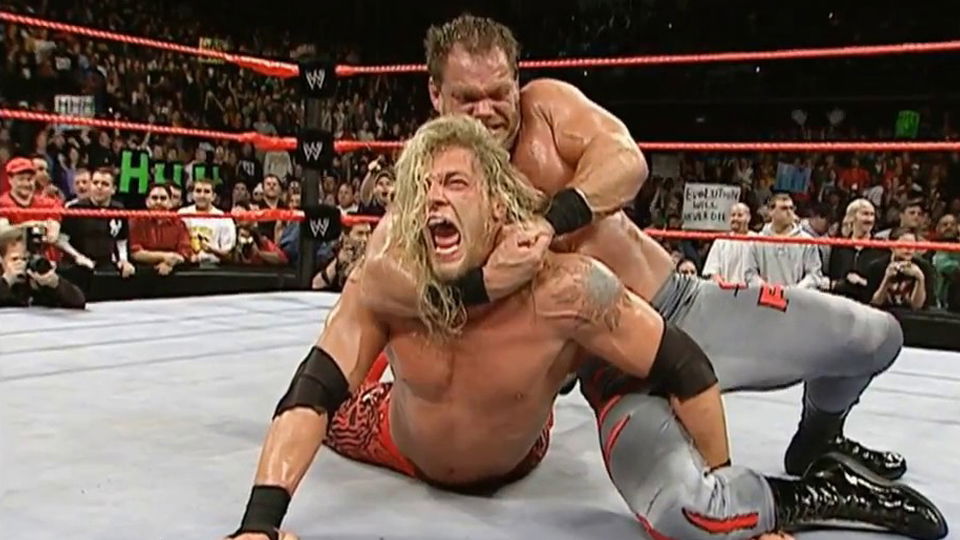 During a recent Q&A session on his podcast E&C's Pod of Awesomeness, Edge revealed who he felt gave him the hardest chops he had ever received.
"You know whose would really hurt? Chris Benoit. I remember one night in Montreal, Canada they had done a deal where it was a house show and they did a Battle Royal first match of the night, and the winner of that Battle Royal would face me in the main event. Chris Benoit goes over in the Battle Royal and he and I go into the last match.

Prior to I already had the cold and the flu. Right at the beginning of the match he came up and chopped me and hit me right in the throat. I just remembered thinking, 'oh my God. I don't know what is happening to my throat.' It just hurts so bad

Later on he hit me with an enzuigiri and I don't remember the rest of the match after that, I only remember snot and blood coming out of my nose after a German suplex. These weird instances and glimpses you would get, and I just remember snot and blood flying through the air and thinking, oh, well there you go. I finished the match and then drove to Toronto, Canada from Montreal afterwards."
Chops used to be a regular occurrence in WWE matches in those days but are used far less frequently now. Only the likes of Charlotte Flair – who took the move from her father Ric – and a handful of others use chops as a regular part of their arsenal.
Given that, it will be interesting to see whether rumoured new signing WALTER will be allowed to use hard chops, the move he is most known for, if and when he makes his NXT bow.
WrestleTalk would like to thank Wrestling Inc. for the transcription of this interview.