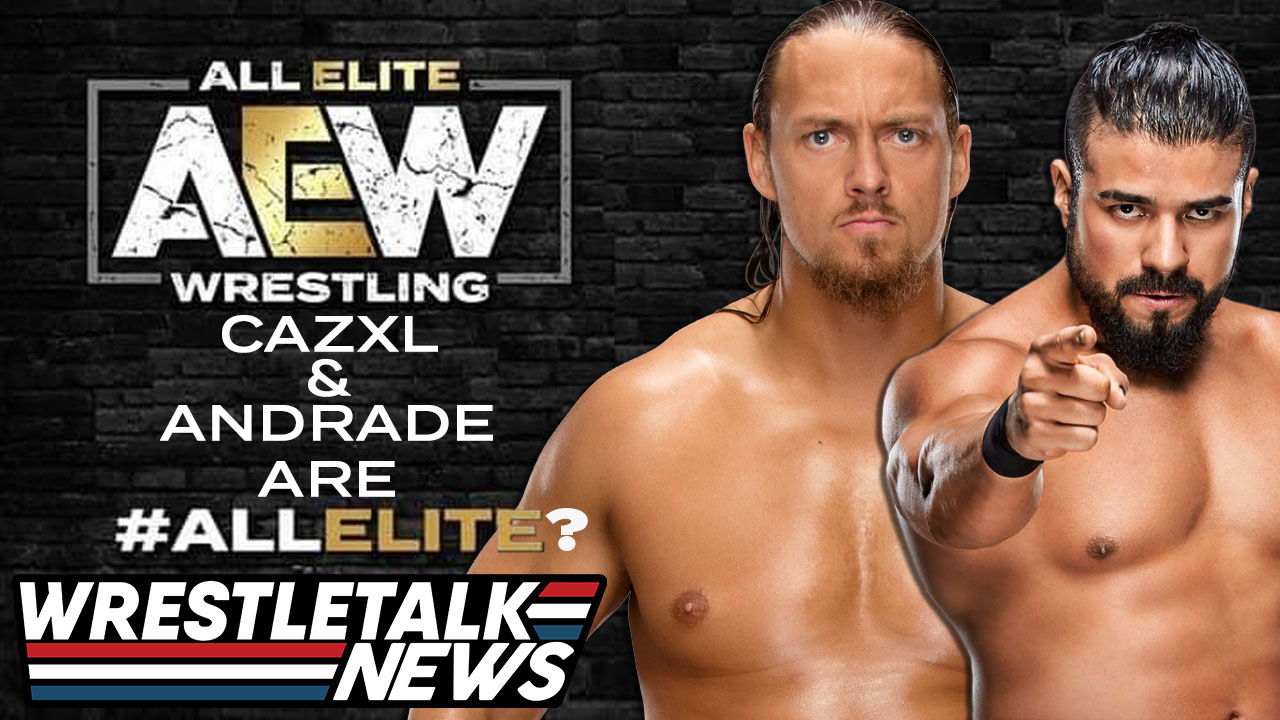 No-one. Absolutely no-one.
AEW: let's sign some more talent!
Over the last few months we've seen Sting, Ethan Page, Big Show Paul Wight and Christian Cage join AEW, trainee talent like Red Velvet officially sign, and Impact and New Japan stars like The Good Brothers and KENTA crossover.
And according to Sean Ross Sapp on Fightful Select, another name could be coming in too – as former QuizzleMania tag team champion Doc Gallows has been pitching to AEW higher ups that they should bring in former WWE star Big Cass – or CazXL as he's now known – saying "people HAVE to ask about a guy like that."
CazXL recently returned to the wrestling world at a Lariato Pro show, a promotion run by Gallows, with his former tag partner Enzo Amore. Speaking with WrestleTalk.com's Louis Dangoor, Caz spoke about how Gallows has been a big influence on his career, and it was down to him that he made his return to wrestling in the first place. 
Cass was reportedly released by WWE in the middle of a huge push against the recently returned Daniel Bryan for behavioral issues. He then had a controversial run on the indies, including a negatively received invasion angle at the joint Ring of Honor/New Japan show, and an alleged fight with Joey Janela. In our interview with him, Cass has spoken about how he has since confronted his demons, going to rehab and embracing the Alcoholics Anonymous program.
Do you want to see Big Cass in AEW? Let me know in the comments down below, where I'll be replying to people from outta nowhere saying 'and how about a side Andrade to go with your Big Cass?'
Andrade To AEW?
Andrade has been a free agent since he left WWE last month, but there's been conflicting reports about whether or not he's restrained by a 90-day non-compete clause. 
Making Speculation-amania run wild, Andrade has now tweeted a leopard emoji, and a fist emoji – with some believing the leopard emoji means a jaguar – i.e. the Jacksonville Jaguars which is where AEW is currently based. While others think it could be the logo of New Japan Pro Wrestling, which is also a tiger. Or maybe he's joining forces with The Undertaker to save big cats!
Andrade to save big cats with The Undertaker confirmed.
But what about the other direction, of AEW talent turning up on WWE?
Chris Jericho Namedrops AEW Talent on Steve Austin Podcast
Chris Jericho will be interviewed by Steve Austin on the WWE Network's Broken Skull Sessions this Sunday – Adam Blampied will have wrap up video of it on partsFUNknown the next day – and the first trailer has now revealed what we can expect.
Austin goes through a "List of Jericho" question sheet, and while Jericho did mostly talk about WWE stuff – working with Kevin Owens and Shawn Michaels, saying Roman Reigns will be in the Hall of Fame – he did name drop All Elite Wrestling's Sammy Gueverra as his favourite tag team partner along with new AEW signee Big Show Paul Wight. 
CM Punk recently said that he thinks the show will be "softball questions" and a "feel good interview" about Jericho's time in WWE, and this trailer seems to back that up.
AEW Dynamite Review
It's Thursday, you know what that means. My review of AEW Dynamite… in about 5 minutes. But before we get into that, please support WrestleTalk and give us a subscribe – because a third of you right now aren't! Subscribe so you get my WrestleMania reviews first this weekend.
Because that's not all that's on the hairline. As if we raise £10,000 for the mental health charity CALM before the end of Night Two, I will shave my head. The link's in the video description below to donate. But I don't think you've got it in you. You're all cheapskates. My hair isn't going anywhere!
The show opened with Hangman Page wrestling The Acclaimed's Max Caster, who rapped he wanted Hangman to treat him like a breathalyser. Which I think was his way of telling Page to suck his penis. But in a threatening way. Not a romantic way. Page jumped Caster and Bowens because he didn't want to suck either of their penises.
The Acclaimed got in loads of heel interference to give Caster the heat, but Page awesomely took them both out to win, and then drink a beer on National Beer Day. Yay, responsible drinking. 
The Best Friends interrupted Death Triangle's in-ring interview, presumably setting up a feud whether or not Triangle win the tag titles next week.
The Inner Circle are back in black – awesomely opening the show turning up in black suits and vehicles. I sure hope no-one writes Hey Hey, Hop Hop on the cars with easily washable off paint.
This set up a fantastic babyface in-ring promo for Jericho, roasting every member of the Pineapple, calling MJF 'My Jerkoff Friend' and that we should all change the wrestling fan word 'Mark' to 'Max' because MJF is a Max for himself. 
And over a year after the first version was scrapped, Jericho announced the Inner Circle will take on the Pinnacle on the 5th May episode of Dynamite… in a Blood and Guts match.
Which I can't wait for. It'll be amazing. But it does double down on AEW's more violent, hardcore TV direction – following the Baker vs Rosa and Exploding Barbed Wire deathmatches in recent months. This is thought to be turning off female viewers, and will likely limit AEW's overall audience growth.
Later on, the Pinnacle attacked Jericho during his backstage interview having bolted the rest of the Inner Circle in their lockerroom. So who should come out to save him… but the guy he had a scuffle with last year Mike Tyson – who will be the special enforcer for next week's Dax Harwood vs Jericho match.
Tyson looked brilliant here, unloading turbo fists on Shawn Spears, and the idea of him now helping Jericho shows how Y2J has changed since their last interaction. I just wonder what the original plan was coming off their angle last year?
Taz offered Christian Cage a place in Team Taz, which Dasha called a massive opportunity. Speaking of massive… here's Jurassic Express vs Bear Country. No Dasha, leave those terrible segways elsewhere.
But seeing that she's done it, speaking of massive…
It's Jurassic Express vs Bear Country, brought to you by Godzilla vs King Kong, I love pro wrestling. This had loads of cool power spots, and Luchasaurus picked up the win as he should. Because a giant radioactive lizard should always beat a big monkey.
In what might be the lowkey coolest segment of the episode, though, QT Marshall cut a fantastic pre-produced promo from the Nightmare Factory with his new faction, sitting on his steel steps throne. Anthony Ogogo in particular stood out of the group, who will be making his in-ring debut next week. 
And then for the big promo finish… Comoroto threw blue paint at the Nightmare Factory sign. What is it with paint this week?
A Sting interview got interrupted again – this is becoming too much – seemingly setting up a Lance Archer faction with Ethan Page and Scorpio Sky watching on. A faction for you, a faction for you, a faction for everybody!
And then Sting chased off Ryan Nemeth at ringside so Darby Allin could have a straight up TNT title match with JD Drake.
My young Kevin Steen loving heart was really impressed by Drake, who took 90% of the match before Allin won with a Coffin Drop. Matt Hardy then attacked Allin ahead of their Falls Count Anywhere TNT title match next week – finally giving the belt back some momentum by actually being defended.
Britt Baker called the rankings system bulls-word, as it should be based on merch sales, not wins. 
The Bunny looked awesome in defeat in her loss to Tay Conti, making you wonder why she hasn't been wrestling more in AEW. Shida helped Conti overcome the Bunny's kendo stick cheating, respectfully building their champion vs No. 1 ranked challenger feud.
And the main event saw the huge trios match of the Super Elite taking on Jon Moxley and the Young Bucks. 
The main story playing underneath the typically excellent in-ring action was Matt Jackson's reluctance to really fight his former best friend Kenny Omega. Things have come a long way since they respectfully fought each other at last year's Revolution. But even with Omega's cheap shots and snap Dragons on Matt's famously injured neck, Matt still couldn't bring himself to hit the BTE Trigger for the win. 
This pissed off Moxley, who hates Omega for, you know, trying to explode him – I know how that feels – so he hit two Paradigm Shifts and locked in the choke… so the Bucks superkicked him off. The Good Brothers took out Kingston on the ramp, and draped Kenny's unconscious body over Mox to get the win.
The Elite are together again, but it still doesn't seem like the Bucks are thrilled about it.
And I don't think I am either. And not just because I'm being worked like a Max.
I feel like I've seen this story beat a few times already. I applaud AEW for telling emotionally complex feuds. Sometimes you keep repeating old behaviour because you're stuck in a cycle. But I think now's the time to fully commit to the Bucks being full faces or full heels. Then that'd strengthen Hangman Page's character, because the Elite would've turned fully heel without him. Meaning he wasn't the problem.
What did you think of AEW Dynamite? Let me know in the comments down below and vote in our Poll on a Pole match on the community tab, where 52% of you went for Blood and Guts and Mike Tyson's Fists, just 4% in front of Young Bucks vs Big Show in a who Has More Heel Turns match.
Even AEW's really solid building shows have at least several stand out moments. QT and Jericho's promos. The Tyson angle. A great match with Darby and Drake. But the Bucks storyline is starting to loop back on itself. By AEW standards, this week's Dynamite was 3 out of 5.
What are your thoughts on the above story? Let us know in the comments on Twitter or Facebook.