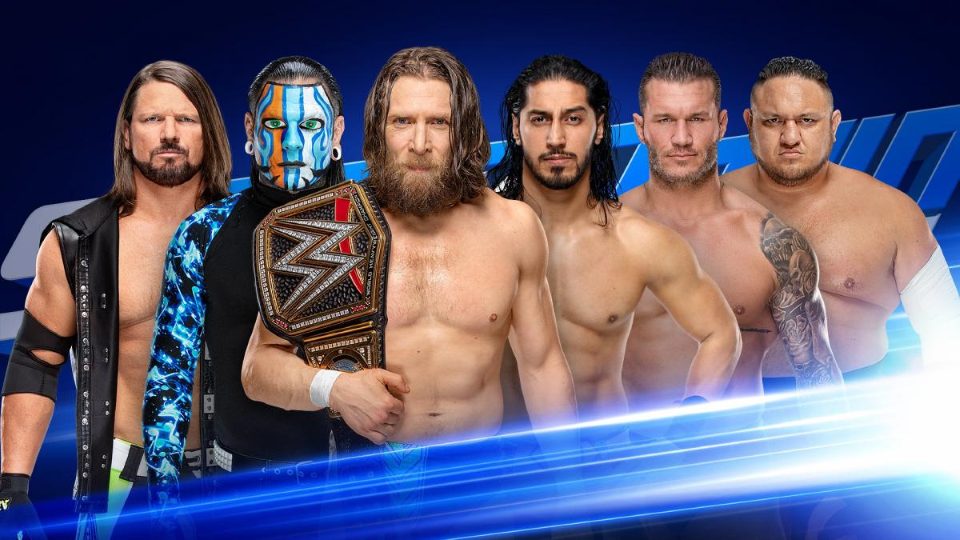 Remember that dead good gauntlet match on Raw before the Elimination Chamber last year? The one where Seth Rollins wrestled for about 67 hours straight? Well, come Tuesday night, it's time for the folks on SmackDown Live to give it a go.
WWE has announced that all six members of the WWE Championship Chamber match next Sunday will compete in a gauntlet match to determine who will enter the Chamber last.
BREAKING: A high-stakes #GauntletMatch will take place this Tuesday on #SDLive to determine who will enter last in #WWEChampionship #EliminationChamber Match! https://t.co/XPNm8dAZOF

— WWE (@WWE) February 10, 2019
The six men are, of course, defending champion Daniel Bryan, AJ Styles, Jeff Hardy, Mustafa Ali, Randy Orton, and Samoa Joe. Orton defeated Ali on last Tuesday's SmackDown Live, and the main event between Bryan and Hardy was thrown out after the other four men ran to the ring for big ol' brawl.
It'll be interesting to see if the match is laid out in any way similar – or potentially pretty much the same – as last year's which received plaudits from pretty much everybody and elevated Seth Rollins to arguably the most popular babyface in the entire company.
You can check out the full confirmed Elimination Chamber card via our events page here at this link.