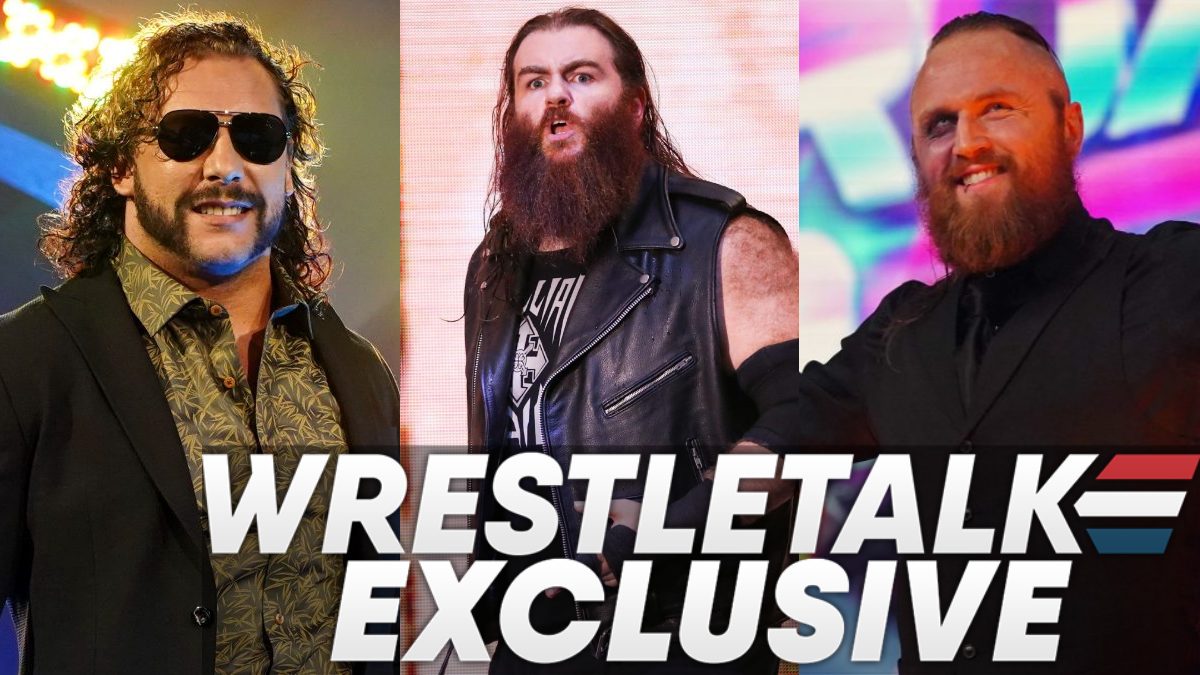 In an exclusive interview with WrestleTalk, Big Damo (Killian Dain) rattled off a list of dream opponents including several AEW & NJPW stars.
Among the notable names he mentioned were Tomohiro Ishii, Kenny Omega, Miro, Malakai Black, and Andrade El Idolo.
Damo also made a point of mentioning he wants to be someone who helps out the next generation of young talent, much like Drew McIntyre did for him a number of years ago.
In full, he said:
"I've gotten better at this – I've actually written down a list. So I'm gonna do my best to actually use a part of this because I went into one of my first interviews completely blind. So I've got a list, I'm not gonna Cody Rhodes it – his was very dramatic and very special.

"So, me personally, at the top of my list is Tomohiro Ishii. I wrestled him in RevPro I think it was 2015, and it was one of the best experiences of my career so far, and I'd love to go back with the experience I've got under my belt now to wrestle him again, because I think we could do something magical.

"Shingo Takagi, I watched in Dragon Gate for years and years and years, and I think the evolution that he's really put into his entire character, his wrestling, is incredible. He's been on fire to be honest, so he would be incredible.

"Obviously Okada. Okada is somebody I never got a chance to wrestle. I wrestled Tanahashi, Ishii, Nakamura, and I just sadly missed out on Okada so he would be one I'd love to work.

"Big fan of RUSH in ROH. I think he is one of the best talents on the planet right now. I don't think I've ever seen him have a bad match, and I think that's probably the highest praise I can give anybody.

"Kenny Omega falls into that category obviously because he's outrageous, I keep using that word outrageous but that is the only way I can really describe him. He's outstanding in the ring. I think he, over the last five years, has maybe been the most consistent performer, and that's saying something because we're in a really high standard of wrestling right now. Maybe I can say that because I'm in wrestling right now, but I mean it because watching him go from being a funny character in DDT, to going into the junior division, becoming the 'Cleaner' later, he was in the Golden Lovers tag team, there's just so many phases of Kenny, and then this last few years he's really taken it up a level.

"Obviously Eric Young would be something else for me, to wrestle again. We wrestled, we put everything we possibly could think of into a four-minute match on TNA, so I'd love to wrestle him again when he's back and fighting fit again because he's just outrageous in every way. He's got everything under his belt, he can do any character, heel, face, tweener, he could be the opener, he could be the main eventer, he could be the referee and he would do a great job, you know what I mean? Eric's one of those boys.

"Moose has been on fire lately, he's somebody – we roomed together a bunch of times but never actually wrestled. He's done some wonderful stuff recently actually.

"Miro has been killing it since he went into AEW, the stuff he's been doing lately. I'm a big fan of Miro, only wrestled him once on the house shows and he was just – I couldn't believe he wasn't a world champion. So I know that he's gonna prove that and he's gonna become one, and I think it'll be very soon because there's very few people who tick all the boxes that Miro ticks.

"Outside of that, you've got Tommy End, Malakai (Black), who had an incredible debut (for AEW). Tommy was one of the very first people who messaged me when I got released, and he sent me such a lovely message, because he'd literally just been through it himself. So the timing was brilliant. We entered WWE together, we actually had our tryout together, we were rooming together before the tryout, poor guy, I snored that night – I don't even snore so I think I kept him awake all before the tryout, I think he was really mad at me (laughs)!

"Obviously Axel Tischer, the former Alexander Wolfe, I definitely cannot wait to get into the ring with him properly – we were in for a minute and 50 seconds I think on NXT television, and it would be great to maybe get over to Germany and wrestle him because we met there a long time ago, he was so nice to me then, and then he became one of my best friends in the world so I cannot wait to get in the ring with him. Maybe even tag with him, who knows, but I definitely want to have at least 20 minutes of European Uppercutting each other because that would be awesome.

"But outside of that, my favorite performer on the planet, I wrestled him at WhatCulture, was Rampage Brown. If there was any way we could wrestle again, that would be incredible. Him and Joe Coffey are just –  they had a couple of great matches recently, they're two of my favorite opponents of all time and I would definitely love to get in there with them. But outside of that, there's just so many other lads across so many companies who have been absolutely killing it.

"That Darby Allin fella has done stuff that I just – it blew me away. Like throwing himself down the stairs, oh my God. I know he's a skateboarder or something like that, but he reminds me of all the worst falls I had on Tony Hawk Pro Skater 2. He's literally shown me every single fall, but some of the stuff has been brilliant, like him and Cody and all that stuff, and Cody and the Bucks are – I never got to wrestle any of them, I was on shows with them right at the end and just never quite got a chance to lock up, but they're all incredible.

"FTR I got to wrestle just once at a house show in a four-way tag or something like that, and those two, I think we'll look back on this time in wrestling and really talk about them like we talked about the Horsemen and stuff like that, the Brainbusters, Rock 'N' Roll Express, there's just so many others. I think that's how we'll maybe look back at the likes of FTR, just such talented wrestlers with great brains for the business.

"And then obviously Andrade, I adore Andrade. He's one of the lads who I would have such a laugh with when we were on tours and stuff like that. I just immediately was drawn to him as a person and I love watching him as a wrestler. As I say, him and PAC, and all these others, there's just so many great talented wrestlers out there right now and I'm very excited to get going again, no matter where I go.

"What I'm most excited about to be honest is who's the next group coming through. Because I know when Drew Galloway (McIntyre) came back to Britain when he first left WWE, he picked a lot of us from about 2014 onwards, because he knew that we were all determined and we all wanted to go somewhere, wanted to do something. Myself, Noam (Dar), Nikki, and there's a bunch of others, and Tommy (End) was another example. He picked a lot of us and really took us under his wing and gave us a lot of advice that we – I definitely needed to hear, and I want to be able to do that for the next group coming.

"So what I wanna do when I do get through my legal loopholes and whatever else, is be able to find out who's next in line and who really wants this, and who wants to get to the next level. And be what Drew was for me, that's exactly what I wanna be for everybody else. I wanna try and inspire people to get to the next level because the only way we're gonna have an industry that works is that people learn from our mistakes (laughs), and that's definitely what I'm gonna try and do is show them, 'This is everything I did wrong!'".

If you use this exclusive quote or any portion of it please credit WrestleTalk.com and link to this page
During the same interview, Killian Dain also discussed how a "comedy of errors" including Shinsuke Nakamura being bitten by a police dog led to SAnitY's main roster debut changing, and also that plans for Nikki Cross' new Nikki ASH gimmick were changed too.
He also opened up about the "mixed emotions" of originally joining SAnitY in NXT as a replacement for the injured Sawyer Fulton, and plans that were cancelled for his tag team with Drake Maverick due to COVID-19.
Another thing he mentioned was a potential change in NXT's mindset towards 'big man' wrestling, and he also revealed all about SAnitY's feud with AOP.
You can watch/listen to the full Killian Dain interview with Adam Blampied on the WrestleTalk Podcast channel at this link, and we'll continue to post stories throughout the coming days so keep an eye on our exclusives page.
To make sure you stay updated with all the latest wrestling news, add WrestleTalk.com to your Google Discover feed and follow us on Twitter!