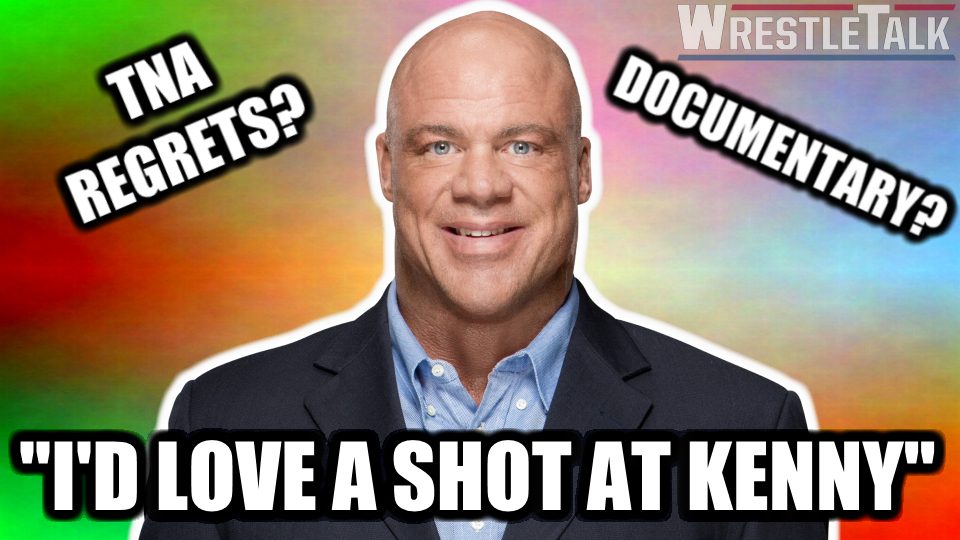 WWE Raw General Manager Kurt Angle recently participated in a Facebook Live chat with fans, and responded to some of their questions.
Rajah.com have kindly provided us with some highlights.
Here's how Angle responded when asked who he'd like to see Kenny Omega face if the 'Cleaner' were to sign for WWE:
"Seth Rollins or AJ Styles. I'd love a shot at Kenny [Omega] as well. I have a list of dream opponents that I would like to compete against. These three are in the list."
The 'Olympic Gold Medalist' left WWE for the first time in August 2006 before joining TNA, where he enjoyed a 10 year stint and six TNA World Championship reigns.
Here's what Kurt said when asked if he has any regrets about leaving WWE for TNA:
"I can't. I had a great career in TNA, maybe better than my WWE career. I had a reduced schedule there. And I wrestled so many greats AJ [Styles], [Samoa] Joe, Sting, [Bobby] Roode…To name a few. My body couldn't hold up to the rigorous schedule in WWE at the time. I always imagine the career I could have had if I stayed in WWE. It would have been incredible, but I couldn't stay so I can't keep asking myself 'What if?'"
At WrestleMania 21 the 'Wrestling Hero' competed in the Pro Wrestling Illustrated 'Match of the Year' against Shawn Michaels.
https://www.youtube.com/watch?v=YM0EmQ_4yEI
Angle was asked which tag team he'd like to face if he and 'HBK' were to team together for one more match:
 "Tag teams? Cesaro and Sheamus or the Usos. But the most cohesive tag team right now is… the Revival. They are amazing together as a unit. Great things coming from them."
In 2001, Angle published an autobiography entitled "It's True! It's True". It's fair to say he's done quite a lot since then though. This was his response when asked if he plans to write another autobiography:
"Yes. Someday. I have a documentary I'm making right now. I'm excited to show all of you my entire life story. Stay tuned."
Interesting…
Would you like to see Kenny Omega vs. Kurt Angle? Are you excited about the news of a documentary in the works? Let us know in the comments below or on Twitter here. You can also join us on Discord to chat with Oli, Luke, the magazine team, the website writers and each other here!