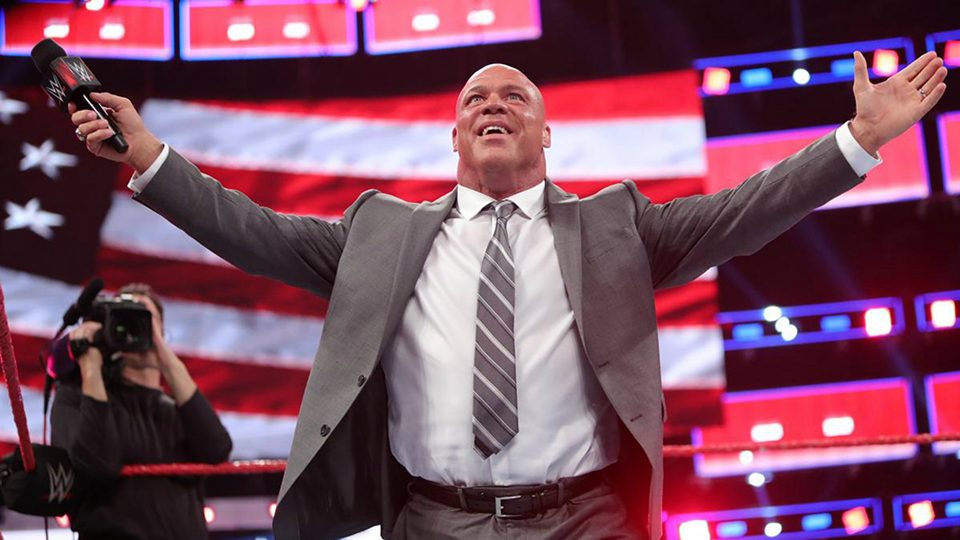 Kurt Angle ended his incredible wrestling career on April, 7 at WrestleMania with a somewhat underwhelming loss to Baron Corbin. Kurt himself was even reportedly disappointed with the final match choice, hoping for a more high-profile opponent such as John Cena.
Kurt Angle spoke to WrestlingInc. about a variety of topics including his role as General Manager and his new WWE contract. Speaking of his time as Raw's General Manager, Angle said he found it more challenging than being a full-time wrestler:
"Being a General Manager is harder than wrestling, it really is. You're involved in every storyline and there's so much to remember, it just gets confusing. I carried that role as good as I could, I thought I did okay at it."
Angle also revealed that he has signed a new five year WWE deal, and suggested that we could be seeing him on TV sooner rather than later:
"I signed a five-year deal with WWE. I'm going to do some part-time – if they need me in front of the TV, maybe managerial, where I would be managing some wrestlers."
However, the former Olympic gold medalist went on to confirm his proper new role with WWE and what he hopes to achieve with it:
"But the most important thing is I'm going to be a producer. I'm going to help the wrestlers with their technique. I'm going to help them structure their matches. It's something I'm very good at. I thought I'd be able to contributor the company [in that role]."
Thanks to WrestlingInc. for the transcription.
WrestleTalk now has Radio! Enjoy new daily radio news bulletins every day at this link!