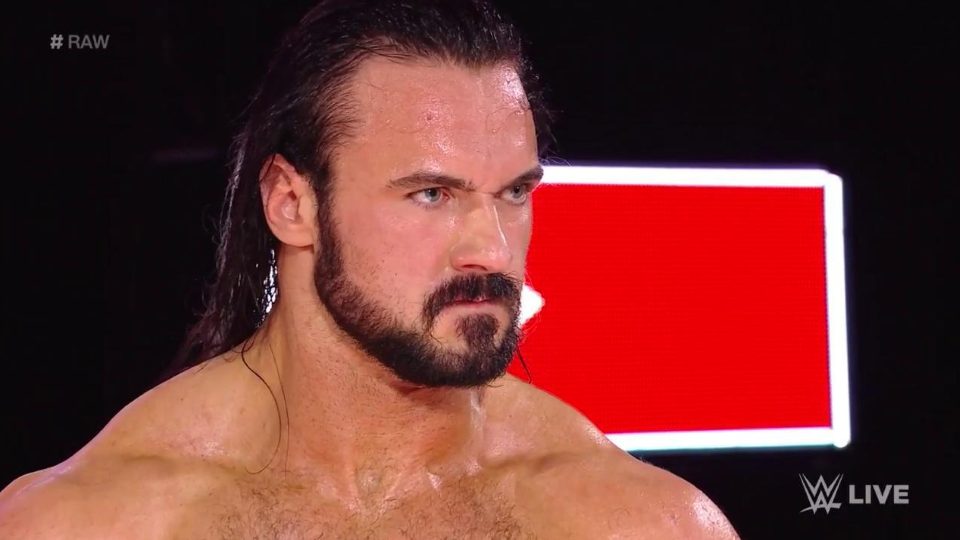 04:12am
That match was fun. Yeah, it's not ideal that we've seen this match about 53 weeks in a row, but, on a show like this one, if it's a good match it pretty much gets a free pass regardless.
There was actualyl more tension on the heel side throughout the match, with McIntyre and Strowman trying to one-up each other and Dolph Ziggler, well, being Dolph Ziggler.
Ziggler shoved Rollins into Ambrose though as the match was really beginning to heat up, which actually led to Ambrose attempting a Dirty Deeds on the IC Champion, but just a few months later, all three Shield members delivered a Triple Powerbomb to Ziggler for the win.
THE HOUNDS STAND TALL!

What a VICTORY for @TheDeanAmbrose @WWERollins & @WWERomanReigns in #RAW's main event! pic.twitter.com/twetVFWiBa

— WWE (@WWE) October 16, 2018
This made Braun a bit angry, so he Powerslammed Dolph for not pulling his weight. Before the 'Monster Among Men' barely got time to stand back up, Drew McIntyre struck him with a Claymore Kick before storming to the top of the stage to close out the show.
The whole Dirty Deeds thing confused me, but Ambrose is MENTAL I guess is the explanation for that.
The show definitely finished strong, but, and I hate being negative, the rest was bloody awful.
Thanks for joining us tonight for our live coverage of Raw! Don't miss SmackDown 1000 tomorrow!
Let us know what you thought of that show on Twitter, Discord, or in the comments below!
03:39am
Elias is interrupted by Apollo Crews…
03:31am
Natalya def. Ruby Riott via DQ
Natalya looks like she's about to make Riott tap with the Sharpshooter, but she's attacked from behind by Sarah Logan.
Luckily, the Boss & Hug Connection are there to clear the ring.
YESSSSSS IT'S ELIAS TIME FINALLY A SAVING GRACE ON THIS SHOW.
UP NEXT: Do YOU want to WALK with @IAmEliasWWE?! #RAW pic.twitter.com/eNeYyruy3m

— WWE (@WWE) October 16, 2018
03:25am
Up next, it's Ruby Riott vs. Natalya.
Because Riott has the rest of the Riott Squad with her, Nattie brings out Bayley and a returning Sasha Banks.
I forgot how annoying BOSS TIME was.
It's BOSS TIME once again on #RAW as @SashaBanksWWE and @itsBayleyWWE join @NatbyNature to even the odds against The #RiottSquad! pic.twitter.com/rDWoZlHYl1

— WWE (@WWE) October 16, 2018
03:18am
AOP def. Kurt Angle except not really LOL
That wasn't Kurt Angle.
AOP just battered some bloke dressed as a Conquistador.
And then Kurt Angle walks onto the stage because Corbin was conveniently sat there waiting for an Angle Slam. And it was barely an Angle Slam.
HE GOT HIM AGAIN!@RealKurtAngle continues to enjoy vacation…at the expense of Acting #RAW GM @BaronCorbinWWE! pic.twitter.com/J8W6FOASzm

— WWE (@WWE) October 16, 2018
03:12am
The moral of this story is that doing the same match over and over and over and over and over and over again is fine if you make the graphic look a bit snazzy.
Will #TheShield be cracked for GOOD tonight on #RAW when @TheDeanAmbrose @WWERollins & @WWERomanReigns face off one more time against @BraunStrowman @HEELZiggler & @DMcIntyreWWE? pic.twitter.com/dsavo4emir

— WWE (@WWE) October 16, 2018
03:09am
Practice.
Practice.
Practice.
They talked about practice.
No PRACTICE for @trishstratuscom & @AmyDumas tonight…@AlexaBliss_WWE & @MickieJames will see them at #WWEEvolution! #RAW pic.twitter.com/JLVe9qr0HH

— WWE (@WWE) October 16, 2018
02:56am
Bobby Lashley def. Tyler Breeze
Yeah, that was exactly what you'd have expected.
Oh God, Lio's still not shut up yet.
Lashley showed off the fact that he is a rather large man and destroyed Breeze in simple fashion. I do like this act. I just hope they actually take it somewhere. After the last segment a program with Bálor looks likely.
Up next, it's the Besties Best for Business or whatever the rubbish name they came up with was, as Lita and Trish Stratus are live on Raw to discuss their Evolution match against Alexa Bliss and Mickie James.
Let's hear it for @fightbobby. #RAW pic.twitter.com/e5mLL2k1V0

— WWE (@WWE) October 16, 2018
02:49am
Finn Bálor def. Jinder Mahal
It was Jinder.
But Samir's back, so that's nice.
Bálor won in about three minutes. Woo. Mixed Match Challenge? More like Mixed Match Challenge to get through AM I RIGHT?! (No.)
Oh hold on a minute though, it's Bobby Lashley.
He walks into the ring and poses while Lio Rush echoes whatever Vince is screaming down his ear hole, and now we're set for a Bobby Lashley match.
No time for @FinnBalor to celebrate his win, because here comes @fightbobby and @ItsLioRush… #RAW pic.twitter.com/zc5b5JwaLC

— WWE (@WWE) October 16, 2018
02:41am
Dolph Ziggler def. Dean Ambrose – WWE World Cup qualifier to determine the best in the world for the WWE World Cup to determine the best in the world shut up about best in the world for God's sake
In a bout that wasn't quite as good as the opener, that also involved Drew McIntyre and Seth Rollins getting involved, Ziggler managed to escape with the win after a Superkick, and then things got very interesting.
Rollins entered the ring to check up on his Shield brother, but Dean just walked away because he's MENTAL and that. This led to Rollins chasing him all the way up the ramp and a bit of argey bargey between the two. Roman then came out to try and split them up, closely followed by Baron Corbin.
Corbin decides the best way to settle this is to make a six-man tag match. The Shield vs. Braun, Dolph and Drew. Again. How creative.
Up next, it's Finn Bálor vs. someone who I really hope isn't Jinder Mahal.
NONONONONONONONONONONONONONONONONONO.

Stay calm, boys! #RAW @TheDeanAmbrose @WWERollins pic.twitter.com/nJVyqGk7GF

— WWE (@WWE) October 16, 2018
02:23am
While I do my best to try and recover from the absolute savagery Ronda just put us all through, quite a lot has just happened.
I say a lot…
Kurt Angle was backstage dressed like he's still on vacation despite the fact he's well and truly backstage at a WWE event. Or maybe it's just another roleplay, and I'm going to stop that sentence right there for the benefit of our collective sanity.
Konnor was on main event, which means Gable and Roode have nothing to do, so they and No Way Jose have a bit of banter with Angle, before party pooper Corbin turns up.
He puts Angle in a handicap match against AoP tonight. Because of course he does.
Coming up next though, it's the second World Cup qualifier of the night, as Dean Ambrose takes on Dolph Ziggler.
To gear up for the #WWEWorldCup tournament at #WWECrownJewel, @RealKurtAngle is going to have to face #AOP in a #HandicapMatch TONIGHT?! #RAW @BaronCorbinWWE pic.twitter.com/vDdNNLT3JV

— WWE (@WWE) October 16, 2018
Just look at him. What a lad.
02:18am
Is right, Dakota.
https://twitter.com/DakotaKai_WWE/status/1052004046972878850
02:17am
Well that was great.
The Bellas come out and moan at Ronda, claiming that she stole their spotlight.
"You're nothing but a loser who doesn't deserve it."
Is this really the best they can come up with?
Then the Bellas brag about having reality TV shows and being Divas. Aye, great thing to brag about that.
HOLD ON. RONDA'S OUT HERE BEING AN ABSOLUTE SAVAGE.
Rousey basically tells the Bellas what's on every fan's mind, and absolutely just shoots from the hip, calling them out for leaching off of their male partners, getting to where they are with minimal talent etc. etc. etc.
"The only door you knocked down was the one to John Cena's bedroom, and he eventually threw you back out that same door."
I loved that. That was great. Indisputably Rousey's best promo since joining WWE. And of course she tops it off by battering some security guards.
The @BellaTwins' security team's got NOTHIN' on #RAW #WomensChampion @RondaRousey! #WWEEvolution pic.twitter.com/6KMxoEVYBx

— WWE (@WWE) October 16, 2018
01:56am
Ember Moon & Nia Jax def. Dana Brooke & Tamina
This was just an advert for a "we've got to get you all on the show" Battle Royal at Evolution.
Tamina's back though, which is a thing, I guess. On Raw for some reason. She lost. Good.
Then they all took it in turns to throw each other over the top rope, and Dana Brooke stood tall. Yay.
Can't wait for Evolution now!
The #WWEEvolution #BattleRoyal field so far…

– @TaminaSnuka
– @BillieKayWWE
– @PeytonRoyceWWE
– @WWEEmberMoon
– @AliciaFoxy
– @NiaJaxWWE
– @DanaBrookeWWE
– @WWEAsuka
– @WWE_MandyRose
– @SonyaDevilleWWE
– @CarmellaWWE
– @LanaWWE
– @NaomiWWE
– @Torrie11

— WWE (@WWE) October 16, 2018
01:43am
It's getting saucy again…
The Shield are all backstage, and despite Ambrose just helping Rollins win his World Cup qualifier, there still seems to be a lot of tension between them.
Rollins says Ambrose turns up on "Lunatic time," and then Dean gets angry and storms off… so… yeah. They'll be in counselling with Dr. Shelby soon if they're not careful.
We then get a spooky vignette in which the Brothers of Destruction tell DX they're gonna make them REST IN PEEAACCEE and all that. It was actually rather cool to be honest.
"All of @ShawnMichaels' fears will come true."

The #Undertaker & @KaneWWE have DIABOLICAL plans for #DX at #WWECrownJewel… #Raw pic.twitter.com/I2NN5btxOT

— WWE (@WWE) October 16, 2018
01:33am
Seth Rollins def. Drew McIntyre via countout
No matter how many times we see these guys go at it (pretty much every week), they always manage to make it feel big.
While Rollins and Drew were having a boss match in the ring, Ziggler spent most of it trying to get involved, and even pulled McIntyre away from a Curb Stomp towards the end of the bout.
This was a little bit too far though, and Dean Ambrose did indeed appear at ringside to ambush Dolph. This distracted Drew enough to allow Rollins to hit the Stomp on the outside, and win via countout.
Rollins joins Cena, Angle, Orton and Jeff Hardy to make up the World Cup field so far.
A little help from his friend…@TheDeanAmbrose evens the odds, meaning @WWERollins DEFEATS @DMcIntyreWWE by count-out to advance to the #WWEWorldCup tournament at #WWECrownJewel! #Raw pic.twitter.com/jIp6FgD3Xu

— WWE (@WWE) October 16, 2018
01:15am
Braun Strowman, Dolph Ziggler and Drew McIntyre make their way to the ring to open the show, and address Dean Ambrose walking out on the Shield last week, essentially saying that he's finally come to his senses and did what was right.
However, things get a bit tense between Dolph and Drew, who both have World Cup qualifiers tonight, both staking their claim as to why they will win the Crown Jewel-hosted tournament.
The Shield then make their way onto the stage… but wait… there's only two of them. Ambrose is nowhere to be seen.
Rollins and Reigns do their best to convince everyone that all is great within the Shield and there's nothing to worry about regarding Ambrose, and then… the talking is over.
Rollins vs. McIntyre is kicking off the show after the break!
UP NEXT: #ICChampion @WWERollins battles #Raw #TagTeamChampion @DMcIntyreWWE, with the winner advancing to the #WWEWorldCup at #WWECrownJewel! pic.twitter.com/QNdiNbZnuf

— WWE (@WWE) October 16, 2018
It's time for our weekly episode of 'Drew McIntyre vs. Seth Rollins + some other stuff' that WWE commonly refers to as Raw. Hooray!
In all seriousness, Raw's actually been dead good recently, and I find myself sat here looking forward to staying up until 4am. It's amazing what a bit of intrigue and a good angle can achieve.
Before tonight's show starts, check out our full preview for tonight, but here's a quick round-up of what's in store:
Are you excited for Raw? Let us know on Twitter, Discord, or in the comments below!