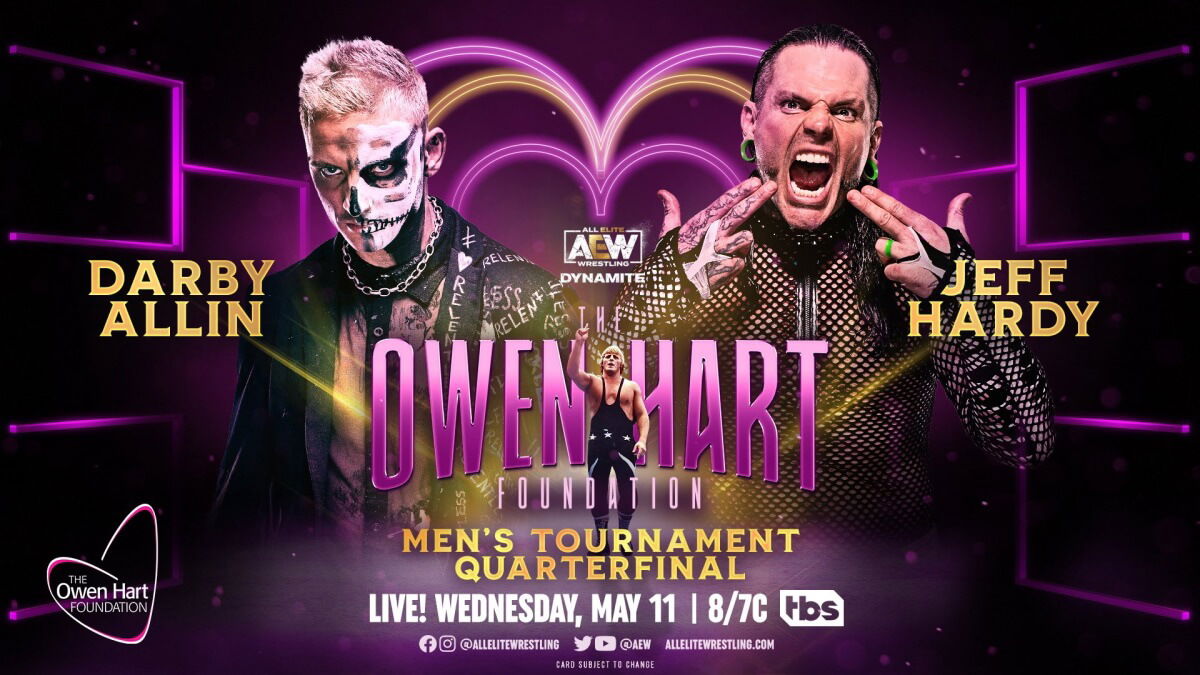 It's time to head to AEW's version of Bizarro World because tonight's edition of Dynamite emanates from Long Island, New York.
That means MJF is going to get thunderous cheers, Wardlow and CM Punk are going to get thunderous boos, but hopefully, we'll all still get a pretty good show.
Here's what's been announced for tonight:
Ricky Starks (c) vs. Jungle Boy – FTW Championship
CM Punk vs. John Silver
Darby Allin vs. Jeff Hardy – Owen Hart Foundation Men's Tournament Quarter-Final
Adam Cole vs. Dax Harwood – Owen Hart Foundation Men's Tournament Quarter-Final
Jamie Hayter vs. Toni Storm – Owen Hart Foundation Women's Tournament Quarter-Final
Danhausen vs. Tony Nese
Contract Signing for MJF vs. Wardlow
Jericho Appreciation Society 'Victory Speech'
In typical AEW fashion, that seems like quite a lot of action to pack into two hours. Follow along with our live coverage of the show below from 8 pm ET.
Anything goes!!!
This match was changed to anything goes during the show. Darby decided to start at full tilt. He hit a dive in the ring and out of the ring within the first 10 seconds of the match. He then set up a bunch of chairs on the outside of the ring. Of course, when you set up a death trap, you'll be the one who goes through it.
Right before the commercial, Jeff Hardy gets a ladder. During the picture in picture break, Jeff Hardy sets up Darby Allin on a bunch of chairs. He sets up the ladder in the ring. He looks like he's going to hit a Swanton Bomb onto Darby on the outside. Darby, instead, plants him on the top rope. Darby climbs to the top of the ladder and then does a flip onto Jeff Hardy who is standing in front of the chairs.
Jeff tried to catch him, but it didn't seem very effective. Darby landed on the chairs hard. Darby then attempted a Coffin Drop on Hardy on the apron. Hardy moved and now Darby is barely moving.
I think Darby is intentionally trying to get injured in this one. Oh, good lord, Jeff Hardy went for a Swanton on Allin who was lying on the steps at ringside. Allin moved. Hardy landed on the steps.
Everyone was always saying Darby reminded them of Sting, but it was always Jeff Hardy who I thought of.
What? Darby hits the Coffin Drop. He kicks out at 2 and rolls up Darby for the win. What the hell? Darby should have won this match. But, they went with the veteran to face Adam Cole in the semifinals of the Owen Hart tournament.
That was fast-paced for sure. As the show went off the air, The Undisputed Elite come out on the stage and stare down The Hardys.
??? @DarbyAllin & @JEFFHARDYBRAND!!!! #AEWDynamite is LIVE on @TBSNetwork! pic.twitter.com/hXRqSLOtLP

— All Elite Wrestling (@AEW) May 12, 2022
Hayter and Storm
After weeks of talking, Storm and Hayter will finally face off in the ring. When Jamie Hayter has someone she seems to feel comfortable being a little more stiff with, she seems to be so much more comfortable. She plants Storm with a vicious suplex on the outside. Storm is back in the ring and counters with some high impact moves of her own.
This match wasn't all that long, but it was intense all the way through. Both women slung each other around throughout the match. They traded suplexes and slams. In the end, Storm hits Storm Zero for the win.
Storm advances in the Owen Hart Tournament. She'll either face Baker or the joker.
The spine of #ToniStorm punished on the apron by @jmehyter! Watch #AEWDynamite on @TBSNetwork right now! pic.twitter.com/Zn5lXxLzVn

— All Elite Wrestling (@AEW) May 12, 2022
Jericho Appreciation Society
Jericho and his cronies are in the ring. They are talking a lot of trash about eliminating Santana, Ortiz, and Kingston. Jericho talks about being a wizard and throwing fireballs in your face.
Jericho takes some shots at Kingston and his wife. Instead of Kingston coming out, Jon Moxley comes out. I've been wondering who would come to the aid of Kingston and LAX. It never dawned on me that Moxley and Kingston are friends. Adding Moxley and Danielson to a WarGames/Stadium Stampede match at DON would be pretty darn terrific.
JAS talks about having the numbers. At this point, BCC come down. Then, Kingston and crew pop up. It's now 7 on 5. They all beat up JAS. I don't know how this plays out, but I like it.
What is @JonMoxley doing here?! Watch #AEWDynamite LIVE on @TBSNetwork right now! pic.twitter.com/NxexlcTJkf

— All Elite Wrestling (@AEW) May 12, 2022
Jungle Boy and Ricky Starks
Ricky Starks is defending his FTW Championship against Jungle Boy. Jungle Boy wanted this match before they face off for the tag team championship at Double or Nothing. This match has been good as well. Whenever Jungle Boy and Luchasaurus decide to part ways as a tag team, Jungle Boy is going to have an incredible singles run.
During the match, Starks goes outside to get a chair or something. Swerve Strickland comes down to put a stop to it. The ref tries to run him off. Jungle Boy is making the pin inside the ring, but there's no ref. Jungle Boy starts arguing with the ref which allows Starks to attack. He hits the finish and gets the win.
Christian and Luchasaurus come down to the ring and bump Swerve on the way. Swerve gets in Jurassic Express's faces. Starks and Hobbs walk up to Swerve. This brings out Keith Lee. I have a feeling this is going to wind up in a 3 team match at DON.
#AndStill! Your #FTW Champion @starkmanjones retains the title! Watch #AEWDynamite LIVE on @TBSNetwork right now! pic.twitter.com/oxMKq1tG50

— All Elite Wrestling (@AEW) May 12, 2022
The contract signing
Wardlow comes out to no music, in handcuffs, and his video says boo Wardlow. We cut to a Dark Side of the Ring commercial, but is it?
No, it is not. Chris Jericho starts narrating a video package about MJF and Wardlow's feud. It starred Jake Roberts, Taz, and my all time favorite Barry Horowitz. The video package portrays Wardlow as the heel.
MJF finally gets his entrance. He comes out to a huge positive reaction. He even poses with the crowd as he comes out. MJF says he loves the LI fans. He gets them to boo Wardlow.
MJF is so fantastic. He has this crowd eating out of the palm of his hand. Even Wardlow cracked a smile. He tells the crowd to let Wardlow to talk, but he winks and wants them to boo. The crowd boos Wardlow and won't let him talk.
MJF goes through his requirements to face him. MJF says Wardlow has to get whipped 10 times with a belt. He also says he has to wrestle Spears in a cage with MJF as the special guest referee. He also requires him to agree to never sign a contract if he loses at DON. Wardlow signs right away.
They had to take him out of his cuffs for him to sign. Of course, Wardlow beat up the security. He also beat up Spears. He got his hands on MJF and Mark Sterling jumps on Wardlow to make the save. MJF escapes. Sterling goes through a table.
.@The_MJF prepares the crowd for @RealWardlow! #AEWDynamite is LIVE on @TBSNetwork! pic.twitter.com/Gvx3qb1bZu

— All Elite Wrestling (@AEW) May 12, 2022
Dynamitehausen is Danhausen
Tony Nese beats Danhausen in less than a minute. He drills him with a running knee in the corner. After he wins, he hits a second.
Mark Sterling wants him to go for a 3rd. This brings out Hook. I love his entrance music. Tony Nese and Sterling leave in a hurry.
Danhausen is back up and wants to shake Hook's hand. Hook shakes his hand. The crowd erupts for Hookhausen.
MJF and Warlow sign a contract next!
The long-awaited in-ring debut of @DanhausenAD is happening right now! He takes on the #PremierAthlete @TonyNese! Watch #AEWDynamite LIVE on @TBSNetwork right now! pic.twitter.com/Gl2GckPdvi

— All Elite Wrestling (@AEW) May 12, 2022
CM Punk and Silver
CM Punk is not a face in Long Island. To troll the crowd he wears a NY Islander jersey which he blasted last time. Adam Page is on commentary and is there to scout Punk while supporting John Silver.
Love him or hate him, CM Punk is making every one of his opponents look pretty fantastic in his matches. They are getting over even in losing efforts.
CM Punk stares down Hangman Page from the apron. He hits a Buckshot Lariat to pin John Silver. Hangman is not happy about that one. Hangman comes down to the ring in a hurry.
Punk grabs a mic and wants to know why Page is taking this so personally. Punk says it is just personal. Punk says he used to wake up and ask if he's a good guy. Today, he asked himself if he's the champ. He said yes. He says he'll make Page shake his hand one way or another. Page gives him the bird.
Backstage, Tony interviews Jamie Hayter. Well, he interviewed Britt Baker. She complains that she is facing the joker and then he points out that if they both win, they'll face each other. They don't want to talk about it.
And the #BestInTheWorld just beat @silvernumber1 with a Buckshot Lariat?! #AEW World Champion #Hangman @theadampage is NOT pleased! Tune in to #AEWDynamite LIVE on @TBSNetwork right now! pic.twitter.com/y4qi9OYG4A

— All Elite Wrestling (@AEW) May 12, 2022
Adam Cole Bay Bay!!
Adam Cole vs. Dax Harwood is up first. You can't argue that Adam Cole is over. His pop is so loud every time he comes out. The commentary team talks about how different these guys are. They say Adam Cole will bring the glitz. Dax will bring hard-nosed wrestling. Cole is definitely more flashy, but they have a lot of similarities. They are both ground-based, use a lot of strikes, and are students of the game.
There is a lot of striking and submission holds in the early going. In the end, Adam Cole advances in the Owen Tournament. In a match that had an old school feel, Adam Cole gets the win using a Sharp Shooter. Cole locks it in and gets the submission win.
Harwood had been selling a rib injury. At one point, Harwood locked in his own Sharp Shooter, but due to his injured ribs, he couldn't hold it. I thought Harwood might go further in this tournament because of his massive love for the Hart family. But, Cole shouldn't be losing to him. Good match.
And @adamcolepro gets the victory with the Sharpshooter! He advances to face the winner of @DarbyAllin and @JEFFHARDYBRAND in the #OwenHart Foundation Tournament! Watch #AEWDynamite LIVE on @TBSNetwork right now! pic.twitter.com/CLRkRoHBwb

— All Elite Wrestling (@AEW) May 12, 2022
Who Will Advance In The Owen?
The Owen Hart Foundation tournaments get underway tonight with the finals set to take place at Double Or Nothing on May 29. Who do you think will advance to the semi-finals?
It's Wednesday, you know what that means:#AEWDynamite on @TBSNetwork
TONIGHT @ 8pm ET/7pm CT!
Tonight's show is one of the strongest lineups of matches/segments we've ever had in @AEWonTV!
We'll have a great live crowd here for a great night of fights on Dynamite tonight on TBS! pic.twitter.com/iQ9dDXM8ji

— Tony Khan (@TonyKhan) May 11, 2022