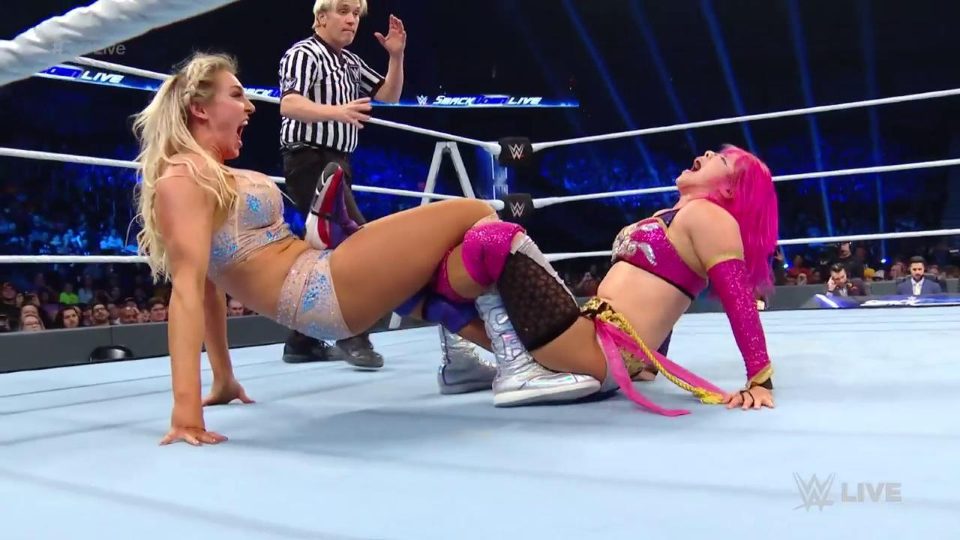 03:04am
That was a really, really, really great match. And then the finish happened.
The two traded submissions expertly throughout, and when Asuka locked in the Asuka Lock, the two bundled out of the ring as Charlotte tried to escape.
Flair took this oppurtinity to grab a kendo stick from under the ring much like she did in her match against Rousey at Survivor Series, and proceeded to beat down on Asuka and get DQ'ed in the process.
Becky Lynch, who was at ringside for the match, then got out of her chair, and a brawl between all three women broke out, which actually ended with Asuka going absolutely berserk with the kendo stick to close the show.
I can't wait for their TLCK: Table, Ladders Chairs & Kendo sticks match on Sunday.
That was an entertaining show for the most part. A great opening and a great conclusion with just 'fine' sandwiched in between. Make sure you join us on Sunday for live coverage of TLC!
Give @WWEAsuka a kendo stick, and you shall receive PAIN!!! #SDLive pic.twitter.com/wTPMMbuSMi

— WWE (@WWE) December 12, 2018
02:37am
Up next, it's time for the main event, as Asuka takes on Charlotte in a WrestleMania rematch!
#TheEmpress is ready for battle.@WWEAsuka #SDLive pic.twitter.com/k13JDceAUy

— WWE (@WWE) December 12, 2018
02:25am
Rusev and Hardy pick up the win following a fantastic hot tag from our Bulgarian hero, who countered the Kinshasa with a Machka Kick to pin the US Champion Nakamura.
WHAT A WIN for the team of @RusevBUL and @JEFFHARDYBRAND! @LanaWWE #SDLive pic.twitter.com/xruxbJ4jpY

— WWE (@WWE) December 12, 2018
02:18am
After all four men made their entrances, R-Truth and Carmella came out for a dance break, and then walked off again. Sound.
This bout is now underway.
#WWEMMC partners @CarmellaWWE and @RonKillings interrupt this tag team match for a very important DANCE BREAK!!! #SDLive pic.twitter.com/E12YSxTWCr

— WWE Universe (@WWEUniverse) December 12, 2018
02:08am
Randy Orton comes to the ring to address his Chairs match against Rey Mysterio.
He says that everyone in the locker room will be worried about the three letters TLC on Sunday, but Rey has to be worried about the three letters RK… But Rey assaults Orton from behind with a chair and a 619, leading to the 'Viper' scarpering away.
Up next, US Champion Shinsuke Nakamura and Samoa Joe take on Rusev and Jeff Hardy in a tag match.
R… K… OUCH!@reymysterio #SDLive pic.twitter.com/XuHfAt0BY5

— WWE (@WWE) December 12, 2018
02:04am
Well, turns out the Miz lied to both the referee and his opponents tonight, claiming that Paige sanctioned the match and agreed to a $5000 each bonus for the Vegas boys.
The GM doesn't seem particularly happy.
Uh-oh.@RealPaigeWWE is NOT happy with the tactics @mikethemiz used to get his tag team match alongside @shanemcmahon earlier tonight. #SDLive pic.twitter.com/FZYAOTrjTs

— WWE (@WWE) December 12, 2018
01:56am
Miz did indeed arrange a tag match against two Vegas jobbers, and Shane won without even having to tag anyone in because he's the BEST IN THE WORLD. Or 1/3 the best in the world. Or something.
Shane tried a float-over DDT in that match, which was less a float-over DDT and more just a floppy collapsy thing, but he's the best in the world so it doesn't matter.
LOOK AT @ShaneMcMahon GO!!! The Commissioner of #SDLive and #BestInTheWorld isn't holding back against The #VegasBoys! @mikethemiz pic.twitter.com/JLZt1grRtS

— WWE (@WWE) December 12, 2018
01:53am
The Miz is in the ring next with the World Cup trophy that he seems to think is two thirds his, and he begs for Shane McMahon to join him in the ring.
Miz is still wanting the two to be tag partners as the "best tag team in the world".
Don't worry, @shanemcmahon. @mikethemiz is doing just fine. #SDLive pic.twitter.com/bFpryV0Qe2

— WWE Universe (@WWEUniverse) December 12, 2018
01:46am
The Usos actually put together a coherent rap there with some… erm… interesting wrestling references, and then the inevitable happened and the Bar initiated a brawl between the three teams.
It was indeed Sheamus and Cesaro who stood tall after the melee.
Did they drop bars? Debatable.
Are they THE BAR? Definitely.@WWESheamus @WWECesaro #SDLive pic.twitter.com/LU92M0OtTi

— WWE (@WWE) December 12, 2018
01:41am
Oh for goodness' sakes.
It's Rap Battle time, and the Bar just remixed 'Ice Ice Baby', with 'Ice Ice Sheamy'.
That was amazing. And awful. At the same time.
#TheBar's #IceIceSheamy > @VanillaIce's #IceIceBaby

It had to be said. #RapBattle #SDLive @WWESheamus @WWECesaro pic.twitter.com/w9k65mNxty

— WWE (@WWE) December 12, 2018
01:30am
For the time it was given and commercial breaks considered, that was a really good match.
Bryan picked up the win in a bout in which he understandably had most of the offense. Ali really came alive in the last few minutes though and the crowd were massively into his comeback.
He attempted the 054, but Bryan rolled out of the way and targeted Ali's leg, and locked in the Heel Hook for the win.
The WWE Champion also attacked Ali after the match, sending a message to his TLC challenger, AJ Styles.
Absolutely no complaints from me on that one.
But you've ALREADY WON, @WWEDanielBryan! #SDLive pic.twitter.com/g2WLci0ADm

— WWE Universe (@WWEUniverse) December 12, 2018
01:15am
Bryan calls all the audience parasites and shouts fickle a lot, accusing them of being to consumed in their own consumption.
After a few minutes of good heat, Mustafa Ali comes out to cut him off and asks Bryan what on earth happened to him, pointing out that a lot of the 205 Live roster used to look up to his plucky underdog character of the past.
Bryan doesn't answer this question, and instead asks Ali what car he drives. Ali replies an SUV, which Bryan kicks off about because Ali is small so why would he need an SUV?
The WWE Champion slaps Ali, calling him ignorant, which causes the cruiser to hit back with a flurry of acrobatics ahead of their match, which kicks off after the break.
Do you drive an SUV? If so, #WWEChampion @WWEDanielBryan thinks you're IGNORANT! #SDLive @MustafaAliWWE pic.twitter.com/B8wB9tKv2F

— WWE (@WWE) December 12, 2018
01:05am
SmackDown opens with WWE Champion Daniel Bryan heading to the ring to a shedload of boos from the audience.
Bryan takes on 205 Live's Mustafa Ali in a salivating match tonight, but he is just five days away from his WWE Title defense against AJ Styles this Sunday at TLC.
#WWEChampion @WWEDanielBryan called the @WWEUniverse "sheep" last week.

Tonight, he has an apology… for the sheep. #SDLive pic.twitter.com/RSGBAh5MJC

— WWE Universe (@WWEUniverse) December 12, 2018
If you're not yet excited for SmackDown Live, I think that's about to change.
WWE has confirmed that WWE Champion Daniel Bryan will compete against 205 Live's Mustafa Ali on tonight's show, and I'm not sure whether this is actually happening or just the best dream ever.I was thinking during Raw last night, a show on which both Drake Maverick and Lio Rush had matches, it would be nice to integrate the cruiserweights into the two main shows more, and not in the way they used to on Raw. Byran vs. Ali has the potential to be something truly amazing if given more than five minutes.
And if great in-ring performances aren't up there in the top reasons you watch wrestling, then you're in luck, because we've also got SmackDown Tag Champions the Bar taking on the Usos in a 'Rap Battle' officiated by the New Day.
That's going to go one of two ways. Either utterly hilarious, or painstakingly abysmal. The three teams will compete in a three-way at Sunday's TLC pay-per-view for the Bar's titles.
And speaking of TLC and three-ways, two thirds of Sunday's SmackDown Women's Championship match will compete one-on-one tonight, when Charlotte Flair takes on Asuka in a rematch of their WrestleMania 34 bout this past April, at which Asuka lost her over-900-day undefeated streak. Another bout with potential to be great.
Oh and Naomi vs. Mandy Rose is also happening, because Twitter.
And if all that isn't enough for you, SmackDown Live's resident 'drink responsibly' advocate Samoa Joe is set to be addressed by Jeff Hardy, who his sarcastic remarks were aimed at last week. Hopefully this doesn't go down the same 'distasteful' route as Raw's Ruby Riott vs. Natalya program.
I suggest you buckle up for this one.