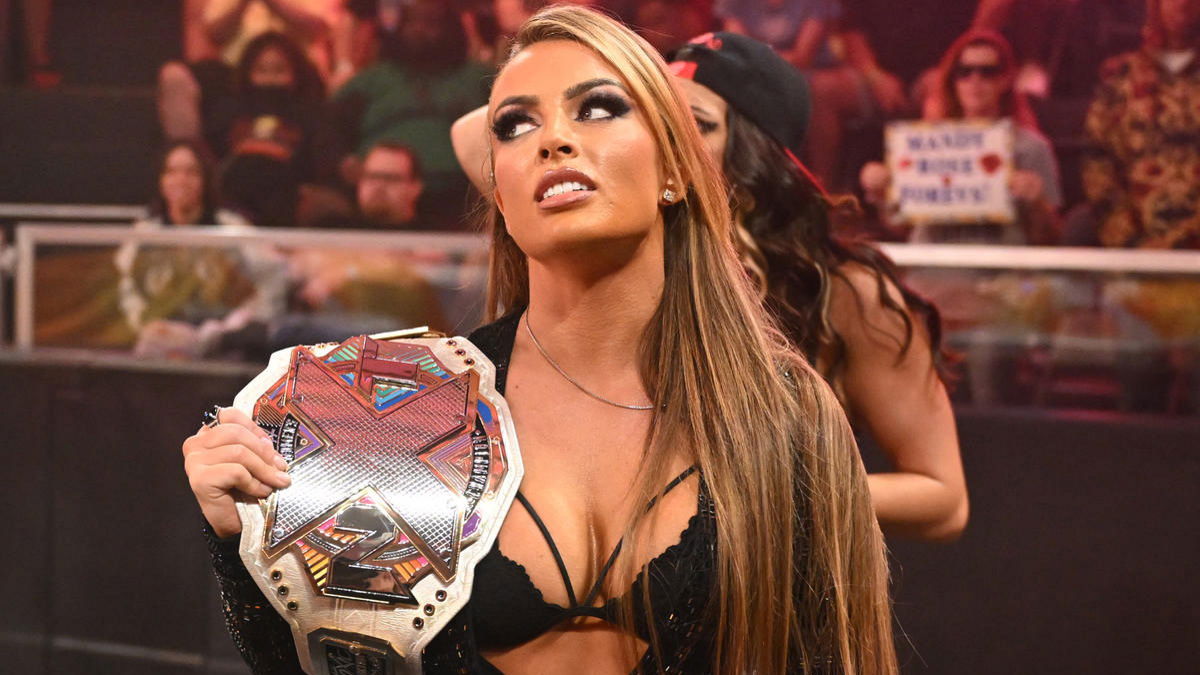 Former NXT Women's Champion Mandy Rose was released from the company back on December 14.
Rose had dropped the NXT Women's Championship to Roxanne Perez on the prior night's NXT show, with her release coming soon after the company found out about the type of content she was posting on her FanTime subscription page.
WWE believed they had 'absolutely no choice' but to release her and she 'way, way, way crossed the line' of what was acceptable.
It's worth reiterating a misconception – WWE didn't fire Rose just because of the fact she had a subscription service, but reportedly more so because of the nature of what she was posting on there, which, per Meltzer, the company thought 'way, way, way crossed the line'.
Fightful Select previously reported that Rose had indicated to people in recent months that she did realize what she was posting could get her in trouble with WWE management.
It has since been revealed that Rose has made more than $1 million on FanTime since committing herself fully to her account.
Rose made her first TV appearance since her WWE release today (January 10), appearing on the Tamron Hall talk show. Here is a run down of her appearance, per PWInsider:
Hall noted that Rose was originally scheduled to defend the NXT Women's Championship tonight (the original slated date for the match against Roxanne Perez), but was released by the company for posting 'nude photos' on her subscription service.
Mandy said it has been a crazy last few months, but she is grateful and blessed for everything that has happened to her.
Rose said that anything can happen in the company, and plans for her to remain champion changed. She noted that when she was asked to go to NXT, she saw it as a new opportunity rather than as a demotion.
Hall then mentioned that Mandy's reign as champion was set to come to an end, and asked Mandy if she knew the reason why. Rose said she didn't know, citing that the brand was coming off a PPV event, and that 'anything can happen'.
Mandy then admitted that she was shocked when she found out she was losing the championship when she did, but claimed that there was some inclination about something going down.
Hall then asked Rose when she found out that she was losing the title due to the nature of the content posted on her FanTime subscription service, to which Mandy claimed she was "never told that."
Rose said that regardless "there is some confidentiality" but as a professional woman, she was told to drop the title, and that's what she was going to do.
Hall then asked Mandy when she was told by the company that this was about the content she was posting online, noting that her fiance (former NXT star Tino Sabbatelli) was in the audience and that there was some 'provocative material.'
Rose said that whatever she does in the privacy of her own home and showing her fans some "action, whether it be photo shoots, my every day personal life, nothing is wrong with that and that's what I was doing."
Hall then commented on reports that WWE had warned her to take down the material on her subscription site, asking Mandy whether that was true. Rose said that "again, there is confidentiality and I can't really address that, but there was one warning to take it down and I complied."
Hall then went on to bring up WWE's branding of Mandy Rose as part of Toxic Attraction, including the photo they shared of her wearing just two championships, asking if she believed this to be hypocritical by WWE.
Rose said she has no control in how the company runs their business, and what they think is right or wrong. Rose claimed that there was 'never any full nudity' on her subscription site and would never post anything 'that would harm her brand.' Rose reiterated there was no full nudity on her site.
When asked about why she was 'targeted' by WWE, Rose said that she doesn't think she was targeted, and everyone has their own opinion.
Hall then asked her if she was 'wronged' by the company, to which Rose said that everything happens for a reason, and that everything that has happened with her, she can't say she was wronged.
Mandy said that she's forever grateful for everything WWE has given her. She said, 'I'm very hurt, 100%. No one wants to get that call that they are being fired from any job.'
Mandy said that she was 'very hurt' and 'very disappointed', saying that, in just over a year and a half, she was champion for 413 days, unified the WWE NXT and NXT UK Women's Championships, became the third-longest reigning NXT Women's Champion and created a 'must-see' faction with two younger stars, which she says was really rewarding to her.
Rose said that a lot of things were going through her mind. She said that there are always unanswered questions, but said she loved WWE and the platform that they presented her with, and she'll be forever grateful to them.
Hall then brought up that Mandy's brother, Richie, recently passed away at 40 years old. She asked Mandy how that played into losing her dream job. Rose said that it was really difficult, but her brother was her guardian angel, and that she believes that he is looking over her and is giving back now.
Mandy spoke about how he was dealing with mental health issues when he was alive, and she tried to really be there for him. She said that she feels as though he's looking over her and telling her it's going to be OK.
Mandy said that she is OK, and that was the reason that she wanted to come on the show, to tell her fans that she was grateful for the outpouring of support. Rose said that 'we are all human and we have our moments, but we are OK.' She said that she's ready for the future and for what's to come.
When asked about the possibility of a return to WWE, Rose said that she's not looking on and saying that's her past, but she's saying 'never say never.'
She said that she doesn't know what the future holds, but that she has not taken down her fan site. When asked if she would take it down as part of a condition to return to WWE, Mandy said that it 'would have to be a conversation.'
Mandy also confirmed that she made one million dollars on the platform in just two weeks, and noted that long-term she could make that money in WWE, but not any time in the short term.
Mandy finished up by saying that what the future holds for her is that she can have complete brand and creative control, as well as being able to self-monetize while having a direct relationship with her fans.
She said that you could be 'here today and gone tomorrow' in show business, and that you have to prepare for that possibility.
Think you're a wrestling mastermind? Well you can prove it by taking quizzes in our brand new quiz section! Don't forget to tweet us your results!