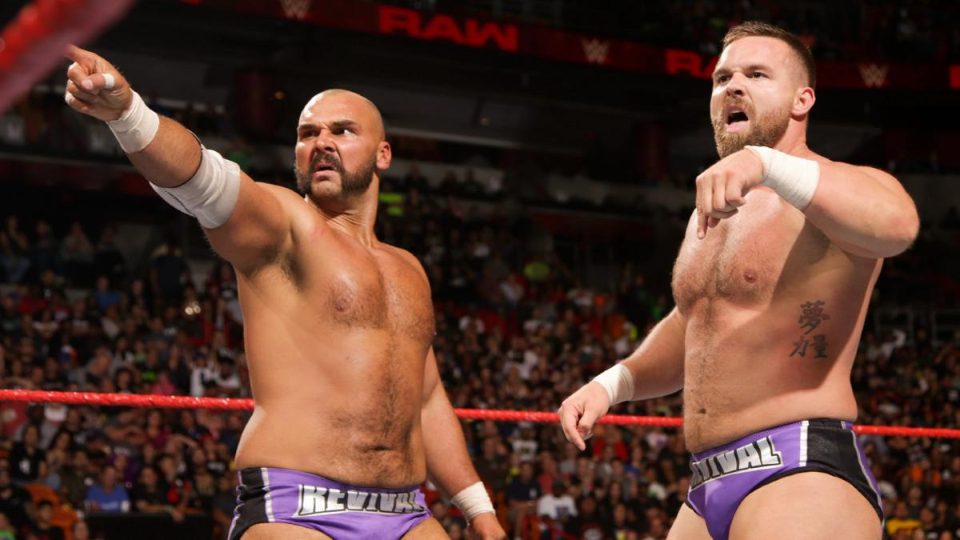 Over the past week it's been reported that Dash Wilder and Scott Dawson of the Revival requested their WWE release following their match with the Lucha House Party on last week's Raw.
It's a story that has been corroborated by all major news sources as well as Dave Meltzer of the Wrestling Observer Newsletter. It's been suggested that immediately after the match, while still in their ring gear, Wilder and Dawson approached a WWE official and asked for their release.
As far as we know, those requests were not granted, and it is not believed that anyone asking to be released from their contracts early will be allowed given the current pro-wrestling climate.
With AEW lurking more than Lars Sullivan, WWE are likely to be unwilling to allow anyone to escape, meaning The Revival would have to wait out the rest of their contracts, which as we reported yesterday, expire in April 2020.
Many, including myself, assumed the pair wanted to leave as a result of their appalling main roster booking, but according to Pro Wrestling Sheet, it's more than that.
A source has told them that it is the treatment of the entire tag division that has left Wilder and Dawson so upset. This is said to include the lack of promos, backstage segments and the direction of the division.
Particular examples of this were reportedly the poor treatment of AOP, and one source said the fact that the Raw tag champs Bobby Roode and Chad Gable weren't even on last week's show was the straw that broke the camel's back.
Whatever their reason, you can't help but feel that the Revival are entirely justified in their anger, but it looks like they may be with WWE for a long time if the company is refusing to release anyone amidst the threat of AEW.