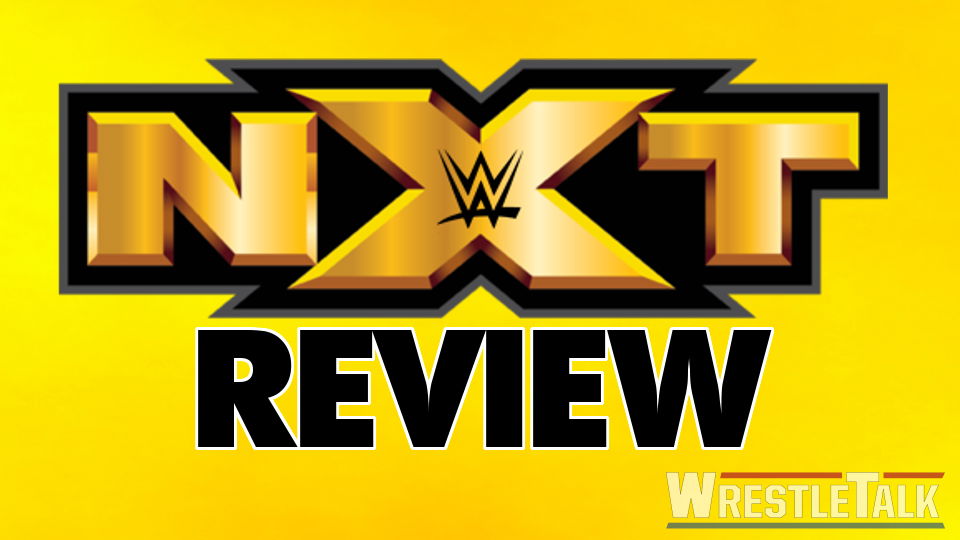 NXT begins this week with a recap of what happened last week in that excellent angle featuring Johnny Gargano, Tommaso Ciampa and the injured Candice LeRae. With appropriate foreboding music. We learn that GM William Regal (we've not seen him for a while) has banned both Gargano and Ciampa from NXT tonight, sent them contracts and ordered a Chicago Streetfight for Takeover.
I'm old enough to remember the Chicago Streetfight at WrestleMania 13. The Nation of Domination vs Ahmed Johnson and the Legion of Doom. A surprisingly decent match, for the time. But I still expect Gargano-Ciampa to be superior.
Here comes the NXT Champion. Aleister Black. He could really benefit from a heel turn. But he still gets a strong 'ALEISTER!' chant. TAFKA Tommy End starts a promo talking up his finisher the Black Mass. He's interrupted by Lars Sullivan. Who is wearing his BIG trunks. Lars tells Black he's getting the title shot at Takeover. What, Mr Regal didn't have the decency to inform his champion directly? That's rude.
Lars has a lisp. I wouldn't point this out to his face, though.
They fight, Sullivan blocks Black Mass with one hand, and lays the champ out with the Freak Accident. With ease. The cerebral beast picks up the belt and bellows with admiration for his own strength. A simple and effective angle to set up the title match for Takeover. "WHO'S THE MAN?" roars the challenger like his neighbour, that other great monster heel from the Rocky Mountains. Imagine the havoc a Big Van Vader-Lars Sullivan alliance could wreak!
A song by Chris Jericho's band Fozzy is an official theme for Takeover. I'd love to see Y2J in NXT.
Candice LeRae has tweeted with an update on her condition after her husband accidentally flattened her last week. She's OK, but does not support the Takeover streetfight and says Johnny is turning into everything he hates. I'm not sure where this is going, but the growing cracks in Johnny Wrestling's relationship with his wife are adding a gritty dimension to an already-absorbing blood feud.
Here come the War Raiders. I'm predicting they'll eventually end The Undisputed Era's NXT Tag Team Title reign. Hanson and Rowe obliterate two jobbers called George Hickson and Cody Vincent like the good old days of TV squash matches. It's like they're on Wrestling Challenge in the 80s. Although I don't recall the Powers of Pain ever managing a German Suplex-springboard middle rope clothesline combination.  The Raiders polish off their hapless prey with their double-team legdrop finisher. Utter annihilation.
Tonight it's Shayna Baszler vs Dakota Kai for the NXT Women's Championship. Yawn. Mauro Ranallo informs us that Dakota's never say die attitude has earned her this title shot. Well that's fine and dandy, but what about earning a title match the old-fashioned way by…you know…winning a few matches? Beating Vanessa Borne once doesn't count.
EC3 is outside Full Sail, striding like Catalogue Man in a pristine grey suit. He's talking to himself. At one point he even claps himself. What a guy.
The always happy Cathy Kelly is with Lacey Evans for a backstage promo. Looks like we're getting the rubber match with Kairi Sane soon. The Lady vows to make the Pirate Princess feel the Woman's Right. Not much to this, but any Lacey time on my TV set is a bonus.
"I'M IN THE TOP ONE, TOP ONE PER CENT!"
It's EC3, who is definitely in the top one per cent of tanners. Looks like he's spent a good few days on the sunbed. There are NX3 signs aplenty. But still he gets a basic entrance with just his name on the Tron. We need pyro, smoke, something for the One Per Center surely? Then his opponent Fabian Aichner emerges. Jobber out second AGAIN? When will they learn?
Ethan is in the process of dissecting Aichner at ringside when suddenly the supposedly-banned Gargano emerges from the crowd carrying a contract, storms past a perplexed EC3 to the commentary desk, signs the paperwork and announces the Takeover streetfight is official. Then he leaves. Carter looks peeved at the interruption. This is going somewhere. EC3 fires up and angrily polishes off Aichner with the TKO.
We get a really great Bianca Belair sit-down interview package, complete with photos of her as a standout athlete at school, winning hurdles races and gymnastics medals with ease, and talking about how she has a family legacy of excellence to live up to because her great grandfather was the first African-American electrician in North Carolina.
The gist of this was Belair was always so athletically gifted, she never pushed herself. Now she's in NXT and is still head and shoulders above everyone else, although she has no background of working the indies or Japan. And now she's actually TRYING. So just think what she can accomplish. Marvellous stuff, although I'm still none the wiser as to what the 'EST of NXT' actually means.
Ricochet vs Chris Dijak is up next. The jobber comes out last again. This is starting to annoy me. Chris is tall but otherwise doesn't look like he has much to offer as Ricochet batters him early. With very unRicochet-like right hand punches. It's WWE style, everybody!
Then suddenly Tricky Trev tries a tricky tope and Dijak BLOCKS IT AND CHOKE SLAMS RICOCHET ON THE RING APRON! That woke me up. TOP ROPE SPRINGBOARD ELBOW! That's by Dijak, not Ricochet. Incredibly, it's the opponent hitting all the high spots in a Ricochet match.
But then Chris misses a moonsault. The much-smaller Ricochet snaps off a suplex, then holds on and deadlifts the 6ft8 Dijak into a second suplex. "MAMMA MIA…HE IS A WALKING MEME!" screams Ranallo.
Quickly Ricochet hits the 630 and gets the three count. That was quite the high-octane short match, right there.
Slick Ric grabs the mic. I criticised his promo the other week. This one is delivered with much more conviction. Ricochet calls Velveteen Dream "a punk" for abandoning him during their handicap match against Lars Sullivan.
Dream emerges and tells his rival 'Anything you can do, the Dream can do better'. So Ricochet, I kid you not, somersaults over the top rope and lands on his feet on the rampway, right in his foe's face.
Dream's jaw drops like the Liverpool goalkeeper.
What a brilliantly unique way to build up a match. We'll see Richochet vs The Dream at Takeover.
Next week it's Roderick Strong versus the man who is most definitely not called Martin Stone any more.
Here comes the feeble Dakota Kai. Ranallo tries his best to get me excited about her title challenge. "She's stood up to the bully!" But has she? I must have missed that.
Dakota looks beaten already. When the bell rings, she's tentative and timid. Baszler toys with her. The crowd is dead. Of course they are. Kai hasn't given them any reason to get behind her. On paper, this storyline of the underdog overcoming her fear of the intimidating champion was a great idea. But the execution has left a lot to be desired because Kai never actually overcame that fear. She still looks scared to death. Nobody wants to cheer a weakling. Because nobody believes she can win.
Shayna starts destroying Dakota's ankle, like she did her arm two months ago. The champ is daring her challenger to fight back. She eventually does, to an underwhelming response. This has been a rare mistake by the NXT booking team. This rivalry needed a big moment BEFORE the actual match where Kai finally snapped and attacked her tormentor. A moment where she could actually show some guts like all good babyfaces do. But it never happened.
The Captain of Team Kick lands a few kicks but then gets trapped in the Kirifuda Clutch and quickly taps out.
It's hard to see how they can rehabilitate Kai after this. She's been made to look an absolute sap.
Thankfully the post-match angle turns the atmosphere up a notch or ten.
Nikki Cross comes charging out. She seizes the championship belt and dares Baszler to come and get it. The place erupts for The Psychotic Scot, such is her energy and believable nuttiness. She's positively frothing at the mouth. And she talks like Neanderthal Woman. "SHAYNA! ME! THIS! TONIGHT!" she babbles. Translated, she wants a title match right now. "YOU! REFEREE!" she demands of Dakota Kai. Dakota has the belt in her hands. For one second I thought she was going to whack Cross with it, then her weeks of cowardice would actually make sense. But no, instead Nikki drops 'The Queen of Spades' with her fisherman's neckbreaker and Kai counts three. Nikki celebrates in the crowd like she's actually won the Women's Title. Which officially, she hasn't. And probably won't. But at least she's not intimidated. Nutty Nikki is a real challenge for Bully Baszler. And it looks like that challenge will come at Takeover.
As for Dakota Kai's future, that's anyone's guess.
What did you think of this week's NXT? Please comment below.