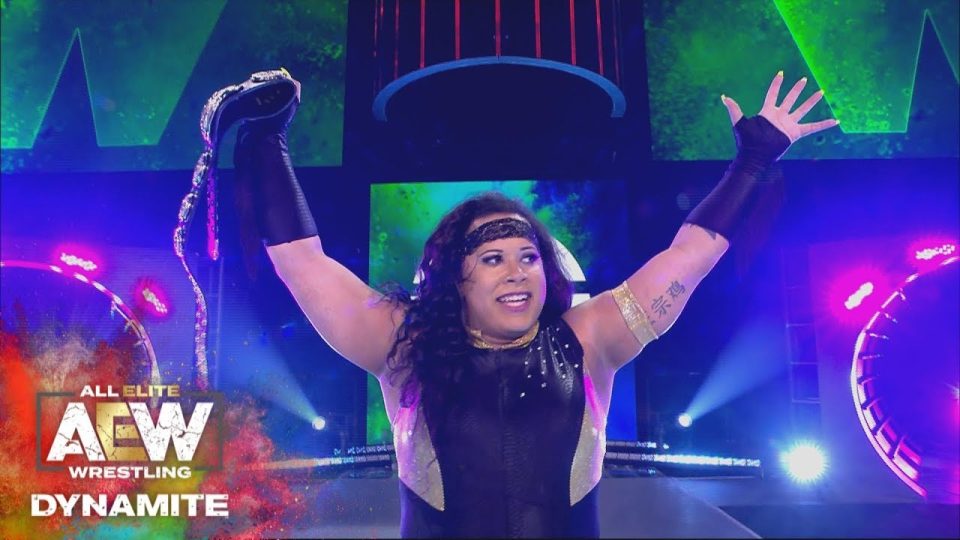 Nyla Rose recently sat down for a revealing interview with SI.com where she discussed the incident where a "fan" displayed a transphobic sign at a recent AEW television taping.
As the first and only out, trans talent in professional wrestling, Nyla Rose has been subject to abuse not only from people online but at a recent Dynamite taping, disrespected to her face as a "fan" displayed a transphobic sign, earning not only a big middle finger from Rose herself and but also ejection from the event.
Nyla Rose said of the incident:
"For the most part, people understood why that sign was wrong. Maybe that person didn't quite understand the gravity of what they were doing. You want to boo, that's cool. But there is a line.

"People might feel it's a conflict of their beliefs by simply respecting someone else, but it's not. You don't have to understand or even agree with somebody's situation to show them simple respect and kindness, like respecting their pronouns and respecting their way of life.

"I'd love for people to be cool with it, but if that's not your thing, it's not your thing. But shouldn't people want to treat their fellow humans with a little respect and kindness?"
Rose has noted that she considers herself a pro-wrestler, not a pioneer, she is aware of the impact of her presence on fans, saying about representation within AEW:
"People from so many different walks of life have connected with me, and I think that's wild. I grew up a wrestling fan, and I found inspiration in my life from the things the wrestlers did. I'm going out there thinking I'm just performing and putting on a show, but people have told me I'm a beacon for them.

"Black families have said they see me as someone who is so strong. As a Native person, I've heard from families that tell me it makes them so proud of their heritage, that they've broken down in joy when they see themselves reflected in the Iroquois flag. The LGBTQ community has such a prominent figure [in Nyla Rose], and I understand the importance of that. We're not made to be a punchline; we are not here to be a joke.

"This character isn't going to be a pushover. It's meant a lot to a lot of people, and it's taking me time to process that."
AEW President Tony Khan was recently under fire for taking to Twitter to refute Big Swole's comments that AEW has a diversity problem with Nyla Rose later commenting her feelings on representation within the company both on and off the screen.
To make sure you stay updated with all the latest wrestling news, add WrestleTalk.com to your Google Discover feed and follow us on Twitter!