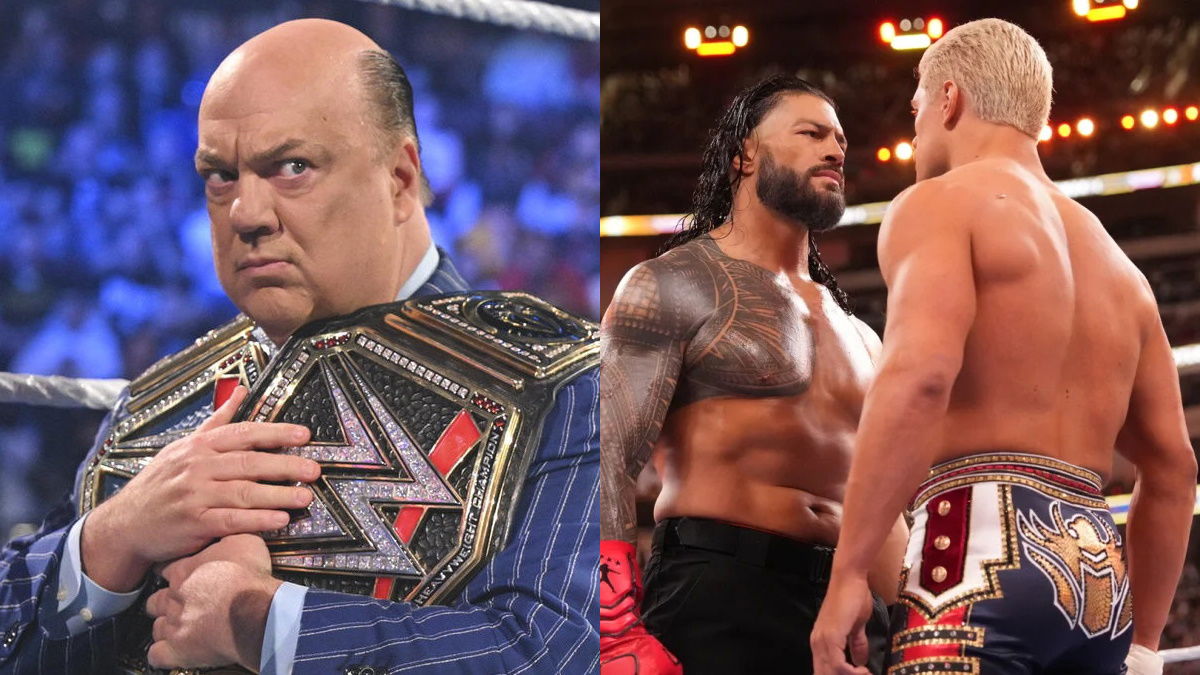 Paul Heyman has now addressed the decision to have Roman Reigns defeat Cody Rhodes at WrestleMania 39.
In the main event of WrestleMania 39 Sunday, Royal Rumble winner Cody Rhodes challenged for Reigns' WWE Undisputed Universal Championship.
To the surprise of many, Reigns defeated Rhodes to retain his gold, with an assist from Solo Sikoa.
Many were outraged by the result, with some believing that WrestleMania was the perfect time for Roman Reigns to be dethroned, and others just bored of Reigns winning every match following interference.
Speaking with Ariel Helwani of BT Sport, Paul Heyman addressed criticisms surrounding the booking, noting:
"I like the fact that everyone walks in now thinking this is the last title defense. I experienced this before, it was something I had a hand in ending, which was the Undertaker's undefeated streak at WrestleMania.
"Every year, you sat there, 'Oh, this is it.' During the match, the audience is anticipating and salivating for it, this to be the moment that they get to witness the historical three count on the Undertaker to which the streak would end.
"Then, when Undertaker would defend the streak, they would say, 'I don't want to see this end, I can't wait until the next chapter.' Then, it finally ended, and the audience was shocked.
"They thought they would see it, they thought they would see it, them didn't. It's the same thing with Roman Reigns' title defenses now. You hope this is the one, you think this is the one, you're sure this is the one.
"You watch the match happening, you know this is the one. Then it turns out to not be the one. 'Man, I can't wait to see the next chapter.'
"The response (at WrestleMania 39) to Cody Rhodes, which was louder than the response last week, which was a response more passionate, which was the response of an audience that believes in Cody Rhodes this week more than they did last week when they hung their hopes and dreams on him.
"He didn't disappoint them. We disappointed them. We took that away from Cody Rhodes. Roman Reigns took that away from Cody Rhodes and the audience.
"They blame Roman Reigns for it and they appreciate how close Cody came and they know the next time Cody steps in the ring with Roman Reigns, 'this will be the one.' That's the business.
"That's the business at its very best. That's promotion at its very best. That's storytelling at its very best. That's what you want.
"You want the challenger to come out a bigger star than he would have been if he won because then, where do you go from there? What's the story to tell?
"Now, you know the story. It's Cody's redemption. It's coming back from what was just taken from him. From the defeat he just suffered that he didn't deserve to have inflicted upon him."
When asked if WWE made a mistake by having Cody lose, Heyman said:
"We'll be hearing this all summer. 'Oh, this is perfect. The stars are aligned. It has to happen now.' We've been hearing this the whole time.
"Two years ago, last SummerSlam with Brock, the Royal Rumble with Kevin Owens, Montreal with Sami, Cardiff with Drew McIntyre, two SummerSlams ago with John Cena.
"'This is where John Cena gets number 17. Wouldn't it be perfect if he beats Roman Reigns. This is it. John Cena becomes the most decorated champion of all time. Perfect. Everything is in line.'
"Of course it's in line for it. That's how you make a challenger. If the challenger is, 'I guess this is okay.' Nobody is going to buy that. 'IT HAS TO HAPPEN NOW!' That's the promotional business."
A spoiler has potentially emerged on a huge name who appears to be slated for SummerSlam 2023, which you can read more about right here.
Transcription via Fightful. 
Think you're a wrestling mastermind? Well you can prove it by taking quizzes in our brand new quiz section! Don't forget to tweet us your results!