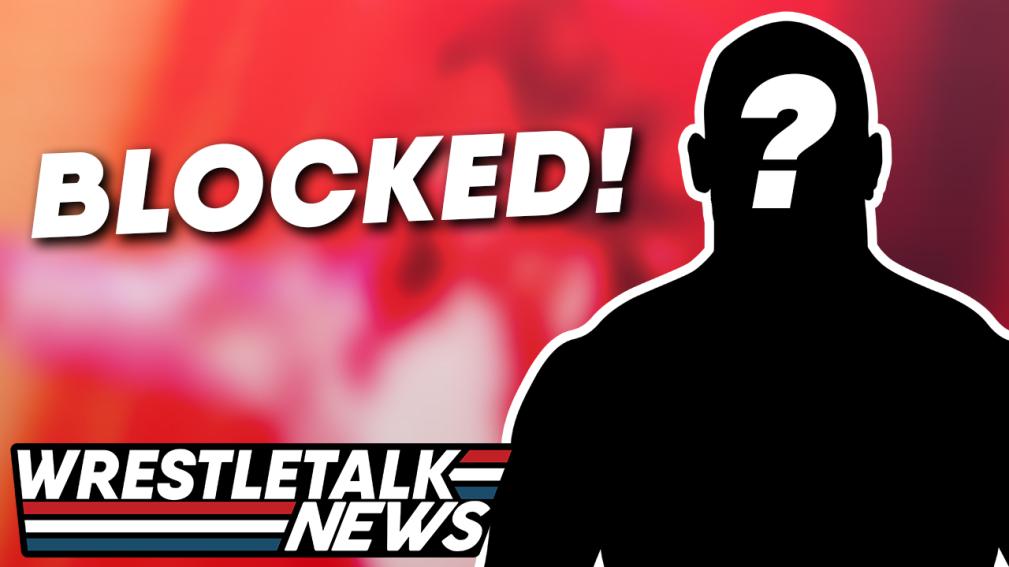 Kairi Sane left full-time competition in WWE last July after being written off Raw, however she remained with the company as an ambassador in Japan. What her role specifically entails is unclear, though it's speculated that she could be a driver to get NXT Japan off the ground.
However that bit's probably super difficult when you can't appear on any other shows.
Kairi made her name in all-women's promotion STARDOM, and according to the Wrestling Observer Newsletter, she recently asked WWE if she could appear at one of their shows. And you'll never guess what they said.
That's right, Kairi was reportedly unable to get permission from WWE to appear at the show. Dave Meltzer wrote:
"Even though she asked, Kairi Hojo (Kairi Sane) was unable to get WWE permission to do the show. They had left it up to WWE. They wanted her in a big singles match but also offered WWE having her do a Rumble with legends. Sane is still under contract to WWE and works as a Japanese ambassador. There had been talk of her working for Stardom when she returned to Japan after getting married but she still has time on her deal."
Before joining WWE in 2017, Sane enjoyed 5 highly successful years in STARDOM, winning several top championships. It isn't clear when her deal with WWE ends, but it seems until that happy date, she'll remain under the thumb of Vince McMahon. 
Huge Star Coming Out Of Retirement?
In the past three years, we have seen two incredibly unlikely returns, with both Daniel Bryan and Edge being cleared for in-ring action despite previously being forced into retirement as a result of serious head and neck injuries.
Someone else whose career was brought to a very premature end was former Diva's Champion Paige, who suffered a serious neck injury and was subsequently forced to retire aged just 25 at the start of 2018.
However, we've learned time and time again to say "never say never" in wrestling, and it seems Paige is still very much hoping that one day she'll be able to return to the ring.
During last night's SmackDown, Edge revealed that Daniel Bryan inspired him to return to the ring, and a clip of this promo was retweeted by Paige, who added a fingers crossed emoji and said "one day".
Hall of Famer Beth Phoenix commented "You deserve it", and I think it's fair to say that we all agree with Beth on this one.
Elimination Chamber STILL Undecided
It's Elimination Chamber tomorrow night, so you'd assume that plans for the show have now been completely finalised, because planning ahead is really important for a company as big as WWE.
Well, according to Ringside News, who have a good record of recent backstage scoops, as of yesterday morning, the show was still not finished, and the card had not been finalised.
The report states that a "tenured writer" for WWE told them:
"Yes, Elimination Chamber is still a work in progress, but isn't everything until it airs now?"
What a glowing review of WWE's booking process. 
There have been countless reports of scripts being ripped up hours before shows in the past, but it's rare to hear that a PPV is unfinished less than 48 hours before it airs. So expect some Twitter announcements of matches before the show gets underway tomorrow.
SmackDown Review
And now it's time for a review of last night's episode of SmackDown in about 5 minutes!
The show started with Edge making his way to SmackDown to scout out his potential opponents after Elimination Chamber, where he cut a promo saying he has 13 potential opponents for WrestleMania. While I don't quite believe he has a chance of facing everyone equally, this show did a great job of pointing him in the direction of Roman, but still hinting at the possibility of someone else taking the title off him before then.
And speaking of Roman, he and his posse make their way to the ring, repeating that Edge doesn't have 13 opponents to choose from, there's one, the only true main eventer out of them. Edge threatens to expose the dents in Roman's armour and asks him if that's something he truly wants, before they are interrupted by Sami Zayn who cuts a typically great Sami promo before being superkicked by Jey Uso.
Roman whispers something into Edge's ear before walking away, which was a nice touch to end the segment. It's pretty clear it's going to be Edge vs Roman at WrestleMania, and I think they're doing a very good slow organic build to it, which got a kickstart by the end of the show.
But before that we had Apollo Crews taking on Shisnsuke Nakamura with Intercontinental Champion Big E on commentary. The pair had a fun little match, with a unique finish of Shinsuke rolling Apollo into an armbar before rolling that into a pin for the win. However, as has been bubbling away for a while now, Apollo turned full heel, attacking Shinsuke from behind and threatening to hit him with the steps. Big E manages to intervene, but gets attacked by Apollo with the steps anyway, and it ended with a nice little spot where Apollo had the steps above his head and referee told him to drop them, so he dropped them on Big E who was on the floor outside.
I said before I was into the Big E/Apollo feud, and I'm even more so now. I'm really buying their heat, and any promo time they have together seems genuine and legit. This is really good stuff.
Up next was Seth Rollins who cut a really solid promo about his return last week, saying he was going to take legal action against everyone who turned their backs on him, including Cesaro. He's turning more and more into a cult leader and I'm all for it.
The Riott Squad vs Tamina & Natalya got all of 2 minutes, with Billie Kay costing the Riott Squad the match, but intentionally this time, before being laid out by Natalya and Tamina anyway. This story is quickly petering out and needs to have some sort of resolution, and quickly.
The match felt very, very rushed, it was as if WWE were saying 'Quick, quick, quick, get your match done, we need to promote Sasha Banks being at Daytona 500!'
And speaking of women's feuds I'm not into – we saw the return of the Ding Dong Hello show after this, and by far the best thing about this segment is Bayley who's commitment to the bit and the insistence of guests using the door is amazing.
Her guests this time were Nia Jax & Shayna Baszler who couldn't get through the door together because they tried walking through at the same time, hahahahahaha do you get it, comedy.
For some reason they then absolutely rag on both Sasha Banks and Bianca Belair, which brought out not Sasha or Bianca, but Carmella's sommelier, Reginald. He hypes up Sasha Banks, the absolute simp, saying she's the greatest champion of all time, which then actually brings out Sasha, who says that Bianca will choose her at WrestleMania because she's the Boss, which then brings out Bianca, and if this segment seems incredibly convoluted and bloated, that's because it is!
Bianca gets into a little verbal sparring with Sasha before Reginald interrupts once again and says the three of them should fight Nia, Shayna and Bayley. Why. Is. Reginald. Getting. So. Much. Screentime. I don't understand.
And the match was a bit rubbish as well. The in-ring action was fine, and then Reginald got the hot tag and he got beaten up by Nia Jax. She should quite easily be able to dispatch of the non-wrestler, but turns out she can't, as Reginald dodges a leg drop and attempts a crossbody. Nia catches him, but then takes a double dropkick from Sasha and Bianca, and Reginald falls on her and…pins Nia Jax.
Why is Reginald getting so much of a push. I can't fathom it. I don't understand. Please help me understand.
Later on backstage, Carmella threatens Reginald saying she knows where he was, and orders him to get her another drink, throwing one in his face. I don't like any of this. It's all bad.
After this was another baffling segment, where Rey & Dominik Mysterio took on the Alpha Academy. But after a couple of minutes, Otis splashes Rey, and then just…keeps splashing him. Chad comes in and directs traffic, and then they get DQ'd because they won't leave the ring, and then Otis does another splash from the middle rope on Rey. What story are they telling here? And I'm sure people will love to tell me that I'm being dumb or whatever, but whatever story you try to claim they're telling, you're the one that's made that story, because WWE haven't told one.
Is Otis just really dumb and doesn't realise the match is over and just following orders from Gable? Was it an out and out heel turn for Otis? In which case, why? What has possibly happened to turn him heel? Huh? I'm just…confused guys.
Throughout the night Edge spoke with the various members of the SmackDown Elimination Chamber match which added a nice little layer to the match tomorrow night, and there was a lovely backstage segment with Bryan & Cesaro talking strategy about what happens when Owens turns on them mid-match and Stunners them, look at all the people he's betrayed in the past, Kofi, Sami Zayn like 4 times, and there's a big name, I feel like I should make a list. Hah, they talked about Jericho. Without saying Jericho. Cheeky.
And then it was the main event of Jey Uso, Sami Zayn & King Corbin vs Cesaro, Daniel Bryan & Kevin Owens with Edge doing a fantastic job on commentary. The match itself was incredibly fun, and had a lovely finish with Daniel Bryan hitting a top rope butterfly suplex on Zayn before rolling it through into a Yes Lock for the submission win. It's nice that Bryan got a win here as he was in need of one with his recent losses.
But of course there was a brawl afterwards, with everyone getting their moves in, ending with Edge hitting a Spear on Jey Uso before Roman appeared FROM OUTTA NOWHERE to hit a Spear on Edge.
What are your thoughts on the above story? Let us know in the comments on Twitter or Facebook.