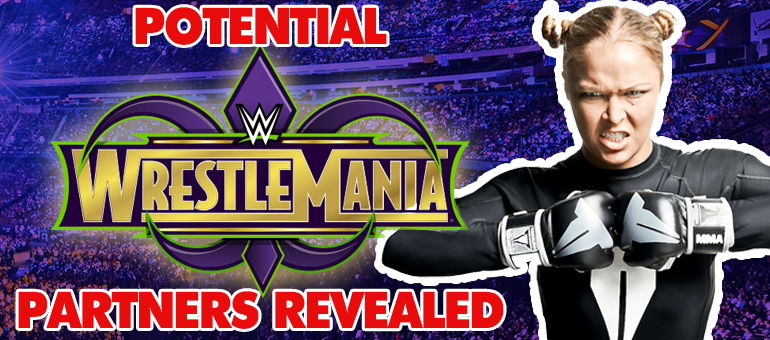 According to Justin Barrasso of Sports Illustrated, there are four names in contention to be Ronda Rousey's tag partner at WrestleMania for her mixed tag bout against Triple H and Stephanie McMahon. They are The Rock, Kurt Angle, Shane McMahon, and Seth Rollins.
Let's disregard for a second the sheer weight of nepotism involved in Steph working a match against WWE's biggest mainstream star on the biggest show of the year and take a look at those options.
The Rock is the obvious first choice, and his inclusion would make this a major marquee match that fans want to see. The Rock vs. Triple H was a major feud in the Attitude Era and would possibly attract jaded fans of old who wanted to see them clash one last time. Both have come a long way in their respective field since they last met in the early 2000s, and to watch them go toe-to-toe again would be fascinating.
Unfortunately, the chances of it happening are slim. Rock has an incredibly busy movie schedule and he may be unable to wrestle due to insurance issues, as last time he worked he got injured and missed filming on Hercules, which cost the studio a lot of money. Hollywood will be unwilling to take such a risk again.
Kurt Angle is a logical choice in the number two spot. He has a lot of Attitude Era history with Stephanie and Hunter, although it has to be said their interactions this time around have been far less fun than they were in 2000 when love-struck Kurt had a soft spot for Steph. Still though, Kurt has been earmarked for a showdown with Triple H at WrestleMania since he returned last year, and they have recent history from the Survivor Series finale, so there is enough of a storyline there to make it work.
Given WWE want to make Stephanie a mainstream megastar a'la Steve Austin by pairing her with Ronda (in the Mike Tyson role), I would not be at all surprised if Steph ruined Ronda's contract signing at Elimination Chamber, leaving Kurt desperately yelling, "You ruined it, dammit! You ruined it!"
The prospect of Shane McMahon in this spot is horrific. Once a year Shane wastes a space on the WrestleMania card against a vastly superior opponent who deserves much better. For him to be inserted into this match would McMahon-o-Mania running just a little too wild for my tastes. It would be WrestleMania 2000 all over again! Nobody needs to see Shane partnering Ronda against Steph and Hunter. Nobody. However, because this is WWE I think this is exactly what will happen. Who cares about silly little things like logic and the several months long feud that Shane has been building with Bryan. None of that matters when getting the McMahons over is at stake.
How could this happen? Well, I am sure Shane would have a thing or two to say about Ronda signing for Raw. He could ruin the Elimination Chamber contract signing and have Ronda declare for SmackDown (which may make sense if Asuka dethrones Charlotte and joins the blue brand, if they want to do Asuka-Rousey down the line), leaving Steph and Hunter so mad they challenge them to a match.
Seth Rollins is more random option, likely in the mix because his planned Jason Jordan match is seemingly cancelled because of Jordan's injury, leaving Rollins with nothing to do at the supercard. Seth has previous with Steph and Hunter from last year's WrestleMania, but I am sure I am not alone in saying nobody wants to see that rivalry exhumed. We have been there and done that. It's over.
Who do you want to see Ronda Rousey team with at WrestleMania? Let us know in the comments below.