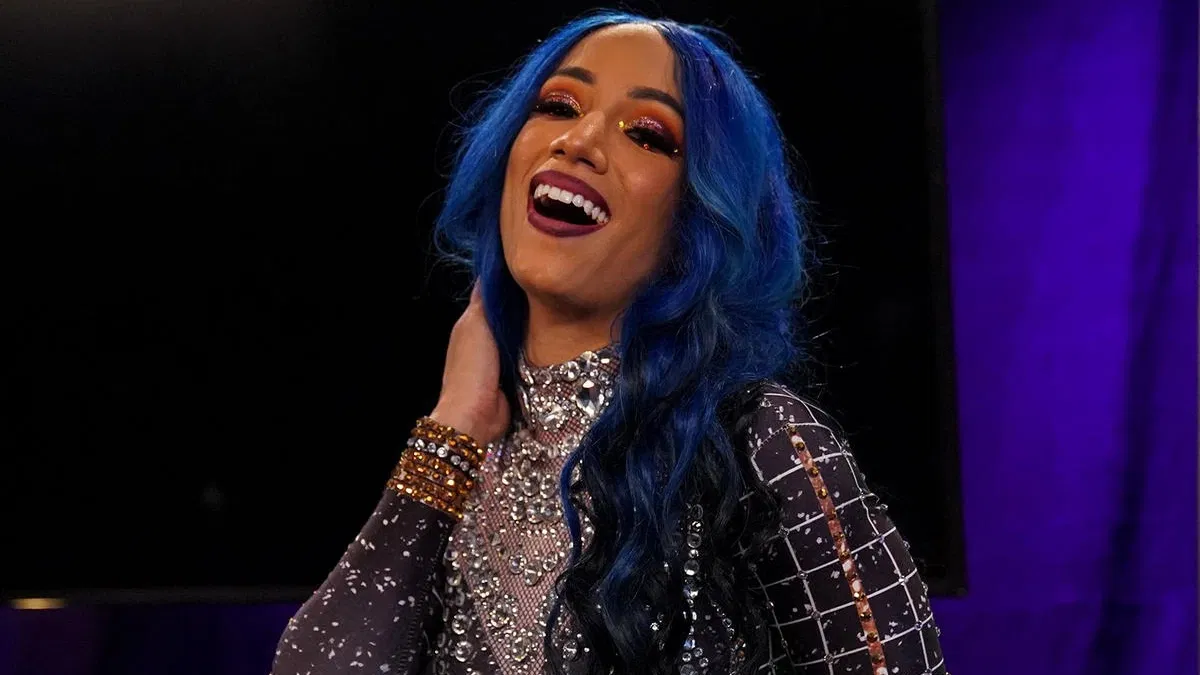 Sasha Banks' asking price has been revealed, an AEW title change was botched, the 'PG Era' for WWE Raw seems to be ending, and more.
Happy Friday, it's nearly the weekend, but before we get there, let's get caught up on all the latest wrestling news – I'm Liam Winnard for WrestleTalk.com, and this is our audio news bulletin for July 15, 2022.
Sasha Banks Asking Price Revealed
We covered the news yesterday that Sasha Banks was accepting bookings outside of WWE, specifically non-wrestling bookings until January 1, 2023.
Fightful Select has now provided an update on that, specifically how much money Banks is seeking per appearance.
Fightful was told by promoters that Banks' asking price for an appearance was $30,000, which was described as "exactly as expected", and a promoter said they'd be "more than happy" to book her at that rate and they know they'd make their money back.
Of course Banks seemingly left WWE on her own terms, is still pretty fresh off TV, and has a very supportive fanbase and a level of stardom already, so when you combine all of those things, it is actually a fair price even though it might sound high at first.
Fightful was told that her price was comparable to Sting, and the only talent more expensive were Ric Flair, Goldberg, Shawn Michaels, and Hulk Hogan.
Just to clarify, this is not the fee for Banks to wrestle a match, just to make an appearance at a convention.
WWE still has not officially confirmed Banks' release, but a promoter specifically said they wouldn't have made it so far along with booking her if she was still signed with WWE, so all signs do point to her being gone at this point.
As we've mentioned numerous times now, Banks and Naomi were recently removed from WWE's internal roster, but publicly, they're both still listed as active members of the SmackDown roster on WWE.com.
Botched AEW Title Change
It turns out there's a little bit of an issue fans have spotted with the AEW tag team title change from this past Wednesday's Dynamite.
Keith Lee and Swerve Strickland were crowned new champions as Strickland pinned Ricky Starks, but Starks shouldn't have been the legal man at the time.
There was a moment just before the finish where the legal men were Strickland and Matt Jackson. Powerhouse Hobbs dragged Jackson to his and Starks' corner, and should have used Jackson's hand to tag in Starks to make Starks the legal man.
However, Hobbs used his own hand to tag Starks, so it shouldn't have been deemed a legal tag, and Jackson should still have been legal when Strickland pinned Starks.
Tony Khan reacted to this on Twitter by saying the referee's decision is final and the result will stand.
WWE Raw 'PG Era' Ending
It sounds like the PG Era of WWE Raw is coming to an end very soon, instead changing to a TV-14 rating.
At first, it was reported by Andrew Zarian that the change would be coming as soon as July 18, which is in fact the next episode of the show.
However, Zarian later noted that the internal message sent out within the USA Network to staff to inform them of the change was actually sent out prematurely, and the July 18 date is not finalised.
Fightful added that there have been "mixed signals" within in the USA Network about the change.
Raw had been rated PG since July 22, 2008. The July 18 show is still listed as being PG right now. Fightful hasn't heard of any specific edict or instructions about the content of the show changing.
Cody Rhodes posted a winking emoji after the news broke, seemingly implying that he may have had something to do with the change.
Other Stuff
In other little bits of news…
Jim Ross said he knows "for a fact" that AEW will be coming to the UK in the next calendar year.
Billy Gunn explained that he's actually signed to two AEW contracts – one as an employee for his backstage role, and one as an independent contractor as a talent.
Paul Wight confirmed that Captain Insano will be making a return in AEW.
Big E said that he'd be "at peace" if his neck injury forced his in-ring career to come to an end.
PWInsider confirmed that gymnast Derrian Gobourne, track and field star Lenaya Griffin, gymnast Lea Simone Mitchell, and defensive lineman Lamont McDougle, are going to be attending WWE's SummerSlam weekend tryouts.
Bayley teased that she could be returning in next week's 20-woman NXT women's battle royal to determine the next challenger for Mandy Rose. Although Bayley teases a return for every show ever at this point.
Mark Coffey's Heritage Cup win over Noam Dar aired on last night's NXT UK.
And PWInsider reported that Zack Gibson's new NXT name is Rip Fowler, and James Drake's new name is Jagger Reid.
Be sure to stay tuned to WrestleTalk.com throughout the day to keep up with all the news from the world of pro-wrestling, and I'll see you Monday morning for another round-up.
To make sure you stay updated with all the latest wrestling news, add WrestleTalk.com to your Google Discover feed and follow us on Twitter!