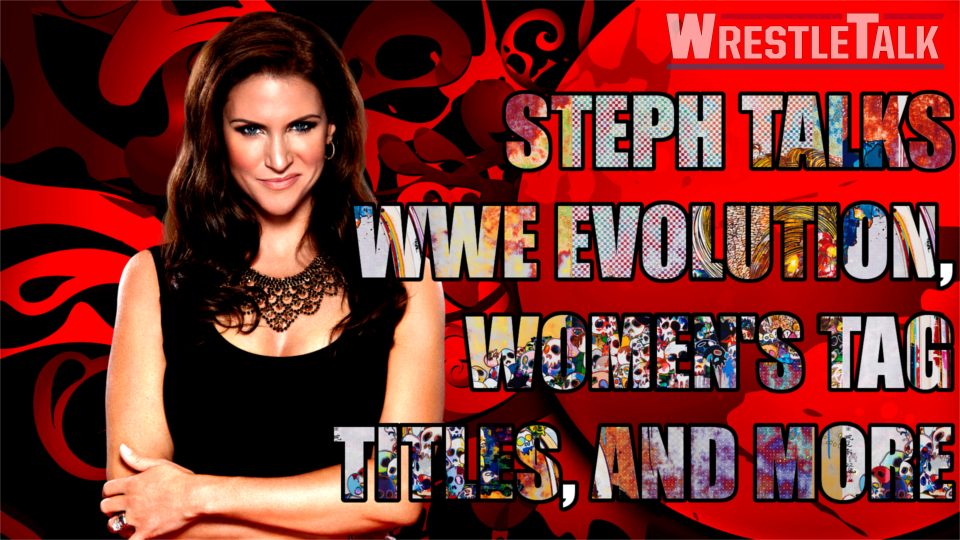 Last night's Raw saw a "historic announcement" where Vince McMahon, Triple H and, Stephanie McMahon revealed WWE's first-ever all women's pay-per-view. WWE Evolution, as it has been aptly dubbed, is set to take place on Sunday, October 28. The event will see each women's championship defended as well as the final of this year's Mae Young Classic.
In a new interview with Sky Sports, Stephanie McMahon went into more detail on the showcase. WWE's Chief Brand Officer discussed what we can look forward to as well as what other steps the promotion will take in the future to further the 'Women's Revolution'.
McMahon on how WWE Evolution began:
"It really started with a movement that our fans really organically started – #givedivasachance – that was created in response to a match that took place in February 2015, a tag match of our then divas division that lasted for all of 30 seconds, which unfortunately was more the norm.

"Our women were treated more as secondary characters to the storyline and our fans had had enough and they were specifically calling for longer matches, better athleticism, better character development and better storylines.

"Their voices were so loud that this hashtag trended for three days worldwide, until our chairman and CEO Vince [McMahon], and yes he's also my father, he said 'yes we hear you, keep watching #givedivasachance'. So later at the next WrestleMania, in front of our biggest audience ever, over 100,000 people, we had Hall of Famer Lita go out and announce the rebranding of the divas division to the women's division,
"She unveiled the new championship belt that was more akin to the men's, but still feminine, and announced that the women would now be called superstars, same as the men. Since that time our women have been more regularly headlining and main eventing our television and pay-per-view events.

"We signed Ronda Rousey, one of the greatest athletes male or female, and this past December, in Abu Dhabi, for the first time ever our women were allowed to perform. During the match a chant broke out in the crowd – there were men and women shouting 'this is hope' and there were tears in the eyes of little girls in the front row.

"This is what WWE's women's evolution is all about."
McMahon on how far away from a women's WrestleMania main event we are:
"God I hope not far! We're certainly making strides and changes are happening every single day. They can't happen fast enough for me – but we've definitely seen positive momentum and moves towards that."

"I think the whole rise to the women's movement across everything, sport, media, it takes both. It's not just one gender, one person, it's going to take all of us and that's what I love so much about what's happened in WWE because it has been the voice of both men and women, it has been both male and women superstars, it's been everyone, everyone believes in this movement with all their heart."
McMahon on if she will return to the ring for the event:
"That's yet to be determined, we want to make sure our superstars really get the spotlight they deserve but if it makes sense then absolutely. But that's yet to be determined."
McMahon on WWE Women's Tag Team Championships:
"Not quite yet but that's absolutely something we've heard loud and clear from our fan base and it's something we're keen on implementing as soon as we are able to."
Are you excited about WWE Evolution? Would you like to see Stephanie McMahon in the ring again? Do you want to see Tag Team Championships for the women's division? Let us know in the comments below or on Twitter here. You can also join us on Discord to chat with Oli, Luke, the magazine team, the website writers and each other here!