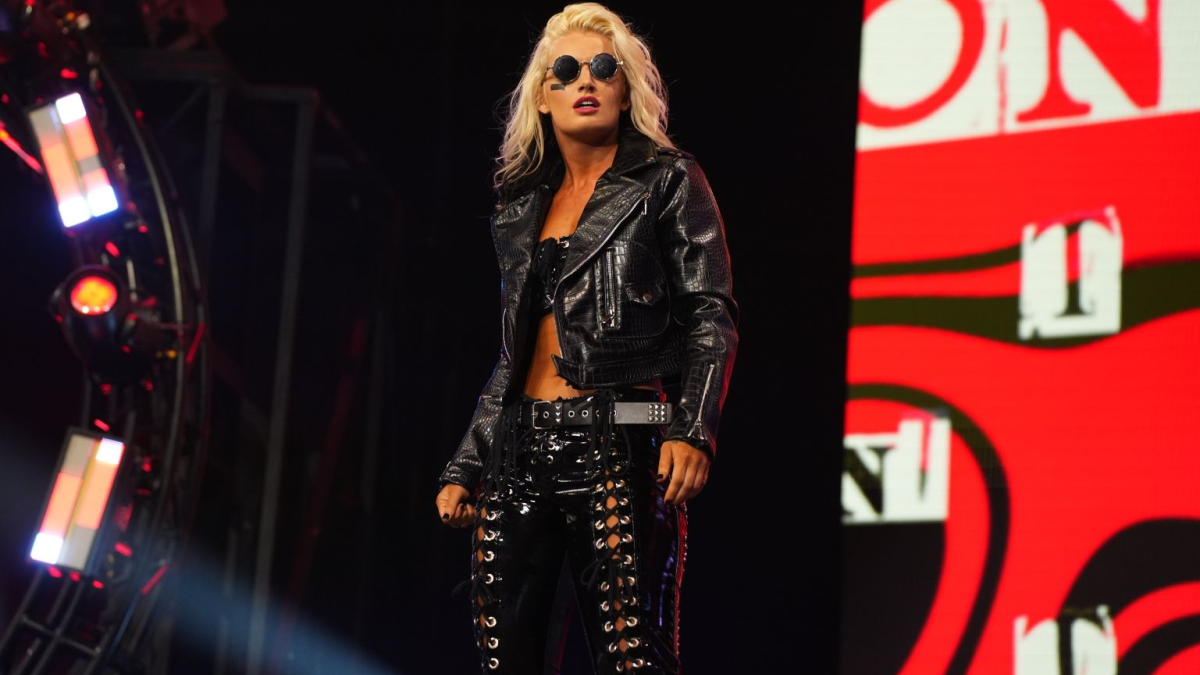 AEW star Toni Storm has spoken more about her WWE departure, calling out the company for a 'lack of respect'.
Storm was granted her WWE release in December 2021 after paying to fly herself home following a house show.
Speaking on Talk is Jericho, Storm opened up about her frustrations with WWE ahead of her leaving the company:
"So obviously the frustration had built at this point. It also doesn't help that everyone I know doesn't really have a good thing to say about it (WWE). Also, my own husband (Juice Robinson) left for the same silly old reasons. It's hard for him to keep encouraging me to keep going when he's gone through all the same stuff.

"It was like Christmas time, and I had about five shows, like a big loop. It was Tampa, Orlando, I think it was DC, Baltimore, and Albany. I'm ready to do this sh*t. I've booked everything. I'm ready to go. I'm ready to start work and here we go. I'm ready to do this.

"Then on Christmas Eve, I get told, 'You're just on one of them. You're just on the Tampa one.' I'm like 'Alright, fine. No problem. Whatever' I go to the Tampa one and I don't have a match. It's like the run around the 24/7 title thing with Dana Brooke. That's fine. Okay, cool. Fine. Sh*t happens. It's Christmas time. It's busy. I get it.

"The next day, I get a phone call in the afternoon saying 'You realize you're on the show tonight right?' 'No, but like, I will be there.' It's in Orlando where I live, so that's okay. I'm like well, I kind of had a feeling this would happen. I go and I wrestle Sasha and Charlotte for the title, cool. I'm like, here we go. We're moving."
Noting that she felt 'backed into a corner' when asked to travel to shows on short notice, Storm said:
"Then following this is that three-day loop. I was confirmed numerous times from numerous people that you're not on it. So I'm up all night regardless like they're gonna put me on it. I'm gonna be ready. The 6 am flight is when everyone's leaving. 6 am comes, nothing, and I don't hear from them. Nothing. It's all good. I get on with the day as normal. I go to the dentist at 11 o'clock. I'm laying in a chair with tubes in my mouth getting work done. My phone starts just going insane, off the hook. They need me to be on a plane in like two hours."

"How do you even say no? You can't say no because then you get heat. So you're backed into a corner. I have to do this. I actually want to do this, but it's been made extremely difficult for me at this point. Nonetheless, I'm pulled out of a chair."

"I raced home, grabbed my things, and got to the airport. I'm running around all day. Keep in mind there's all this pent up frustration that's been building and building and building for months and months and months. Then I get to the show. It's halfway through the show, Washington DC. We get there to do the match. I still can't put it into words.

"It was just the overall frustration of the lack of respect for my time and my effort. I want to give this my all. I want to give this everything I got. I want to give my whole life and my whole being. I want to give it all to you guys, but you're making it frickin difficult. I just lost it and I quit. I just told them, 'I'm so unhappy. I need out.'"
Storm is currently signed to AEW, making her debut for the company on the March 30 edition of Dynamite.
Over 20 performers have left WWE this year so far. You can check out the full list of WWE departures in 2022 right here.
Transcription via WrestlingNews.co.
To make sure you stay updated with all the latest wrestling news, add WrestleTalk.com to your Google Discover feed and follow us on Twitter!