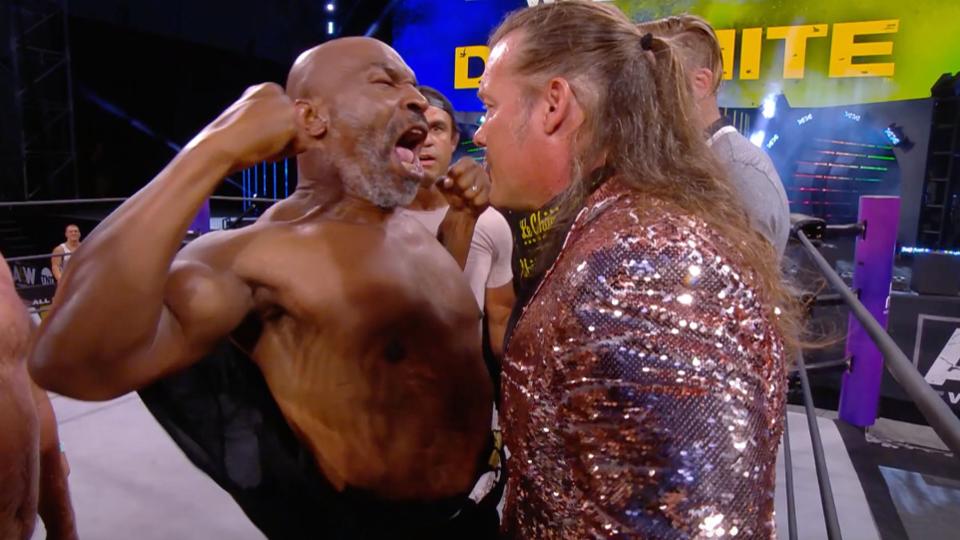 Boxing legend Mike Tyson appeared at AEW Double or Nothing in May of this year, presenting Cody Rhodes with the TNT Championship following a match with Lance Archer.
Following on from this, Tyson seemingly started a feud with Chris Jericho on Dynamite, and many people speculated that we could see Tyson work a match with the former AEW World Champion in the future.
While speaking to Eric Bischoff and Conrad Thompson on their podcast, Tony Khan opened up about AEW working with Mike Tyson, and the potential of the legendary boxer stepping into the ring for the promotion:
 "I like Mike a lot. Mike did a great job on Double of Nothing and I think there was a great amount of publicity and the show did very well. I have to attribute something to Mike's presence there. I really think the world of Mike and I'd love to have Mike back if we could ever work it out. There's a lot of great matches out there in the future, but if we could ever put Mike and Chris together and do Tyson vs. Jericho, I think it would be great."
While I'm sure it would be great for the mainstream audience to get Tyson more involved with AEW, potentially even working a match, I'm not sure it's what AEW is all about.
AEW prides itself on having the best wrestling in the world, and while Tyson may have a great deal of name-value, there is no way that he and Jericho would put on a five-star classic.