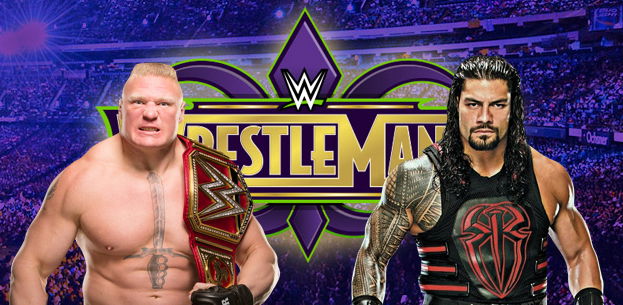 Even though we are two months away from WrestleMania and no matches have been 100% confirmed, bookmakers have already started to take bets on which match will headline the annual extravaganza.
The current odds on favorite is the expected Universal Title clash between Brock Lesnar and Roman Reigns, a bout that also headlined three years ago at WrestleMania 31. Curiously enough, the match will have the same issues as it did last time: Brock Lesnar is thought to be leaving the promotion after the show and Reigns is so reviled by the 'Mania crowd that the event will end on a major downer if he wins.
Then again, that did not stop WWE last year and this is a match and result Vince McMahon has been eager to make a reality since 2015. We might as well all suck it up and accept that it is happening.
According to the bookies, there are other viable options. Second on the list is "any women's match", tied with "any match featuring The Undertaker". Despite WWE's women's wrestling push, the latter seems far more probable. The women's division is undoubtedly stronger than it has ever been but it is not yet at the level where headlining WrestleMania is a viable possibility.
On the other hand, The Undertaker is set to face John Cena at the supercard in a showdown between WWE's two franchise players of the past two decades. This is a huge match, but with nothing at stake it seems likely to be shunted to a spot before the widely unwanted Reigns ascension.
https://www.youtube.com/watch?v=UOkXGgJwmVk
AJ Styles vs. Shinsuke Nakamura is next on the list, and while this would undoubtedly be the fans' dream 'Mania headliner, it is simply not going to happen. WWE  – and more specifically Vince McMahon – does not perceive either man to be the top star in the promotion. The chances of them going on last are slim at best. Given the option, I would bet on them going on first rather than last.
Any match featuring The Rock follows in the betting, with 'the Great One' rumored to be tagging with Ronda Rousey against Triple H and Stephanie McMahon in a star-studded clash. For star power alone this should go on last if it happens. Chances are though, it probably won't. Rock is almost certainly not going to get clearance to wrestle (due to insurance issues), so it's practically a dead bet.
https://www.youtube.com/watch?v=EVNgFcRa8NQ
The alternative – Rousey teaming with Strowman against the same opponents – is give the same odds by the bookmakers. As much as Stephanie headlining WrestleMania seems like something WWE would absolutely green light, I, for one, cannot see it on this occasion.
The remaining options are "any match featuring Daniel Bryan", Strowman vs. Lesnar, and Lesnar vs. Nakamura. None of these are going to happen so don't waste your money.