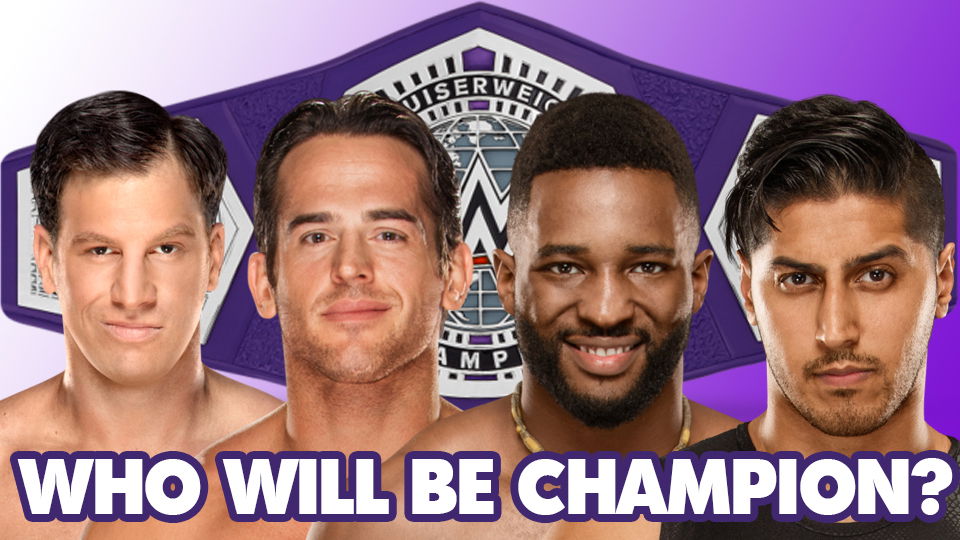 Since the turn of the New Year, a once-floundering division has begun a momentous comeback. With 205 Live general manager Drake Maverick holding down the fort, new talent from various other brands making their debuts, a stellar tournament for the vacant WWE Cruiserweight Championship in full swing and Triple H pulling the strings, something truly special has been brewing on Tuesday nights.
Starting at the end of January, the 16-man tournament has been garnering a huge amount of admiration, as it has brought in new talents to create fresh match-ups and gave the current stars more free reign to let loose. Since then, all involved have provided some of the most creative bouts the main WWE roster has seen in a long time. After this week's episode of 205 Live, we conclusively have our four semi-finalists with Cedric Alexander taking on Roderick Strong and Mustafa Ali facing Drew Gulak. But who will be victorious when all is said and done?
Cedric Alexander simply is 205 Live. He's charismatic, high-flying and super athletic; what more could you want from a champion on 'the Most Exciting Hour on TV'? Being seemingly pegged for a championship reign before the shake-up of the division has placed Alexander in the fan favorite spot, and he absolutely deserves it. This tournament has changed the game, however, and that shot might be fading away, especially with his semi-final opponent Roderick Strong proving that he also deserves to be here after running through former WWE Cruiserweight Champion, Kalisto, in the quarter-finals.
Strong is known as 'the Messiah of the Backbreaker' for a reason and has not hesitated to remind us of that since debuting on 205 Live for this tournament. As mentioned, he did not simply step up to a former champion but near enough snapped him in half and stepped over him to get to this position. Strong may be new to the purple brand but fans of his work in NXT will know he's a hard man to keep down. His upcoming match with Alexander looks to be a heavy one, to say the least.
On the other side of the bracket, we have someone who might be viewed as the underdog of the competition in Mustafa Ali, which is extremely odd as he, alongside Alexander, set the tone that redefined the division at the start of the year in an incredible match. But once again this tournament has created legitimate stars out of people, like Strong, making spots at the top that much harder to hold onto. That said, Ali can definitely go as he proved again this week in the quarter-finals with Buddy Murphy, pulling out all the stops and really fighting for his chance at the grand prize. This made the WWE Cruiserweight Championship look great, which is always a huge bonus.
Finally, we have Drew Gulak who is undoubtedly one of the most intriguing competitors in all of WWE at the moment. His character work before the 205 Live resurgence was brilliant, but he has transformed throughout this event and reached a whole new level since growing a beard and trying to tear people's heads off. The brutality he shows off in his matches, especially the way he dismantled Tony Nese, has made him look unstoppable. Keeping that vicious-looking dragon sleeper locked in long after the bell rings is a thing of beauty. With his station as a mere lackey to Enzo Amore throughout the latter part of 2017, it would be a shame for him not to ascend to the cruiserweight throne and complete his journey to the top.
When viewing these four competitors and trying to picture the best WrestleMania match for the Cruiserweight Championship, I find myself repeatedly coming back to Alexander and Gulak. As talented as Ali and Strong are, I don't believe either of them are credible champions right now, not when you need someone to stand tall in the brand above everyone else. If this were NXT, Strong would have my vote to win, but his status as a newbie in the 205 Live environment stunts his chances. Ali, on the other hand, is currently more suited to a chasing babyface role rather than a place as champion. In Alexander vs. Gulak, you get the highflying, super-athletic embodiment of the cruiserweight division vs. the nearing psychotic maniac trying to tear it down.
The pair of them have been building to this for months now, and with a Gulak win on 'the Grandest Stage of Them All', 205 Live would solidify itself as must-watch television. His malicious style and greatly improved character work would position him as a true heel champion that people want to see lose but can't help respect when he wins . . . and then keeps his victim in the dragon sleeper for another week.