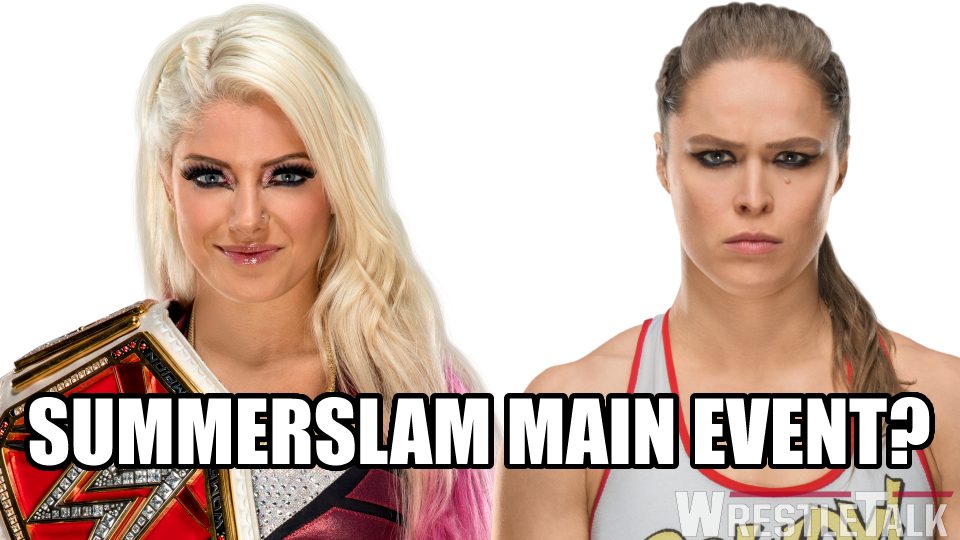 Ronda Rousey looks set to get a second chance to become Raw Women's Champion when she faces Alexa Bliss at SummerSlam – and some are even suggesting this should be the main event of WWE's big summer spectacular.
Kurt Angle made the match official on last night's Raw after Rousey violated her 30-day suspension by attacking Bliss and her cohort Mickie James.
However, the path to SummerSlam may not run smoothly for the former UFC Champion as Raw's constable, Baron Corbin, has already made it clear he does not approve of Angle's decisions in regards to Rousey.
The snitchy Corbin told Angle he'd be in contact with Raw Commissioner Stephanie McMahon after Angle failed to punish Ronda sufficiently for her actions in breaking her suspension.
It was only after Constable Corbin went backstage to look for his phone (which Angle had confiscated) that the Raw GM made the Bliss-Rousey match official, which makes you think there may be some twists and turns over the coming weeks before the bout actually happens.
WWE.com appears to have made it official though, with this article HERE.
Meanwhile, Forbes has suggested that Bliss vs. Rousey should be the main event of SummerSlam.
Blake Oestriecher writes:
"One match that is rumored for that main event spot at SummerSlam is Brock Lesnar vs. Roman Reigns, but we all know how that would turn out, especially after Reigns surprisingly lost to Bobby Lashley at Extreme Rules. Fans have made it quite clear that they have no interest in seeing that match again… there has never been a better time for WWE's women's division to headline a "Big Four" pay-per-view.

"And Rousey and Bliss appear more than capable of stepping up to the plate and hitting a home run at SummerSlam."
Rousey's previous opportunity at the Raw Women's Championship against Nia Jax at Money in the Bank ended when Alexa interfered, the 'Goddess' instead cashing in her MITB briefcase to regain the title from Jax.
Let us know your thoughts. Do you think Bliss vs Rousey should be the Summerslam main event? You can let us know on Twitter and Discord now.