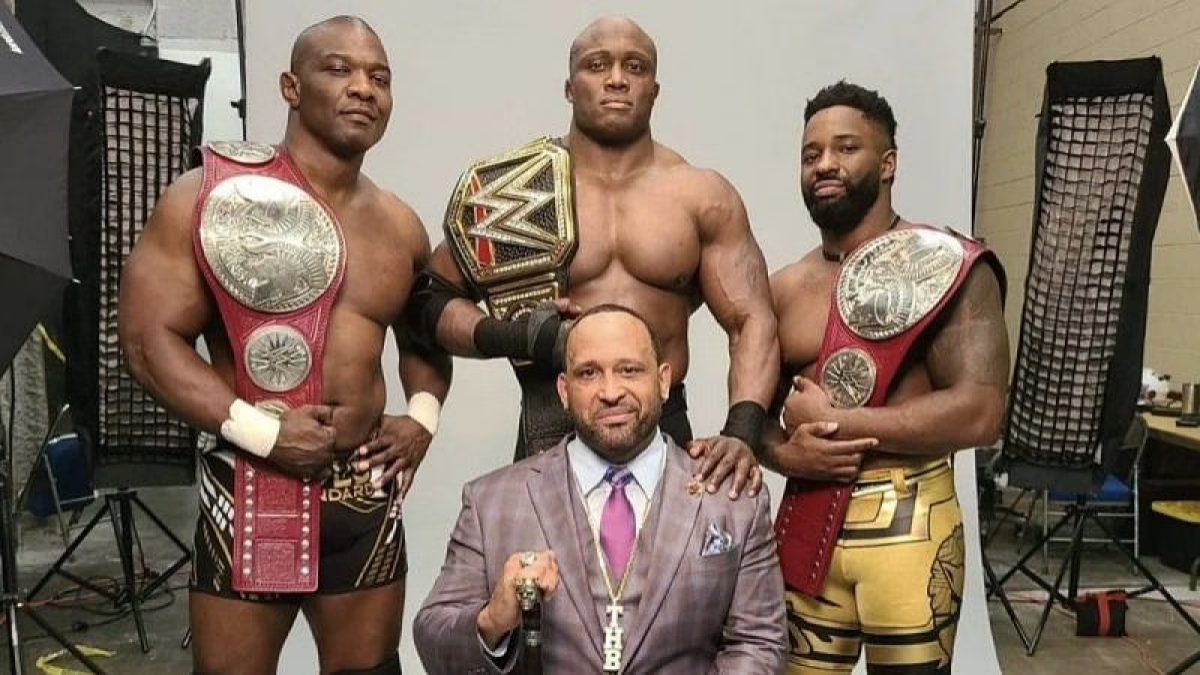 Bobby Lashley has opened up about the representation of black athletes in wrestling, explaining why it was important to the Hurt Business that the faction was portrayed as 'professional'.
Following their formation in 2020, the faction quickly gained popularity, with many fans arguing that Lashley, MVP, Cedric Alexander and Shelton Benjamin were one of the best acts during WWE's 'lockdown era'. Speaking on Mack Mania, Lashley noted that he didn't want the group to be perceived as thugs.
Stating that the stable was trying to do something new, Lashley said:
"The one thing we wanted to do because of how the black athlete is portrayed, especially in the wrestling business, is sometimes we have to go out there and dance. Sometimes we have to go out there and be a thug. I have a son, and a lot of kids try to emulate and look up to wrestlers. The one thing we wanted to show is who we really are. None of us are thugs. I got a college degree. I graduated with honors. I got a good head on my shoulders.

"When we come into work, we look professional. We don't come in with sweats and everything like that. What we were trying to do was show the black athlete in a different light, and I think people really liked it because the synergy of all of us is real.

"Basically with The Hurt Business, we were trying to show old school wrestling to this new school, you know, everything is PG, everything is cool moves and everything like that. We wanted to show hard hitting old school style wrestling. That's where the Hurt came along. Where the Business came along was how we represent ourselves. We came out in suits. We came out clean. We make money. We make real good money as WWE performers, so we shouldn't look like anything else but superstars. We wanted to show all that on TV and have a good look for us as black athletes.

"I think people really loved it. Even to this day, people are still asking me about The Hurt Business. It was something that was really cool and it was really cool for us."
Believing that the perception of black athletes in wrestling has changed in recent years, Lashley noted:
"People were saying, 'Well what about them or what about them?' There's all kinds of different scenarios that people were talking about. I think any of those scenarios would have been fun. It really would have been able to explain our group a little bit more. At the beginning, it was just a cool thing for people, like, man, these guys are pulling off their jackets and throwing some blows, but there was so much more we wanted to talk about."

"With that being said, there are some other big things that happened after that. Big E won the title, so we opened up some doors. What I always say is we just want to make everything a norm. We don't want to have to talk about, 'Hey there's a black champion.' No, it's just a champion. I don't care if you're black, white, Mexican, Asian, it doesn't really matter. We just want to make it a norm. We want to make everything a norm.

"I think we did help that out and calm that down a little bit because there have been so many black champions that we don't have to put that title before champion. I think there were a lot of positives with The Hurt Business, but at the end of the day, we're on TV playing characters and it's fun. It's something that's challenging, but something we enjoy doing."
Lashley will challenge Brock Lesnar for the WWE Championship at Royal Rumble on Saturday. Stay up to date with every WWE title change of 2022, using our championship tracker at this link.
Transcription via WrestlingNews.co. 
To make sure you stay updated with all the latest wrestling news, add WrestleTalk.com to your Google Discover feed and follow us on Twitter!