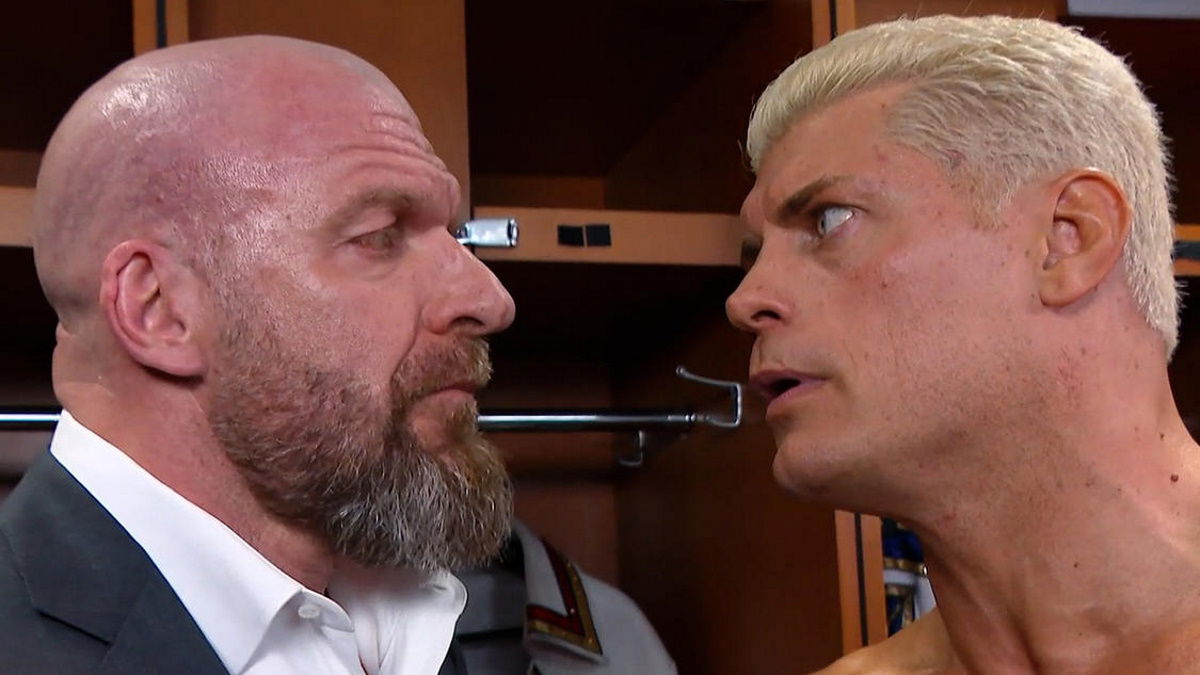 A legal battle between WWE and the creators of Cody Rhodes' theme nearly resulted in the star having different entrance music.
Following his departure from WWE in 2016, Cody Rhodes adopted the Downstait song Kingdom as his theme music and would use it across the independent scene as well as in IMPACT Wrestling and in AEW.
His return to WWE at WrestleMania 38 would also see him bring his iconic theme tune with him, though this wasn't always going to be the case.
The lead vocalist for Downstait, Zack Call, recently spoke about the subject of the theme on Insight with Chris Van Vliet, saying:
"I don't want to give away too much (about how Cody Rhodes was able to use Kingdom in WWE). But we were aware that Kingdom was coming and we were in a little bit of a legal battle and Cody Rhodes is absolutely the f**king man.
"We were on the phone with lawyers and agents and WWE's lawyers and composers before, and we have been with them since 2009. And we all have regular jobs. And we just wanted our cut of the pie on this one.
"We know what happens when you — we're not Joan Jett, we're not Living Colour, but when you use a real song, they get paid, those artists get paid. It's not a part of WWE's work. And this is a song that we wrote."
Call would go on to describe how close things got to Rhodes no longer using Kingdom before the American Nightmare had his say, adding:
"It was pretty close to it (Rhodes having another theme for his return). And then Cody, we held our silence for a little bit and I'd said my piece and I'm — my heart is in my throat and not ready to give up the song.
"You know, I've worked so hard on the song, we worked so hard on the song. And Cody just basically breaks the silence and he goes, 'Well, you don't get me without Kingdom' on this conference call. All right!
"And he swore up and down right when he started using it that, 'If I go back to WWE, I am taking Kingdom with me.' And I mean, he's been nothing but truthful with us the whole time.
"But you never know… when it comes down to the moment, you never know what's going to happen.
"And about two weeks before we have this big make-or-break moment, it might have been two seconds of silence. It might not have been the 10 that's in my brain right now. It might have been two hours."
Cody Rhodes is scheduled to face Brock Lesnar at WWE Night of Champions on Saturday May 27 in Saudi Arabia.
The Monday May 22 episode of WWE Raw saw the American Nightmare on the received end of two brutal assaults at the hands of Lesnar.
Following the attacks, Triple H would sit down with Cody Rhodes to discuss his plans for Night of Champions.
Transcript from Post Wrestling.
If you want to stay fully updated on all the latest wrestling news, click the red bell in the bottom right of your screen to receive notifications from WrestleTalk.com straight to your device!