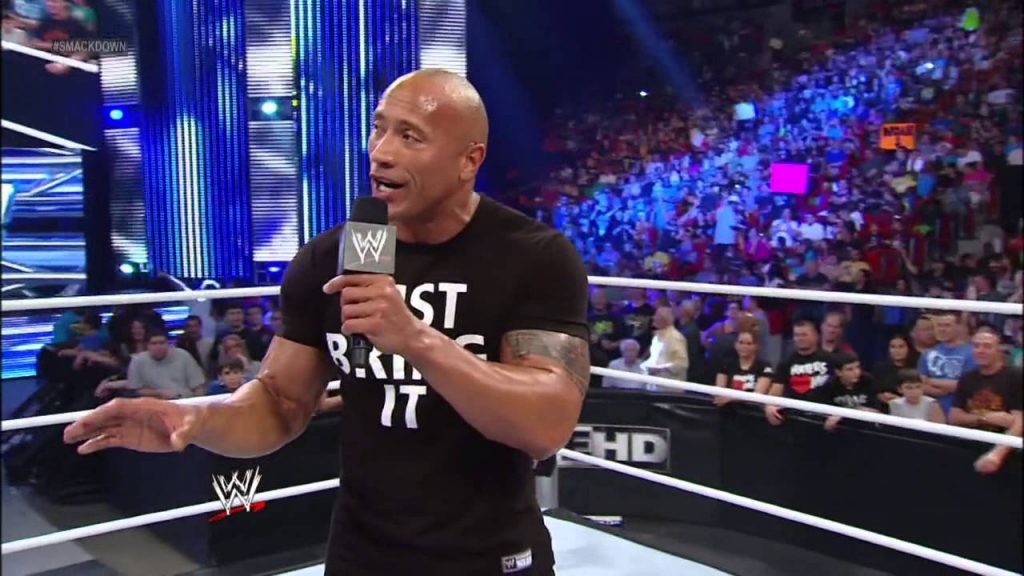 Regardless of the disastrous current ratings slide, SmackDown is set to post its largest number in recent years with the monumental SmackDown 1000 in two weeks time.
It may not have enjoyed the same level of months-long hype as Raw 1000 and Raw 25 have in the past, largely down to WWE having so many major shows to promote at the moment, but it should still be a big occasion that people tune into see nevertheless.
In addition to the rumoured appearance of new signing Rey Mysterio and the already confirmed return of Batista as part of the Evolution reunion (despite the faction being exclusively a Raw property during their spell as a unit) and names such as Vickie Guerrero, Teddy Long, Michelle McCool, Undertaker, Edge and Torrie Wilson all schedule to appear, WWE is seemingly not done yet.
The return of the Great One . . .
According to the Wrestling Observer Newsletter, WWE have made contact with The Rock about making a return to the show that was named in honour of his catchphrase for the first time since 2013.
Rock's name has been bandied about as a potential WrestleMania headliner opposite Roman Reigns and he was recently rumoured to have an unlikely role to play in the Lana-Rusev-Aiden English Milwaukee love triangle. If he appears on SmackDown 1000 in two weeks, he still might!
Or maybe Rock will lock horns with Triple H in a rematch of the show's first ever main event. Shawn Michaels could ever reprise his role as special guest referee. Okay, this one is perhaps even less likely than the Lana thing, but it would certainly help those numbers climb.
Rock's appearance is not yet confirmed but WWE officials are working hard behind the scenes to have him appear. At the very least, expect him to appear "via satellite" to give his thoughts on the historic broadcast.
Do you want to see The Rock return to SmackDown? Let us know in the comments below.