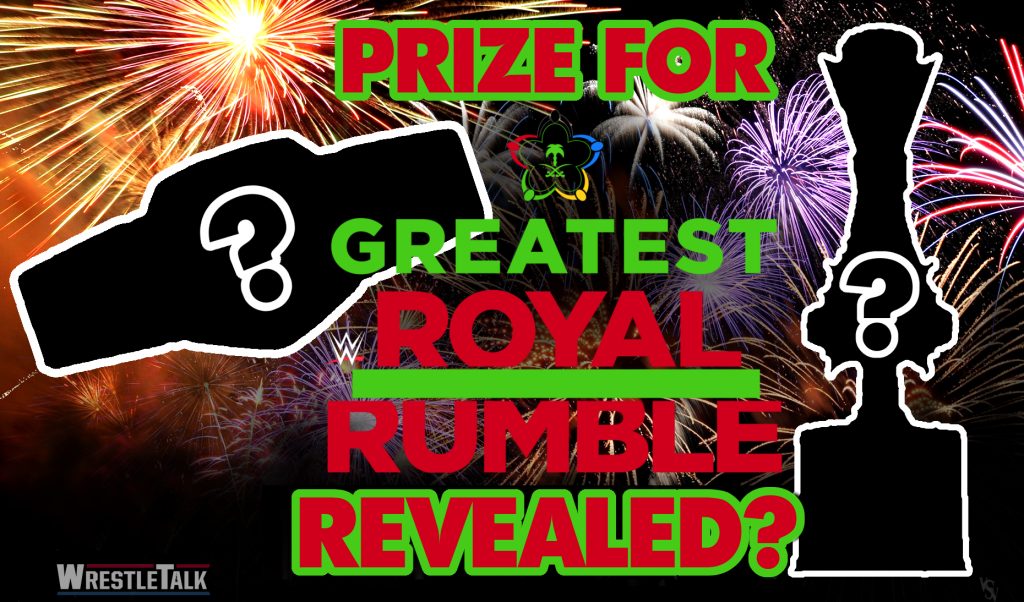 Ever since the 50-Man Greatest Royal Rumble event was announced, we've been asking ourselves what the possible prize could be. Is it a shot at one of the titles? Bragging rights? A date with Linda McMahon?
As of April 16, Justin Barrasso tweeted that the prize for winning was still up in the air.
In a follow-up, WWE rep stated that the company has yet to decide on the prize (title shot, etc) for the winner of the Saudi Arabia Rumble

— Justin Barrasso (@JustinBarrasso) April 16, 2018
Well in the latest episode of This Week in WWE: Ep. 482 they posted a graphic that may give a little hint…
Cagesideseats.com is speculating that the trophy seen the image above may well be the prize for the GRR. While this was only a digital image, and the hosts made no mention of a prize, the use of a trophy isn't unheard of in the WWE. Both the men's and women's WrestleMania battle royals have trophies for prizes. The men's has the André the Giant Trophy and the women's looks like it was designed by Georgia O'Keefe.
The digital design of this trophy looks much more grandiose in a Stanley Cup sort way. Maybe what's left of Pantera can throw it off a balcony into a pool. While the design is cool, trophies have served for little more than bragging rights that most of the WWE Universe cares little about.
While there's no definitive answer as what prize the winner of the battle royal will get, let's hope it's a title shot and not another trophy, regardless of how boss the design.
What do you think of the possible trophy for the Greatest Battle Royal? Let us know in the comments below or on our official Twitter page.