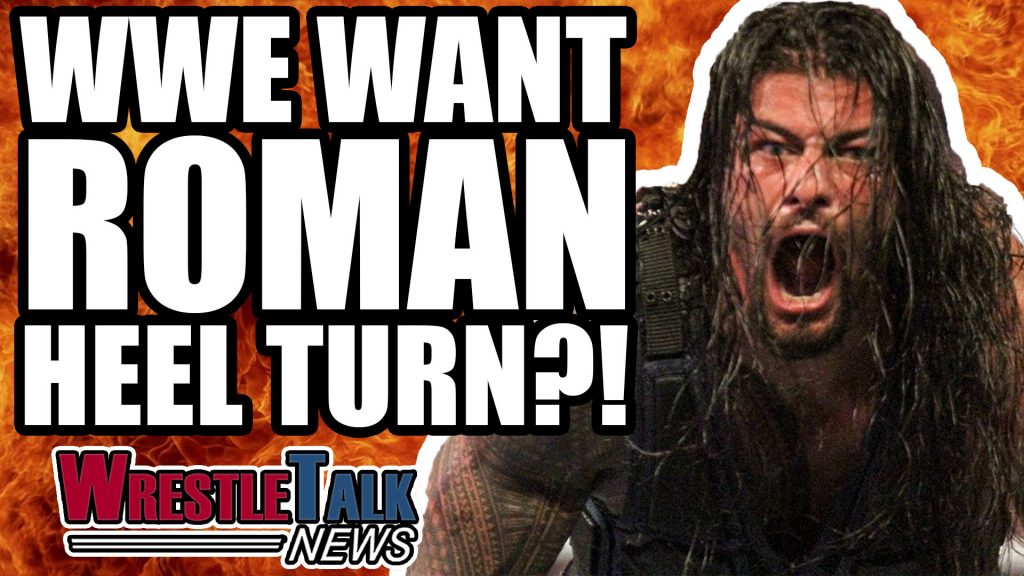 WWE Toothers
There are many unanswered mysteries in the WWE. Who threw the pie at Kevin Owens? How big is Batista's *ahem* Batista Bomb, his finishing move, his Deacon, you catch my drift? And who really is Byron Saxton?
The truth is surely out there. But the tooth… is currently getting knocked out of everyone's faces. 
After Cesaro's brutal uppercut on Xavier Woods from this week's SmackDown left the New Day member with one hole and two partials in his tongue, now Charlotte Flair appears to have lost a few gnashers in her house show match against Carmella in Germany last night.
In celebrating after the match, Charlotte posed with a fan at ringside, but covered her mouth saying "I can't take a picture I lost my teeth".
Charlotte is racking up the injuries, as the Wrestling Observer Newsletter have confirmed she's been working through a ruptured implant since before WrestleMania – for which she'll reportedly have time off for following WWE's European tour.
Vince McMahon On Roman Reigns Backlash
Last Sunday saw WWE put on one of their worst pay-per-views in recent times, the ironically named Backlash. Ironic because WWE's booking prompted a very real crowd backlash as the audience chanted against the show's Roman Reigns Vs Samoa Joe main event and walked out on the match early.
According to WrestlingNews.co, however, everything backstage was totally fine… totally, totally fine. – as a source apparently told the site about the fans walking out:
"Vince McMahon no sold it backstage and he chalked it up to the show running late until 11:30. Fans wanted to beat the traffic and kids needed to go to school on Monday. Simple as that. If Vince was upset he sure didn't show it backstage. He wasn't expecting this massive face reaction in the New York market. It was business as usual and it didn't seem to bother him."
This is directly contracted, however, by the Twitter account Slice Wrestling – which has previously broken details on the Jey Uso arrest back in January, and the first to reveal backstage talks about Ronda Rousey main eventing next year's WrestleMania. They have a decent track record, which means their version of events backstage at Backlash should be taken with… less salt, I suppose? Oh wait, no – they've capitalised every word, which means this is all totally true
"Vince McMahon Was Not Happy About Large Groups Of The Audience Walking Out Of #BackLash During The Roman Match As He Values The New York/New Jersey Crowd More Than Any Other. This Was Said To Be A Big Eye Opener To Vince McMahon On The Current State Of The WWE Product"
Which gives context for Slice Wrestling's next tweet. You know what's coming. The thing we've been waiting for for about five years…
WWE Want Roman Reigns Heel Turn?
A Roman Reigns heel turn!
"Report: WWE Officials View Turning Roman Reigns Heel As A Last Option In Their Attempts To Push His Character. If All Else Fails The WWE Universe Could See Roman Win The WWE Championship And Then Turn Into A Mega Heel To Begin Programs With The Top Faces On #RAW"
Again, written with every word capitalised. Boy, they are confident.
Roman has just entered a feud with Jinder Mahal on Raw, though, and live event advertisements have the two programmed against each other through July. It's unlikely that Reigns will be turning heel on the already heel Jinder – that's only a double turn that works in Canada – so the next opportunity for a Roman heel champion would be following Brock Lesnar's next rumoured title defence at Summerslam.