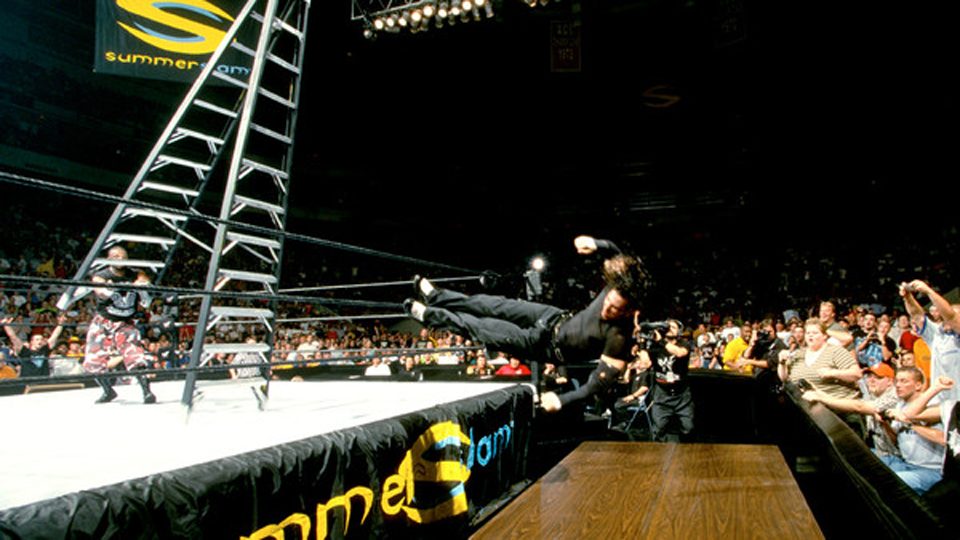 10. Bret Hart vs. Mr. Perfect – SummerSlam 1991
We kick off the list with an all-time classic. When people talk about the Intercontinental Championship being the workhorse title, this is what they are talking about.
Bret Hart was a world-class wrestler but he was relatively untested as a singles star in the WWF. At SummerSlam 1991, he got a chance to be a singles star against Mr. Perfect.
This match still holds up nearly three decades later. Hart and Perfect fit together like two puzzle pieces. Their styles blended like few others and this match is a perfect window into where the WWF style was heading.
The days of giants like Hogan and Warrior were on their way out, and the days of talented workers like Hart were just beginning.
---
9. CM Punk vs. Jeff Hardy – SummerSlam 2009
SummerSlam 2009 was an interesting show. There were some exciting parts and some duds but everything built to the main event.
CM Punk had turned heel and was determined to show he was a better man than Jeff Hardy because of their lifestyles. This determination led to a TLC match for the World Heavyweight Championship.
A singles TLC match is difficult to pull off because of the need for consistent excitement. However, Hardy and Punk pulled it off. They had one of the best TLC matches ever as Punk damaged Hardy throughout the match.
Eventually, Hardy hit a massive Swanton Bomb through an announce table, hurting himself more than Punk. This allowed Punk to climb and win a battle atop the ladder, capturing the title and winning the match.
---
8. Edge vs. The Undertaker – SummerSlam 2008
By the time SummerSlam 2008 rolled around, Edge and The Undertaker had been over 15 months. Edge had been a cowardly heel, causing Undertaker grief at every turn.
Finally, Edge had nowhere to run as he was locked inside Hell in a Cell with the Phenom.
As far as Hell in a Cell matches go, this is top-notch. Edge utilized his more familiar tables, ladders and chairs to try to get the win but it didn't matter.
Undertaker proved to be too much for him and after a classic battle, sent Edge to Hell for his sins. The ending was wacky but the action made the only Hell in a Cell match in SummerSlam history a winner.