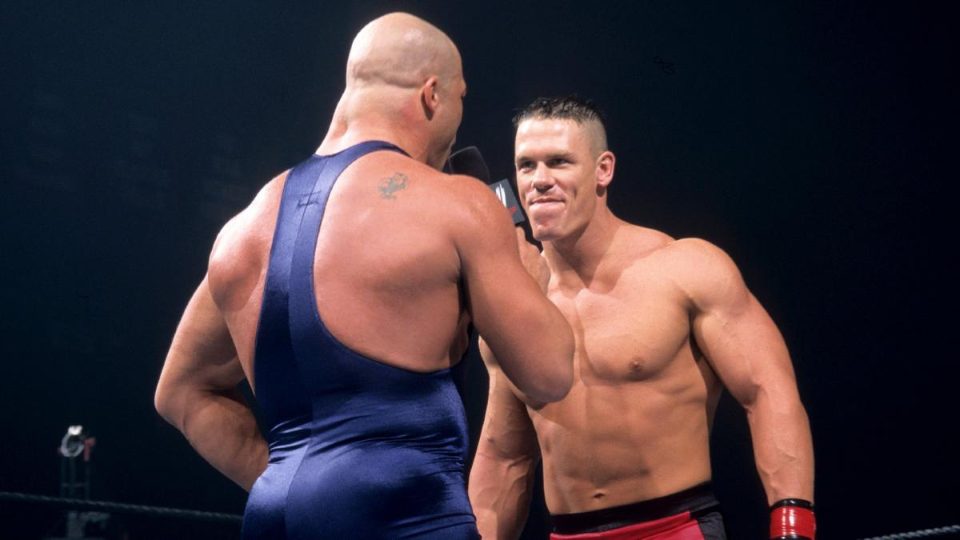 For the years 2002-2008, WWE will be remembered for the Ruthless Aggression Era.
An era that came around when WCW closed down doors for good, stars of the Attitude Era, like The Rock and Stone Cold Steve Austin left, and the WWF was forced to re-brand itself to WWE after losing a lawsuit to the World Wildlife Fund.
Vince McMahon needed new talent and new stars that would lead the company into a bright future.
He wanted to see ruthless aggression.
Since McMahon had a lot of WCW and also ECW talent on the roster now and also was searching for younger talent down at OVW. He felt like, in order to allow talent to fully grow, one roster might not be enough.
So WWE divided its stars into two brands: Raw and SmackDown. The first brand split.
But who took advantage and shined the brightest in that large pool of talent, alongside the already established stars from the 1990s like Undertaker, Kane, Shawn Michaels and Triple H?
---
15. Christian
Edge's former partner in the Attitude Era stable 'The Brood' was all over the place during the Ruthless Aggression Era.
While being more midcard than main event, WWE management realised they could always count on Captain Charisma.
Christian, who was more heel than babyface during this time, collected title belts right, left and centre, and was able to generate incredible heat with the audience.
However, Vince McMahon never pulled the trigger on him. After a run with the European, Hardcore and Intercontinental Title, as well as two entertaining Tag Team Title runs with Lance Storm and Chris Jericho, Christian decided to leave.
He would not return until after the times of ruthless aggression were over.
---
14. Jeff Hardy
Shortly after the Ruthless Aggression Era was established, Hardy was hot-shot into the WWE Undisputed Championship picture with The Undertaker.
Obviously the former Tag Team Champion – a title he held numerous times with his brother Matt Hardy – was not quite ready to win the top title yet.
But it became clear that the company had big plans for him. However, personal problems, paired with his decision to leave WWE between 2003 and 2006, derailed any main event plans.
But the fans never stopped loving the 'Charismatic Enigma'. Hardy was able to hold up the European Title, the Hardcore Title and yet another Tag Team Title with his brother Matt.
His biggest successes during this time, however, came with him holding the WWE Intercontinental Championship on three different occasions.
WWE gave Jeff Hardy the honour to usher in a new era in WWE, by making him the first new WWE Champion of a PG product.
---
13. JBL
For Bradshaw it was 'do or die' after the Attitude Era was over.
After years of teaming with the legendary Ron Simmons, he realised he could not always win the Hardcore Title and be thankful for a job at WWE.
Opportunity came around when SmackDown was in desperate need for a top heel. McMahon presented him with the idea of John 'Bradshaw' Layfield.
JBL would save his career, as he completely changed everything and himself and fully leaned into the new character.
He became the longest-reigning World Champion in SmackDown history by holding the WWE Title for over a year between 2004 and 2005.
His brutal feuds against the likes Eddie Guerrero and John Cena are gone, but certainly not forgotten.
After that JBL, feuded for every singles title under the WWE umbrella and won the United States Title, as well as the Intercontinental Title in his later years.
The career of the 'Texas Longhorn' ended with the end of the Ruthless Aggression Era. JBL retired from in-ring competition at WrestleMania in 2009.
---
12. Big Show
Although Big Show was certainly a part of the Attitude Era, his true legacy was made in the Ruthless Aggression Era.
If Big Show would have stopped wrestling in 2002, we would have missed out on a lot of memories.
Not only was Big Show very much involved in putting over the stars of the following era, he himself gained more and more star power.
And star power was what Paul Heyman saw in Big Show as well, so he turned on Brock Lesnar at the 2002 Survivor Series, making Big Show a two-time WWE Champion in the process.
In 2003, he began teaming with A-Train. The gigantic duo took on The Undertaker at WrestleMania.
What followed was one of the key feuds in both his and John Cena's careers. In one of greatest rivalries for the WWE United States Title ever, Show and Cena were driven to make this work.
Later on, he won the WWE World Tag Team belts alongside Kane in 2006, and also became the ECW Champion before taking a break from wrestling.
When he returned, WWE was already ushering in a new era.
---
11. Booker T
The former WCW World Champion was one of the very few stars from the folded promotion to actually also make it in WWE.
Loaded with charisma and incredible talent, he was going to be at the top eventually.
Before rising to the occasion, however, he formed an unlikely tag team with Goldust. The highly entertaining pair starred in several extremely funny promos and vignettes.
They got so popular, WWE put the World Tag Team Titles on them during 2002 and 2003. After their run, Goldust was attacked by Evolution backstage, which sparked a rivalry between Booker T and the faction.
The storyline, which also featured a very controversial promo by Triple H, culminated with Booker T challenging for Triple H's World Heavyweight Championship at WrestleMania XIX – a match he lost.
The Ruthless Aggression Era saw Booker capture two Hardcore Championships, the Intercontinental Title, another set of Tag Team Titles with Rob Van Dan, as well as the United States Title three times during 2004 and 2006.
Booker T is certainly one of the most decorated stars of the era. His biggest victory came in 2006, when he reinvented himself as 'King Booker', after winning that year's King of the Ring tournament.
That victory ultimately led him to finally win the World Heavyweight Championship.