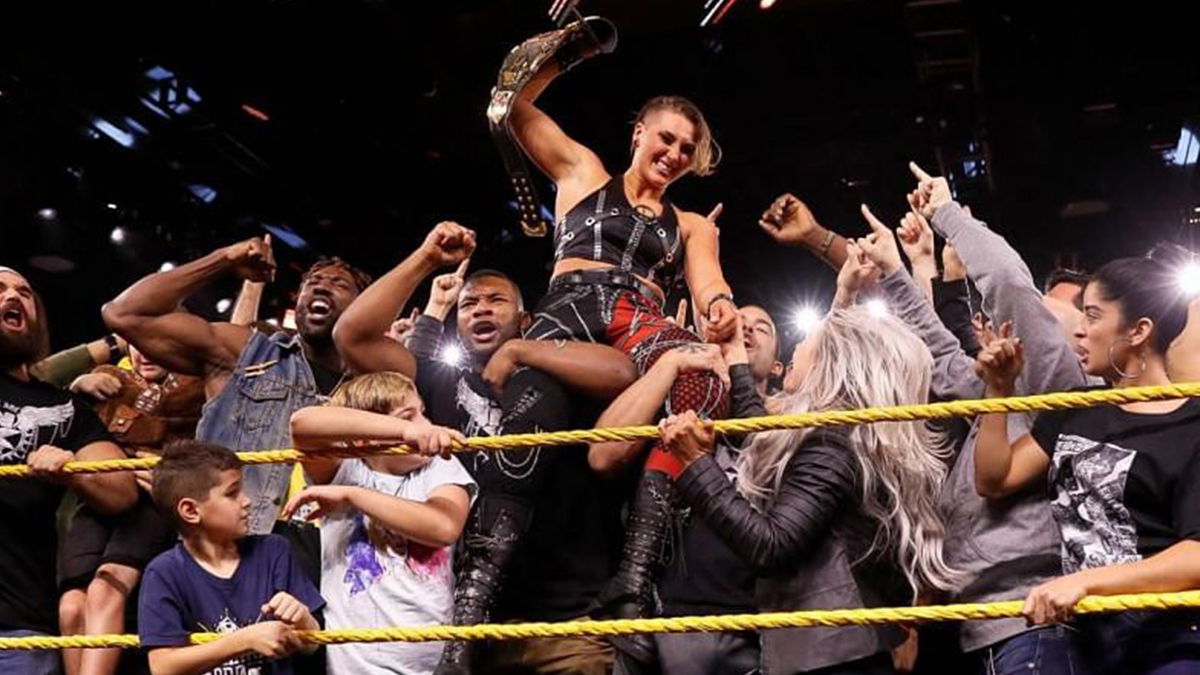 NXT, much like Ozzy Osbourne is going through changes. And look, I am going to fight against every red flag going, the raw-like promo parades, weird switcheroo booking and the Von Wagners and focus on the positives.
NXT is truly a developmental show once again and that's very much fine, and if we still get matches like KUSHIDA vs. Roderick Strong, whilst also promoting a whole BUNCH of new talent, that's fine.
That's absolutely… it's… it's fine. It's not quite the appointment viewing that a lot of us are used to (though if we're honest NXT hasn't really been that for a little while now) but it is what it is.
However, as we reach this turning point in the history of the brand, after my fantasy booking video about NXT, which hey you should watch please and thank you, let's finish off our NXT 2.0 coverage by looking back at the very best of the black and gold era.
I'm Adam, hailing from partsFUNknown and here are our Top 10 Best TV Matches From NXT 1.0.
---
10. Cesaro vs Sami Zayn ⅔ Falls – August 21, 2013
In some people's eyes, the match that started it all. Sami Zayn and Antonio Cesario as he was then known before his first name was mysteriously outlawed, had a WHOPPER of a feud in NXT, with big Chez repeatedly getting the best of little Sami on what would be a months-long underdog story.
The two had a twenty-minute stormer on the first-ever NXT special called NXT Arrival, the Takeover before Takeovers were a thing, but this is the match that really caught people's attention, sent rumors of a match of the year candidate being aired on this random developmental show that not many people had heard of, and when those people tuned in, they saw 15 hard-hitting minutes of freakish power from Cesaro and industry topping selling from Zayn, culminating in a staggering spot of Cesaro not quite catching but then just f**king catching him anyway into a eye-watering uppercut and neutralizer.
Beautiful stuff, stuff, full of story, and the standard-setter for NXT, not only as the home of indie quality, but a place that main roster stars could come to get some actual work done.
---
9. Rhea Ripley vs. Shayna Baszler – December 18, 2019
Equal parts amazing match, equal parts amazing moment.
The one single time NXT beat AEW in the key demo during the Wednesday night wars, this was your main event, Rhea Ripley showcasing that BRUTALITY and finally ending Shayna Baszler almost two-year run as THE dominant woman in NXT, pinning her after an avalanche riptide to be crowned NXT Women's Champion, and there was much rejoicing.
Quite frankly both women kicked the s**t out of each other, Shayna throwing elbows, Ripley using her nightmare legs to big boot Baszler straight into hell, or the Raw Women's Championship scene as it's otherwise known.
Savage strikes, Ripley destroying both of Baszler's ineffectual ponywomen, a fantastic story told around Rhea's arm, and a BELTER of a kickout after Baszler DDTed her onto a chair.
After the match, as Rhea's held aloft by the NXT fans, it's a joyous crowning of a new star, cue worrying music as Charlotte waits in the wings.
---
8. Samoa Joe vs. Sami Zayn ⅔ Falls – March 9, 2016
Don't you like it when your favorite TV show does a bottle episode? But Adam I hear you cry, headbutting your monitor in confusion, what's a bottle episode.
Well, most episodes of TV are made up of multiple scenes, characters and locations, flitting from one to the other, bottle episodes focus on maybe just one character, one location, one scene, and the entire episode just sticks with it, The Fly episode from Breaking Bad, perfect example, or the one where no one's ready from Friends, same deal.
Well this is the bottle episode of NXT, one episode, one match from start to finish, Samoa Joe vs. Sami Zayn, two out of three falls to determine the number one contender to Finn Balor's NXT Championship, the crazy sons of bitches go 45 minutes.
Joe gets the first fall with the muscle buster, Sami equalizes with the Koji clutch, and the finish of the match comes with the Coquina clutch 45 full minutes later.
There are better matches in NXT's history with a more rabid crowd, but the two men throw everything at this match and it's such a standout achievement, worthy of recognition, and a fond remembrance of a time when NXT was the best single hour of wrestling around.