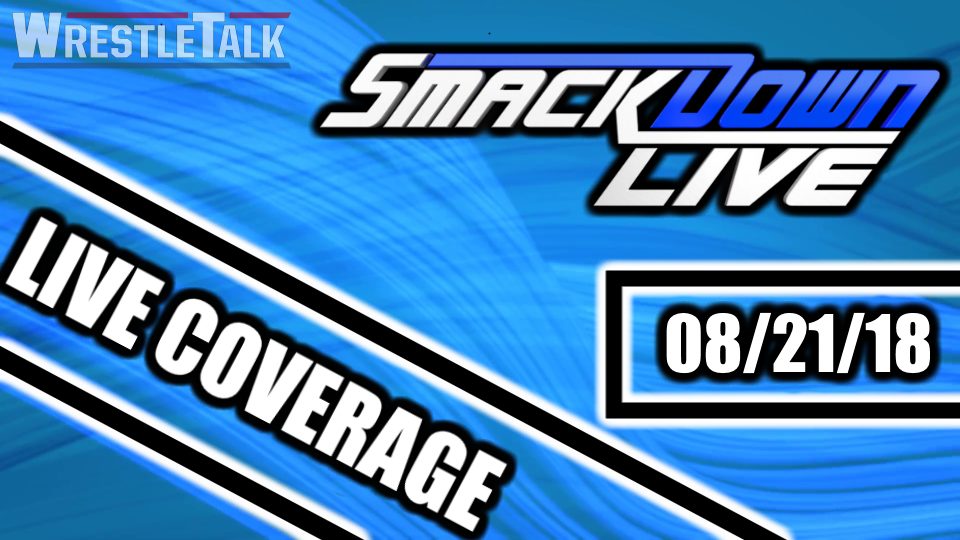 03:07am
That was a very good show indeed.
Almost everything worked, and the stuff that didn't really mean anything (looking at you Peyton Royce vs. Naomi), only went about five minutes.
New tag champions, the first match for Hell in a Cell confirmed, and a very decent two hours of action.
If you enjoyed tonight's coverage, feel free to follow me on Twitter @LiamTheShebang.
03:01am
Kofi uses the Bludgeons' own mallet against Harper, before landing a Trouble in Paradise and allowing Woods to hit the Limit Break on Harper through a table and we have NEW SmackDown Live Tag Team Champions!
02:58am
Kofi just kicked out of BB's finisher on a raised ladder.
This is fantastic stuff. New Day playing the underdogs and BB dominating works to absolute perfection.
02:54am
Watching the Bludgeon Brothers just batter people is one of my favorite pastimes.
02:47am
A little "Did You Know?" during this commercial break courtesy of WrestleTalk's own Sean Eckmann…
Fun Fact: Big E's dad is a preacher, and that's where he got his FEEEL THE POWWWWAAAAAA voice from! Let's go #NewDay #SDLive

— Sean Eckmann (@WrestleTalkSean) August 22, 2018
02:45am
For some reason, Big E's in the back despite the no DQ stip meaning New Day could essentially make in 3-on-2.
Both Harper and Rowan have extra tape on their arms. Rowan's injury has been reported, but I did notice Harper nursing his arm on Sunday too. Maybe they're both injured, in which case… oh very dear.
02:41am
Carmella has a moan at Paige, before R-Truth challenges 'Mella to that match he wanted.
Truth is hilarious.
02:38am
Up next, it's the main event, as New Day challenge the Beardy Boys in a no DQ match for the SmackDown Tag Team Titles.
Now imagine the B-Team defending the Raw titles in a no DQ match on Raw…
02:35am
AJ Styles barely gets a word in before Joe chokes him out with the Coquina Clutch, before screaming "WENDYYYYYY" into the camera.
Joe is absolutely sensational, and if Brock and AJ weren't the ones in his way, I'm sure he'd have won a top title by now. Possibly the best all-rounder in WWE today.
02:29am
Coming up, WWE Champion AJ Styles explains his actions at SummerSlam, where he attacked Joe with a chair after Joe made some remarks to AJ's wife.
02:23am
Almas grabs a chair, presumably to batter Rusev with, but English takes it away form him, and the distraction allows Rusev to land a Machka Kick and lock in the Accolade for the win.
GET IN THEREEEEEEE!
02:12am
Up next, in a rematch of their ALL-TIME CLASSIC from the SummerSlam pre-show, it's Almas and Vega vs. Rusev and Lana.
Will Aiden get involved in this one?
02:04am
A great promo from Becky correctly pointing out that SummerSlam was meant to be her moment.
Even when she insulted the crowd she still got cheered. That's how great she is.
And now Charlotte's here and a fight has broken out.
All the SmackDown women running to the ring to break up this melee.
Even Asuka. Oh dear.
01:59am
As expected, Becky gets an overwhelmingly positive reaction, but she seems very pissed indeed.
01:55am
Up next, Becky Lynch explains her actions after the Triple Threat at SummerSlam.
Can't wait for the deafening cheers for this "heel turn."
01:51am
Following distraction from Billie Kay, Peyton Royce picks up the win with a bridging Fisherman Suplex.
Odds on Naomi vs. Kay next week?
01:43am
Talking of Big Dave, Corey just threw some major shade, saying "I've been following the IIconics' career since NXT and they have NEVER looked better."
What a guy.
01:40am
OH MY GOD BREAKING NEWS!!!!!
The Bar are on TV!
They say they want to be the next number one contenders for whoever wins the tag title match tonight, but Luke Gallows and Karl Anderson's abs have something to say about that and next week we will see Sheamus and Cesaro vs the Club!
Up next, Naomi vs. Peyton Royce. Why? Literally no idea. Probably Twitter or something. Maybe we'll get Peyton v Meltzer next week.
01:33am
After hitting a Twist of Fate, Hardy takes too long getting to the top rope to land the Swanton, and Orton does that horrible ear thing again.
Jeff was pushed to the limit, and landed a low blow on the 'Viper' in every sense, meaning Orton gets the DQ win.
The pair are now fighting all over ringside, and Hardy hits a Swanton Bomb from on top of a box in the technical area on Orton through a table!
That man is going to kill himself some point soon if he doesn't just CALM DOWN.
01:25am
Hardy vs. Orton is underway, and as we go to the first commercial break, it's the 'Apex Predator' in control after launching Jeff into the ring post.
01:21am
Miz just called Paige a worse GM than Daniel Bryan.
Miz vs. Paige to main event SummerSlam 2026?
01:10am
Daniel Bryan has heard enough and now he's verbally assaulting Mike.
Maryse cuts him off though, and calls him Daniel Bella…
Which prompts BRRIEEEEEE MOOOOOODDDEEEEEEE.
She's battering The Miz and now he and his wife are in retreat.
Bryan informs Miz and Maryse that he spoke with Paige earlier, and at Hell in a Cell it will be Bryan and Brie vs. Miz and Mrs. in a mixed tag team match. Which is a great way to make this feud less interesting. A battle of the reality shows.
But up next, it's a match weeks in the making, as Jeff Hardy takes Randy Orton and his 'Viper!'
01:07am
Miz starts crying and announces his RETIREMENT…
Of ever facing Daniel Bryan again.
Now he's in full great Miz promo mode.
01:04am
SmackDown Live opens with none other than the 'A Lister' who defeated Daniel Bryan (via dodgy means, I must add) this past Sunday at SummerSlam, The Miz and his wife Maryse!
00:30am
Good evening SWAFT Nation and welcome to WrestleTalk's live coverage of tonight's edition of SmackDown Live!
Hopefully it's better than the atrocity that WWE produced last night called Raw. I have a feeling it will be.
Make sure you check out our preview before the show gets underway, but here's what we know so far:
Bludgeon Brothers (c) vs. New Day – No Disqualification – WWE SmackDown Tag Team Championships
Jeff Hardy vs. Randy Orton
Becky Lynch to explain her "heel turn"
AJ Styles "exclusive interview" regarding what went down at SummerSlam
Fallout from Daniel Bryan vs. The Miz
Naomi vs. Peyton Royce for some reason
As with last night, the potential for NXT call-ups following this past Saturday's TakeOver
What are you looking forward to on this week's SmackDown Live? Any bold predictions? Let us know on Discord, Twitter, or in the comments below.