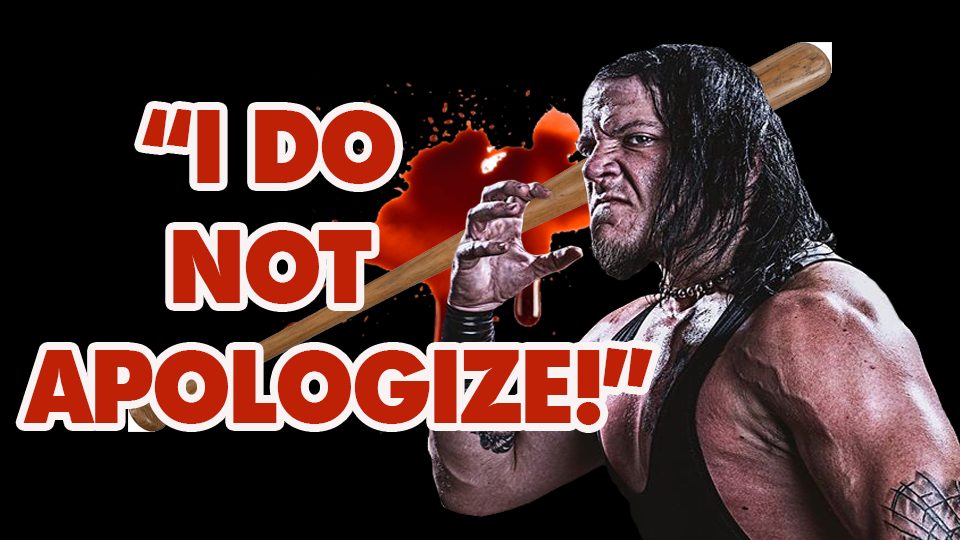 Unless you've been living in a cave, you'll have heard about the shocking and upsetting attack Sami Callihan delivered to Eddie Edwards on the 1/3 edition of Impact. Though an accident, the erroneous stunt nearly cost Edwards an eye. Fans tuned in to see the incident, drawing a strong 365,000 viewers – the highest the show has pulled since the summer.
Many of those who tuned in with furious at Callihan's dangerous actions, calling for him to retire his weapon.
Fed-up with the harassment, the artist formerly known as Solomon Crowe granted WrestleZone.com an interview to speak his mind on the incident. Brash, indifferent, and callous in a way that will make him a certified star, the enjoyably villainous Callihan had this to say:
"I'm kind of getting sick of this topic at this point. This is professional wrestling and the fact this is such a big issue boggles my mind. The fact that so many of the boys in the back are so upset, the fact that so many fans are upset and say I need to take responsibility and apologize for my actions, it's absolutely ridiculous."
He went on to ask if Owen Hart or Bubba Ray Dudley expressed public regret after SummerSlam '97 and One Night Stand respectively, before calling the uproar which followed "stupid". Impact Wrestling must have been rubbing their hands together at the thought of the sheer potential, especially considering his Steve Austin-like attitude and what was to follow.
Reacting to the calls for him to stop using the baseball bat, Callihan showed another level of (worked) disrespect when he snubbed the professional wrestling audience and concentrated his bile on the fabulous Jim Cornette:
"Jim Cornette, in particular, maybe it's time that you quit being a hypocrite and look at things you've done in your career. You got knocked off a scaffold in a stupid spot, in my opinion, didn't get caught and broke both of your ankles. Was that a big issue? No, it wasn't. So shut your mouth and kiss my ass."
Whilst I love Jim Cornette and regularly listen to his radio shows and shoot interviews – he's a scream – even the manager of champions couldn't deny this was stellar heel work within the confines of a shoot interview.
What made it even more radiant was that the heel Callihan made his own argument inane by failing to realize that Jim Cornette never endangered anyone other than himself, especially in the example given.
The interview went on, with Callihan rejecting calls for him to retire his trademark baseball bat:
"Why would I? I just landed on a goldmine. I'm about to start selling baseball bats, t-shirts and everything else because I don't care who I offend at this point."
Callihan added that he didn't care if the bat was "unsafe, untrained, or dangerous" and that he "wasn't listening to anyone else's opinions."
This was a brilliantly worked interview by Sami Callihan that painted him as detestable and completely abhorrent. His words were beautifully designed and crafted to rub the audience up the wrong way and now Impact Wrestling have a world class heel on their hands. Bravo to all involved, mission accomplished.