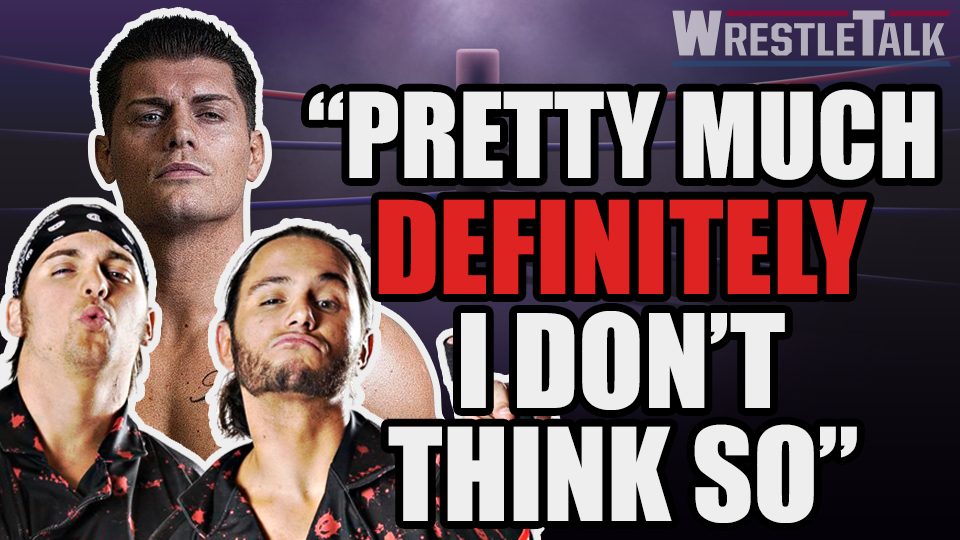 Two of the creators of ALL IN, Cody and one-half of Tthe Young Bucks, Matt Jackson, recently appeared on Talk is Jericho. Among several other topics, they spoke about signing, or in Cody's case re-signing, for WWE.
WWE has been the Mecca for all indie talent for countless years, but after the success of ALL IN's sellout in under 30 minutes, the growth of independent wrestling, and Cody's time away from the company, they may find it difficult to gel with Vince McMahon and co.
"Somebody asked me the other day "would you go back?" And the answer has pretty much definitely become, "I don't think so". Not because I don't like WWE or WrestleMania or I don't like money or I don't like the big production. Because I am literally now incapable of taking direction. If you told me you're gonna write something for me — no. If you told me you're gonna produce something — no. If you have me a time and a finish — cool. But even that I'm literally — I don't want to discourage because you've got Arn Anderson you've got Mike Rotunda — you've got these guys [as producers in WWE] — out of respect for sure. But, out of respect for myself, it's my song that I go out there to play."
Chris Jericho agreed with the sentiment, claiming that at a certain point, it stops becoming a collaboration if the wrestler is told everything to do.
https://twitter.com/ALL_IN_2018/status/1032768165648977920
Cody went on to say that when his father, Hall of Famer Dusty Rhodes joined WWE in 1989, it was a difficult transition.
"It's tough. When Pops went there to do the polka dots that's what Vince told him. He told him, "you're not in charge of anything anymore, just have fun.""
Matt Jackson went on to state that it would be difficult for him and his brother to join that kind of working environment.
"That would be so hard for me and Nick because we're DIY. Like from the ground up we've made every decision on our own. We've built ourselves up to this empire now on our own. So it would be like, "how can I hand over the keys to this car to someone at this point?" Like I'd feel so afraid."

"But you know the rules have changed now. I told Nick this the other day. I was like now everybody [in WWE] eventually wants to be where we're at currently and we did it without having to go there. Because eventually, you want to get to a point where [Jericho] is at where you call your own shots, you do whatever you want, you have fun — that's what we do already! We never had to go there. It's like we're fortunate and we're lucky to be in the situation we are because it's never happened before, like ever."
There's no doubt Cody and the Young Bucks have completely changed the landscape of not only independent wrestling, but professional wrestling as a whole. The fact that WWE may not be the end goal for wrestlers now is unprecedented, and with the continued steady growth of independent wrestling, things are on course for a change.
While the trio may not be interested in signing with WWE, WWE might be interested in signing them. Jericho went on to say:
"For you guys to promote this show that sells out in thirty minutes. Let's be honest, the greatest wrestling promoter of all time times a billion said to me, "it's a bad time of year to promote." Then you sold out, you think he doesn't know about that? Dude, I'm telling you, you guys are now on the radar. It just ups your value all across the board."
From the sounds of it, there's no offer that would entice Cody and the Young Bucks, but time will have to tell whether that rings true or not. Either way, this is a fascinating time to be a wrestling fan.
Credit to WrestlingInc for the transcription.
Related content:
Would you like to see Cody and The Young Bucks in WWE or would you rather they stayed away? Let us know in the comments, on Twitter or on Discord today!